Our Best Casino For You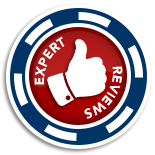 Jumbo Joker's Not Kidding Around!
Get in on the Jumbo Joker action! This online slot may only have 3 reels, but there are 5 paylines, 6 levels and up to 32,000 coins to be won. If you thought that 3 reels are simple, than this slot proves you've been fooled!
Gameplay
Betsoft's 2017 creation, Jumbo Joker, certainly puts the 'simplicity' of 3 reel slots to the test! Yes, the graphics are garish and the music is repetitive carnival music, but this all contributes to the ruse: this game is anything but simple.
First off, there are no instructions to this game. You figure it out as you go along – or read about it here. On the screen you'll see two bigger x3 reels in the center and lining the outside are x6 pay tables. When you start playing you'll be allocated a 'one' coin bet amount. This highlights the payout table marked '1' on the left hand side, which means that this is your current paytable and any wins you collect will match the '1' paytable. You can also choose to increase your Bet Amount to '10' and then the '10' paytable on the right will be highlighted. This is probably a good idea because the higher pay tables are only accessible if you win over 20 credits on a spin and on the '10' Bet Amount every winning spin gives you more than 20.
In short: the bet amount defines which paytable you are playing on and how many coins you can win. When you win more coins, bigger bet amount options and paytables, are enabled.
Special Features
When you win over 20 coins on the bottom reel, you are then given a choice: you can either choose to 'collect' your winnings or play them on the upper set of reels. There are x4 paytables on the upper reels and you can only access up to the amount you won. So if you win 60 coins, you can increase your bet amount to either 20 or 40 and access the corresponding paytables, but you'll be blocked from the 100 or 200 Bets. If you win 300 coins, you'll gain access to all the pay tables and can choose which one you want by increasing your bet amount.
It's also important to note that when you increase your bet amount, the rate of wins also increases, especially on the 100 and 200 bet amounts where you're guaranteed stacked symbols, as shown in the paytables.
Verdict
Pretty interesting for a 3 reel slot, and definitely worth a spin, but the bet amount 'level' structure doesn't work for us.