Fire and steel Video slots
Our Best Casino For You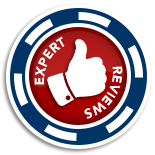 Fire and Steel Slays It!
If you're a fantasy fanatic and prefer playing from your mobile, then check out Fire and Steel War of the Wilds video slot. Join the battle hardened Swordsman and Shieldmaiden to fend of the fearsome dragons laying carnage to all the land. There's much glory to be won, not to mention decent wins of up to 138,500 on a single spin.
Gameplay
Betsoft have really delivered on all fronts with the Fire and Steel video slot! The graphics are astounding with black, tentacle dragons, warriors in shiny, heavy armor flanking the reels, forests and villages on fire and the details are on another level for a video slot – on par with World of Warcraft. The soundtrack is orchestral with sad and inspiring violins, as befits the theme, and the sound effects / war cries are invigorating! Best of all, this video slot has been designed to be lightweight so all the stunning graphics and features don't get slowed down by mobile play. And this is a fast action game even without the turbo mode!
There are 5 reels and 20 paylines that pay out both ways, but the line numbers vary with a 3-4-5-4-3 line layout, making this one of the more unusual games featuring some unique payline combinations. There are also 12 base symbols with a crown (up to 250 coins) representing the highest paying symbol, followed by a blue shield, a yellow shield, a book, goblet, helmet, knife and 5 jewels which are the lowest value symbols.
This slot also has Betsoft's trademark gamble feature, which is a 'Double Up' coin toss option that lets you either double any wins, or you can choose the 50% bet option for a smaller boost.
Special Features
There are 3 wilds in this game, each with a payout of up to 500 coins on winning paylines: the two expanding warrior wilds and the regular wild that's created when they expand. When the swordsman wild arrives, his battle cry expands his fiery wilds vertically in one direction, while the shieldmaiden's roar expands her wild one spot horizontally. When the two wild paths intersect, the wild on that spot stays sticky while you get a sweet, big win and 10 free spins. The free spins can also be retriggered multiple times and each time, the intersecting wild stays sticky, making for some gallant payouts. For example, we played for about 20 minutes before we hit our first free spins feature, which was retriggered twice. We ended up with 30 free spins, 3 sticky wilds and almost 2,000 coins in small, consistent wins.
Verdict
Awesome graphics, fast and light weight game, sweet payouts: what's not to love?