Golden Fish Tank Video slots
Our Best Casino For You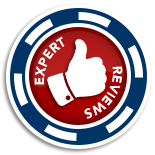 Snap Up A Golden Fish Tank Video Slot Treasure
Don't let the sweet, cutesy design fool you – Yggdrasil really splurged on this golden slot and packed it full of surprise catches and special features you won't want to miss.
Gameplay
Game-makers Yggdrasil really know how to disguise a treasure! This online video pokie has a cute, almost childish design at first glance, but look a little closer: the details in the graphic design are sensational and the same goes for the game itself.  The base game seems is pretty standard: 5 reels, 20 paylines and 8 base symbols, which are four different fish and four card suits. The Wild symbol is simply the word 'Wild' written in big, stone-like yellow letters and the Free Spins symbol is a friendly smiling gold fish.
Then when you start playing you'll quickly notice that either the wilds, free spins or both turn up in almost every single spin.  The wins start rolling in and before you know it, you're bubbling in time with the gentle, Caribbean theme music and bobbing along with those funny, lucrative cartoon fish gently swaying in the sun-soaked water.
Special Features
Besides the regular wilds and free spins in the base game, it's the Free Spins feature that really set this pokie apart from the crowd. Firstly, the amount of free spins you win depend on the number of goldfish you get and you don't just get free spins: you also get to pick a number of mystery combo features that really boost your winnings. If you get 3 goldfish, you get 6 free spins and can pick 3 combo features.  For 4 goldfish, you get 8 free spins and 4 picks and for 5 goldfish, you'll get 10 free spins boosted by 5 feature picks.
So how does it work? When you win your free spins, however many you get, you are taken to a screen with 18 mysterious objects lying in the fish tank's sand. Click on the objects and a random free spins combo booster will be added to your collection.  You could get more free spins, stacked symbols, x1 or x2 free spin multipliers, an extra wild fish, a sticky wild fish, or even 1 or 2 random wild fish that will appear in every free spin. There are actually 18 different combos hidden in there. These combo boosters are also simultaneous, so if you multiple boosters appear on a single free spin, the wins suddenly hit the roof.
Plus, you can always click on the "+5" button snuggled in on the left side of the Spin button, right above the max bet option, which gives you an extra combo pick for your free spin boosters. But be warned: the +5 may boost the RTP from 95.9% to 96.4%, but it also means you'll pay an extra 5 coins per spin.
Verdict
Packed with special features, this video pokie is really a lot of fun to play and the unique game structure certainly keeps things interesting.