The Magic Shoppe Video slots
Our Best Casino For You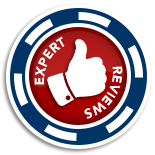 Not Many Surprises In This Magic Shoppe
Step inside Betsoft's Magic Shoppe for a Steampunk experience that could change your fortune! 25 paylines, max wins of up to 513,000 coins, a celestial free spins feature and many more mysteries await you in its shadowy vaults!
Gameplay
The Magic Shoppe delves into the mysteries of the occult to bring you a new way to seek your fortune. The graphics are both dark and divine, imbued with mystical symbols, floating skulls and boxes chained shut for your protection. The orchestral musical score is pleasant, uplifting and only springs to life with bells and violins when the reels are spinning, but otherwise slinks back into an ethereal hum.
There are 25 paylines and 10 base symbols in this game: the 5 high value symbols include a skull, which pays up to 1,000 coins, handcuffs, knives, a silver coin and a top hat. The 5 lower value symbols are all aged and antique playing cards. There are also two bonus symbols, a red Sun box and a blue Moon box, that can trigger the bonus game. You'll also find the classic Betsoft gamble feature present, called 'Double Up,' where you can double your winnings on a coin toss, or choose to be more conservative and only bet 50% for a smaller sum.
Wilds pay up to 24,000 coins in their own right, but you won't find them anywhere on the reels: instead, when 3 magic wand icons appear anywhere on the reels, all magic wand and celestial box icons turn into wilds, making for pretty big payouts.
Special Features
The best feature of the game is the Celestial Box Free Spins features, where every spin is either guaranteed a win or a prize, such as additional free spins. They are triggered by three or more boxes of the same colour appearing anywhere on the reels, but be warned: a combination of more than 3 blue and red boxes combined won't trigger the free spins.
There are essentially 2 different kinds of free spins for either colour: 3 red boxes trigger the sun free spins feature, while 3 blue boxes triggers the moon free spins feature, but the only difference between them is that one has a blue background glow, while the other is red. Not too inspiring, but after playing our first free spins round, that got retriggered twice, we'd won 457 coins.
Verdict
The Magic Shoppe has a lot of unrealized potential, with a fantastic theme, audio, graphics and bonus features that build up beautifully, but then fall flat. Nevertheless, the exceptional RTP of 96.85% and good size regular wins mostly make up for it.