Achilles Deluxe is a new and exciting online slot game from RTG. It is an improved version of a previously released Achilles slot and has tons of free spins for extra fun. The game comes with a mix of scatter, wilds, and jackpots with different multipliers. Watch for the progressive jackpots – x2 – minor and major – and go for the big wins!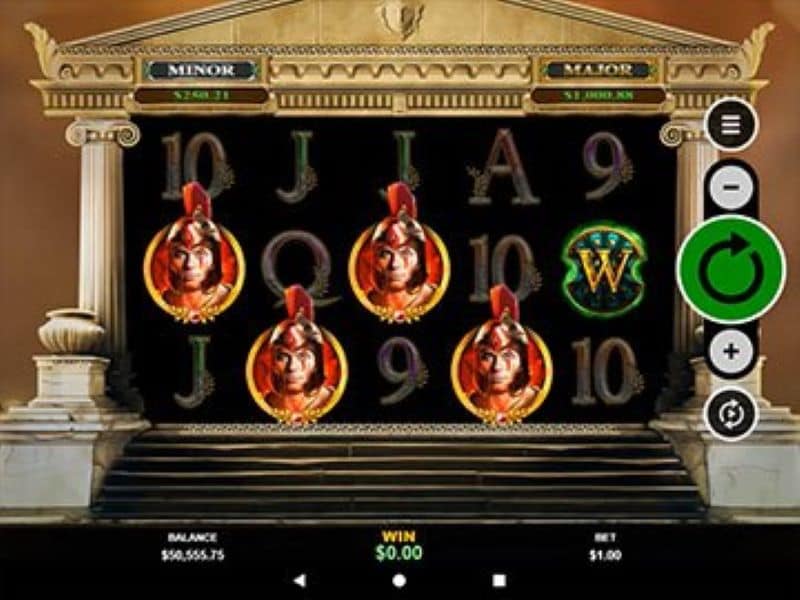 Game Info
Max Jackpot
40,000 times bet per line
Our Recommendations
Play
Achilles Deluxe
Here:
Hottest New Games:
Achilles Deluxe Slot Review 
Achilles Deluxe is another fantastic online slot game from Real Time Gaming based on the ancient Greek lifestyle, the Trojan Wars, culture, and fun. The game is an improved version of the Achilles 2012 and now comes with unique graphics that will keep you spinning and winning.
If you are looking for the best way to spend your weekend in an online casino, you can now prepare your horse and chariot and clear the battle-fields ahead. The new Achilles Deluxe online slot is a game you should definitely try out. It comes with better game experience, souped-up features, an improved theme, and enhanced action like never before.
Achilles Deluxe Slot Information
The tech giant, RealTime Gaming (RTG), is the company behind the new version of Achilles Deluxe Slot. If you happen to play one of their games, you'll testify that they deliver the best online slots around.
Achilles Deluxe gives you the chance to walk away with up to 2,000x your stake. It comes with 20 pay lines per bet, and you can adjust your bet stake on both sides of the spin button. You can start betting from a minimum of $0.01 and work your way up to a maximum of $100.
For every random spin you make, you have a chance to walk away with a jackpot prize. This online casino game features two progressive jackpots (minor and major) just waiting to be won.
Achilles Deluxe Features
The simplest way of judging a game is by looking at its unique features. Our Slots Play Casinos game reviewers have found that the game developer has done some excellent work in designing the game graphics and enhancing Achilles Deluxe's features. This game will not let you down in the fun field.
With quality graphics and other features, you are always enticed to start playing right away – that is what Achilles Deluxe is offering you. Here are some of the Achilles Deluxe features you should expect:
1. Low risk 
If you are a beginning punter, the Achilles Deluxe slot may be your first stop. Despite having medium volatility, you can stake the lowest amount when playing this online game. This game multiplies your stake by up to 2000 times. Of course, the more you bet, the more you can take home. Achilles Deluxe will not disappoint when it comes to thrills, chills….and wins!
2. Jackpots 
Those who prefer to make a big move can rely on Achilles Deluxe to provide that excitement. This fantastic casino game offers you two jackpots for every random spin you make. It makes the game more exciting because you don't know when the buzz is coming. The more you spin, the higher your chances of hitting the mega jackpot. The jackpot price is a whopping 40,000 times your coin bet!
3. Free Spins
Another fantastic feature of Achilles Deluxe is the fact that it offers you tons of free spins. This online casino game awards players two unique free games. The first free game is triggered by the Scatter symbol and the other with the Wild symbol.
The Wild free games are triggered once three or more Wild symbols show on the gameboard, and you get to reveal up to 25 free games. All winnings on Wild symbols free games are tripled.
When more than three Scatter symbols show on the gameboard, the game triggers 10 free games. For every winning you make on these free games, your winnings are doubled. The free spins make Achilles Deluxe an ideal casino game for anyone intending to win some big money.
4. Theme and design
What is likely to keep you glued on this online casino slots game is its unique theme and design. Actually, RTG has designed the game to bring to life, the famous Greek legends, Achilles, Agamemnon, Helen, and Paris. All the graphics revolve around bringing the image of the ancient Greek and Trojan War into reality. You'll also meet some special characters like Orlando Bloom and Brad Pitt from the famous Troy movie released in 2004.
Along with the Game Logo Scatter and the Shield Scatter Wild, the game features a unique background that makes you feel right at home in ancient Greece. The developer has designed it in the form of the ancient Greek temple giving it a more 'sacred' look. You'll want to explore every single moment you spend playing the Achilles Deluxe online slot.
Achilles Deluxe Jackpot Slot on Slots Play Casinos
Achilles Deluxe jackpot slot has it all – 40,000x bet wins – wilds, scatters, bonus games, free spins, minor and major progressive jackpots.
Conclusion
If you're looking to break the bank of Ancient Greece, the easiest way would be to head on over to the Achilles Deluxe online casino game. The game comes with multipliers you won't want to miss out on – a 2,000 multiplier and unbelievable triple multiplier on free games and jackpot. RTG did not let punters down when designing Achilles Deluxe in its unique way.
The progressive jackpots, free spins, and medium volatility are what make the game more thrilling than most. Achilles Deluxe 2020 is an upgrade of the previous version of Achilles 2012 and now features almost everything you need in an online casino slot game. If you love history or are a die-hard fan of the ancient Greek slots online, don't hesitate to join Achilles Deluxe and start spinning the reels. Your big win is on its way.