We are in ancient Greece as our hero, Achilles, is on his way to saving Helen and ransacking Troy! Achilles has a random progressive jackpot and two free spin bonus rounds! Lest we forget, the Trojan Horse has a big role to play in Achilles! The wild or the scatter symbols trigger the free spins which have a multiplier of either 2x or 3x.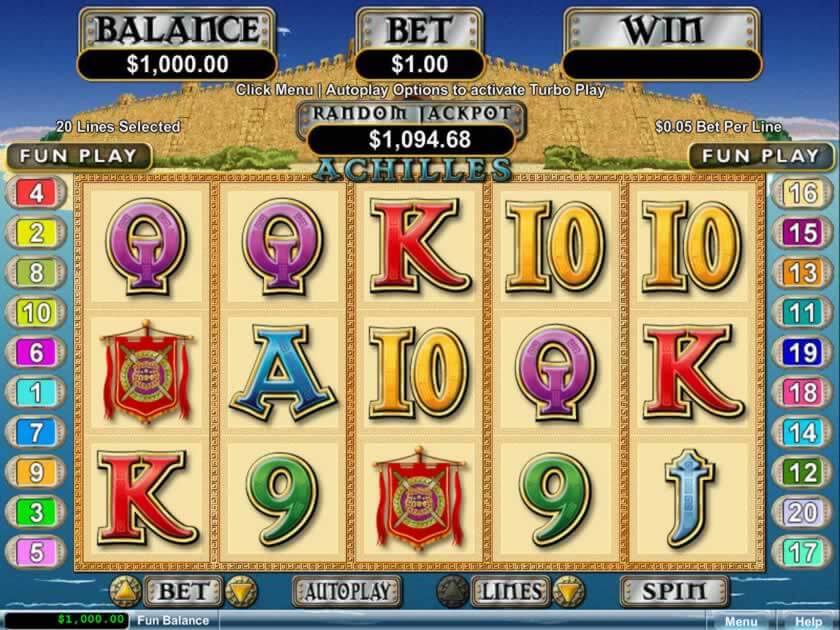 Game Info
Game Type
Progressive Slots
Max Jackpot
Progressive Jackpot
Achilles Slot Review
Achilles was one of the Greek's most heroic figures of the Trojan wars. Now he comes to life in the Achilles slot, available for real money gambling entertainment at the online casino. Homer's Iliad tells the tale of Achilles, son of the gods Thetis and Peleus, who slayed the Trojan hero, Hector, outside the gates of Troy during the Trojan wars.
Today we refer to someone's "Achilles Heel" as the spot where the individual is vulnerable. That's because the strong, resilient war hero Achilles was killed with an arrow to his only vulnerable spot — his heel. Gamers today are prepared to meet all challenges when they compete in the five-reel, 20-payline Achilles slot.
Achilles Slot Information
Betting is a bit tricky in the Achilles slot. There's an easy, low-key bet option of only one coin of .01 for players who wish to play a sedate game without a lot of tension. However, for players who wish to compete for bigger prizes, the wagers can go up to 5 coins at up to .25 per coin.
In addition, Achilles is a progressive slot. It's a regular game that combines with a progressive jackpot to create big wins and the chance to win a huge jackpot. When you play Achilles you enable your paylines as you normally do — enable whichever paylines that you wish but keep in mind that if your win occurs on an unactivated payline, it won't pay out on a win. So activate as many paylines as you can, even if it's only a 1 coin, .01 value wager.
Then, make one last additional deposit on the progressive game. This allows you to enter into the progressive jackpot competition and compete to win the big jackpot prize. You'll be vying with players from around the world. When one player, anywhere in the world, triggers the jackpot, he wins the prize that's worth hundreds of thousands of dollars.
With all of these gaming options you'll be able to play the Achilles slot at a level that fits your personal budget and excitement level.
Achilles Slot Features
Three regular game symbols — or two regular game symbols plus the Achilles Wild symbol — complete the payline to deliver your win. Symbols include all of the images of the Trojan wars including Greek soldiers, shields, horses, fortresses, Helen of Troy, a war banner and more.
If the 3 or more scatter Troy symbols appear on a regular game spin, you'll activate the Free Spins bonus round. When the Free Spins starts the machine will automatically allow you to spin the reels for 10 times with no deposit required. All of the wins that you achieve on these free spins are real money wins and the winning payouts will be added to your other game winnings which you can withdraw from the casino at your leisure.
The free spins retriggers if a free spins spin results in  three of any combination of Achilles/Troy symbols. The retriggered free spins payouts will be added to your other free spins wins and your regular game payouts. Winnings from the retriggered free spins are doubled.
If three or more Achilles symbols appear during the free spins you'll be invited to choose one of the symbols. The symbol that you choose determines whether you'll achieve 15, 20, or 25 additional free spins. The wins that you achieve during this bonus are tripled. Troy symbols convert to Achilles and Helen icons which then increase your chances of winning.
With a RTP payout percentage of 95% you're sure to enjoy the Achilles Slot on your PC or mobile device.
Conclusion
You'll have fun playing this slot, whether it be for big stakes, or small stakes. But always keep in mind that you can only win the really big progressive jackpots if you've played the max bet. As the old adage goes: in order to win the game, you've got to be in the game.