Enter Asgard and meet Norse gods Loki, Thor, Freya and Odin who will line up for you on the slot machine's 243 PayWays as you summon the luck of the gods along with plenty of slot machine cash wins.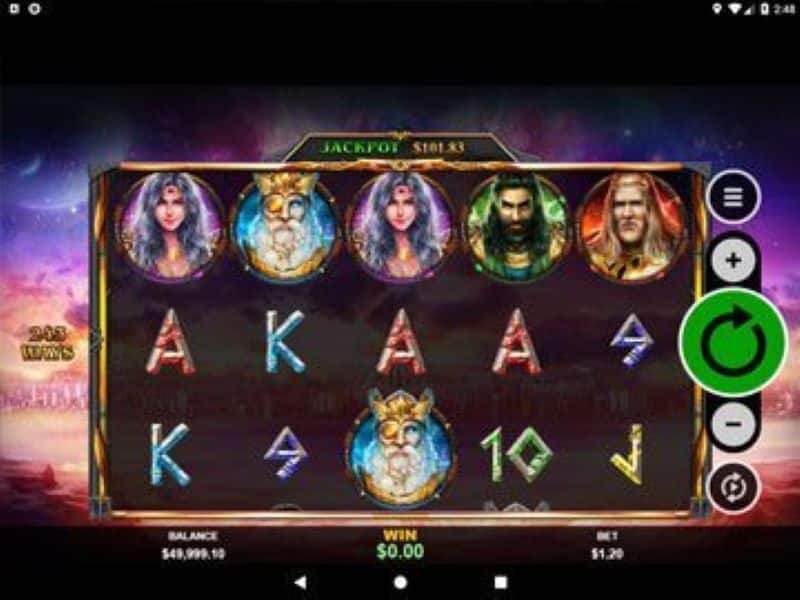 Game Info
Max Jackpot
2000 times the bet
Asgard Deluxe Slot Review
Loki, Thor, Freya and Odin, the gods of Norse mythology all return to line up on 243 payways and provide players with a gaming session of fun and excitement along with real money payouts. The original Asgard was a slots classic and now
Asgard Deluxe
is available at
Slots Play Casinos
'
partners for more Norse-themed entertainment.
Asgard Deluxe Slot Information
In Norse mythology Asgard was one of the Nine Worlds that surrounded the tree Yggdrasil. It was home of the Aesir fortress where a tribe of gods lived. Asgard refers to an orderly world where everything operates in an orderly fashion, as opposed to the outer world where things are chaotic and wild.
According to Norse legend, Loki, Freya, Odin and Thor lived in Asgard. Loki assists the gods, though sometimes he behaves maliciously towards his deity-compatriots. He can appear in many forms including that of an old woman. His movements were said to cause earthquakes.
Odin was a magician among the gods and was known as the god of poets. He appeared as an old man, tall with a flowing beard, a clock, a wide brimmed hat and one eye (he gave his second eye in return for wisdom. As the Norse war god, Odin is always depicted with a spear in hand. He was known as the protector of heroes.
Freya, which means "Lady" in Old Norse, was the most famous of the Norse goddesses. She was charged with overseeing battle, death, love and fertility. Norse mythology credits her with teaching witchcraft to the Aesir tribe of gods and with weeping tears of gold over her dead husband.
Thor was the most popular of the Norse gods. He was known as the god of war and of fertility. Thunder and lightning resulted when he rode over the clouds in his chariot as he swung his hammer Mjöllnir. The ancient Norse people worshipped Thor as "their" god.
Now you too can summon the power of Norse mythology when you play Asgard Deluxe online slots at Slots Play Casinos.
Asgard Deluxe Online Slot Features
Join Loki, Thor, Odin Freya and other symbols of Asgard as they line up on the
Asgard Deluxe
slot machine's
243 Payways
to complete combinations and deliver payouts. There's a top payout of 2000x your bet so you can play for high stakes or even for free.
Asgard Deluxe is a mobile-enabled slot machine meaning that you can play it on any tablet or smartphone mobile device. The betting tools are made easier by the fact that there aren't any paylines so you don't have to enable each individual payline in order to trigger winning payouts. You wager on each spin for a global payout as each spin gives you 243 opportunities to create completed payways.
The game starts out with an expansive video of a scene that depicts the famous Asgard Norse fortress of the gods. You'll feel the excitement as the legendary Asgard hovers in the background through multipliers, morphing wilds, bursting wilds and tripled wins. All those wild symbols and reels mean that you have more opportunities to complete winning combinations and achieve winning payouts than ever.
Game symbols include the four main gods themselves, Thor, Odin, Loki and Freya along with the holy Yggdrasil tree, Thor's hammer, the Asgard fortress and traditional slots letters and numbers.
If a base game spin results in multiple Yggdrasil scatters you are presented with one of four free game options
15 free spins with up to 3X win multiplier
20 free spins with bursting Wilds
25 free spins with Multiplying Wilds
30 free spins with Cascading Multiplying Wins.
Slots Play Casino gamers can add the casino bonuses to the game's bonus rounds and multipliers to enjoy even more lucrative winning payouts.
Conclusion
Take the chance to explore the ancient legends of the Norsemen and collect cash prizes in the process when you
play Asgard Deluxe online slots
.