Ingenuity is the key to this fun slot. The Venus in the name refers to the Venus Flytrap and to the planet in outer space. The wilds are asteroids and they stick to the reels for two spins to create a heavenly environment. The rocket scatters create free spins. And the animated Venus Flytrap "traps" the 4338x jackpot!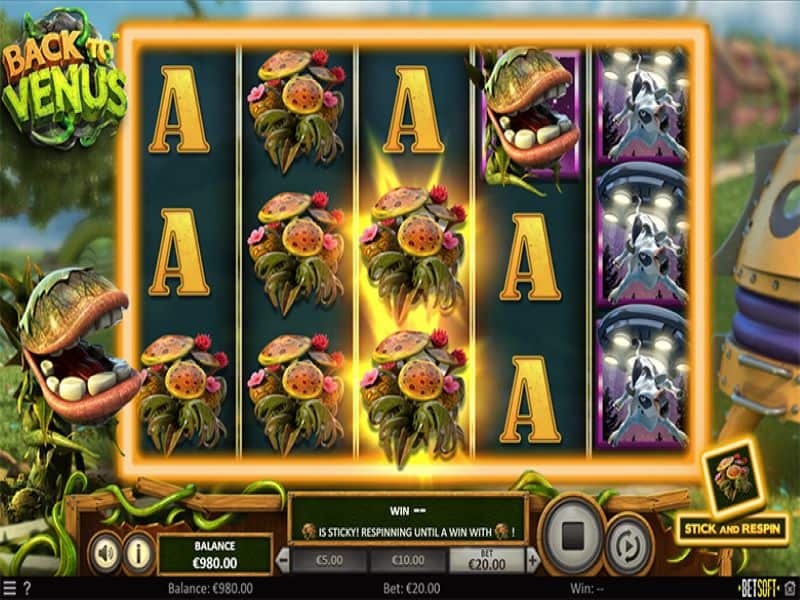 Game Info
Max Jackpot
€86760 (4338 x Bet)
Back to Venus Slot Review
The Back to Venus slot takes you on a whirlwind tour of the cosmos with an alien plant theme that makes you feel as though you are truly hurtling through outer space. Venus is the second closest planet to the sun. It was named after Venus, the Roman goddess of beauty and love, by ancient astronomers, Those early astronomers only knew about 5 planets but when they saw Venus, which shone the brightest, they declared that it was a home to a goddess.
Venus is a unique planet. It's unlikely to support life as we know it because it's the hottest of our solar system's planets and has 90 times the atmospheric pressure of Earth. Yet scientists believe that one day, they'll be able to explore Venus to discover its secrets and teach earthlings a bit more about our solar system and its inhabitants.
Bank to Venus Slot Information
Back to Venus slot is a new Betsoft game with an extremely generous 97.07% Return to Player. That means that, whereas other slots generally offer only a 95% or 96% RTP, Back to Venus delivers one of the highest payback percentages in the industry.
The slot machine features 5 feels and 20 paylines plus a maximum jackpot of 4338 x bet. There's no pressure in this game – minimum deposits per line are a budget 0.20 coins per line but if you want to go all out you can place up to 20.00 coins per line. This game has it all – a bonus game, a wild symbol, a scatter symbol, multipliers, respins and much more!
Back to Venus Slot Features
This is a game that's chock-full of special features. Game symbols include bizarre space plants with mouths and teeth, mushroom-like fungi, spaceships, discs, houses and more. The reels spin within a space-themed background that sets the stage for the fun to come.
The Asteroids are Wild. When they appear on the reels they become sticky and stick to the reels for an additional 2 spins to give you additional wins.
It's worthwhile to wait for the rocketship to return to Earth. When it does, it delivers free spins. Three Rockets award 10 Free Spins. If you get 4 or more Rockets you'll add Multiplier Wilds to those ten free spins! The free spins include those wonderful Sticky Asteroid Wilds which means that, even during the free spins, the wilds stick to the reels to grant more winning combinations.
Stick around for the Second Chance features which round out the game nicely. They include the Prickly Sticky and Respin features. In the respins feature, the machine chooses a random symbol which becomes sticky. The reels then respin until a win occurs with that symbol! When the plant bursts into a Flowing Wild Burst, you get a free respin with Asteroid wilds. Meanwhile, on the second screen, additional free spins take you to Venus where multiplier wilds wait in the rocketship.
Conclusion
The combination of a low-to-high betting range and huge payout potential make this game a winner! Check it out at any of a number of our
Slots Play Casinos
partners.