Are you ready to dribble your way to a 243 ways ULTRA MEGA WIN? Can you score more than your opponents, or will you shoot bricks? Get into Dragon Gaming winning mode on the exciting Basketball Legends: Street Challenge and hip hop to high bet victory!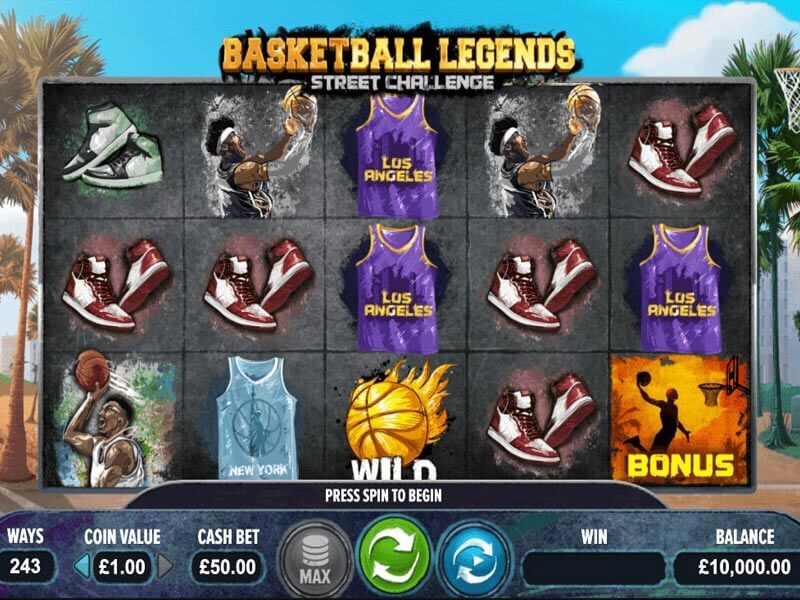 Game Info
Max Jackpot
Max Payout for Feature Game: $262,500
Our Recommendations
Play
Basketball Legends
Here:
Hottest New Games:
Review Basketball Legends: Street Challenge
This is a super hip slot game filled with slam dunk street credo and a cool way to go play for a NICE MEGA WIN Basket or the ultimate SUPER FEATURE ULTRA MEGA WIN.
The playmakers are right on the basket in this 243 ways to win, 5 reeled smart slot set in the street games of Venice Beach, LA. On the street court, the ultimate jam session is about to get underway and players can win big – seriously big. Let's go a few baskets with the Slots Play Casinos All Stars and see what the score is here…
Game Details
Developer: Dragon Gaming
Game Type: Video Slot
Game theme: Sports
Volatility: High
RTP: 95.73%
Layout: Base Game: 5 reels, 3 rows; Bonus Game: 3-4-4-4-3
Pay lines/Ways: 243 Ways to Win
Features: Free Spins, Multipliers, Wilds, Additional Free Spins
Min Bet: $0.50
Max Bet: $125
Max Payout for base game: $72,000
Max Payout for Feature Game: $262,500
Platform: Download, Instant Play, Mobile
About Basketball Legends: Street Challenge Online Slot
Basketball Legends: Street Challenge is a fast-paced 5 reel, 3 row grid and the game comes with 243 ways to win. The game is played with wild symbols and bonus symbols and there are plenty of free spins to help players become king of the street baskets.
Basketball Legends: Street Challenge is inspired by some of the best NBA players street art, and most of the symbols are artistic drawings of NBA players, basketballs, famous kicks, and more.
The highest paying symbols are edgy representations of famous players. Plus, a group of iconic symbols that come in the shape of sneakers, jerseys, and basketballs. It all fits nicely with the core theme of the game, cool street art and basketball.
Look and Feel
The graphics here are graffiti-like paintings, creating an urban hip-hop vibe, and Basketball Legends incorporates multiplier symbols and has a thrilling free spins mode.
Not only is Basketball Legends very smartly designed, but it is also important that the Dragon Gaming designers got it right in order to please Basketball's army of fans. Thankfully, they do, and as a consequence, we have a game that really works with an edgy winning vibe.
Players are presented with a 5×3 grid with a Venice Beach backdrop and graffiti art icons such as various pumps and sneakers, basketball players, one of which is about to perform a slam dunk legendary jerseys and a flaming basketball wild. The design is nice and bright and really rather colorful, perfectly suited for its Los Angeles setting. Underneath the hot Californian sun, the branches of the palm trees sway lightly in the Pacific breeze. As for any information required to play the Basketball Legends slot, including game settings, everything can be found in the bottom strap underneath the main playing grid.
Hip hop fans will enjoy the soundtrack to Basketball Legends as that's the vibe the game's designers have chosen to go with regarding with music. Every once in a while, the voice of a rapper can be heard before he goes away again. The sound works very well for the setting where the game takes place and was a smart move by the makers of Basketball Legends.
Collecting as few as three of these symbols from left to right, will make a winning combination for players of Basketball Legends. The controls are simple, and everything you need can be found on the main screen, where the 5×3 grid is located. Right beneath it is the bar where all the controls are.
Down there, you can adjust your wager by changing the value of the coin. The paylines are fixed and set to 243 ways, which allows for combinations to be made all across the board in more ways than you can see.
You can put the game on autopilot as it has a neat autoplay feature, and the button for it can be found right next to the "Spin" button. After you've set your bet, you can start spinning the reels and watch the rewards come your way.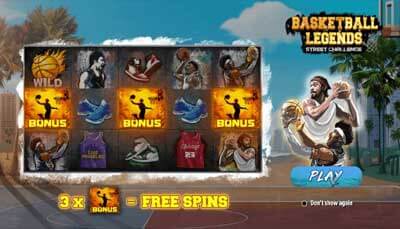 The Game Play
To win in Basketball Legends: Street Challenge, you'll need to make the right combinations of symbols on any of the 243 paylines in the regular game (or 576 in the Free Spins mode).
The slot features 10 symbols — 3 of them are low-paying, 3 are medium, and 4 are high-paying. Each of them pays more than the one before.
As you can expect, this is just the main aspect of the game, but thanks to its high volatility and special features, you'll want to win money in other ways too. For instance, you should definitely hope for some wild symbols, which bring multipliers of 1x–40x with them.
Besides the wilds, the game features a great Free Spin Pick mode, where you won't just receive free spins — you will also decide how many of them you want to get. Of course, you will still have to get three or more bonus symbols in a spin. Once you do, you'll activate the free spin feature that lets you choose several options, each having a specific number of free spins and multipliers.
For example, you can pick 6 free spins and the multipliers of 15x, 30x, or 40x, or you can pick 25 free spins with the multipliers of 2x, 3x, or 5x.
It's a simple system that has the potential to offer some truly massive amounts, especially if the multipliers are high. Bear in mind that each pick has three possible multipliers, so there's no way of knowing which one you'll get. The number of free spins is always fixed, except in the Mystery option, where you don't know how many free spins or multipliers you'll get.
Symbols ✨
The payouts from the symbols in Basketball Legends Street Challenge are quite different and depend largely on the type of symbols you get. If you are interested in this, you can take a better look at the pay table, which can be found in the game's Settings area.
Naturally, you'll want to combine the basketball legends, as they pay the most. The highest paying symbols will award you with 1,500x your coin value if you connect five of them.
You also need to take into account the wilds and bonus symbols:
Wilds award you with random multipliers of 1x, 2x, 3x, 5x, 8x, 10x, 15x, 30x, and 40x.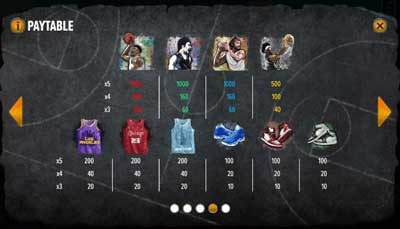 Bonus symbols pay 2x your coin value if you connect three, 5x if you connect four, and 20x if you connect five.
WILD Hot Basketball MULIPLIERS when WILD symbols form part of a main game win combo on of the random multipliers is applied to all the wins containing WILD symbols on reels 2,3,4
Bonus Symbol Slam Dunk artwork of players, shirts and basketball shoes
Bonus symbol payouts are multiplied with the Total Cash Bet
3 or more Bonus symbols appearing anywhere on the reels trigger the Free Spins Pick Feature.
Free Spins Multiplier is Not Trigger with a Bonus Symbol Payout
Free Spins Pick Feature
One pick with be awarded in each PICK Feature. During Free Spins, if 3 or more Bonus symbols appear on the reels, an additional Pick Feature will be awarded. Any additional Pick Feature will be played after completion of the current Free Spins in play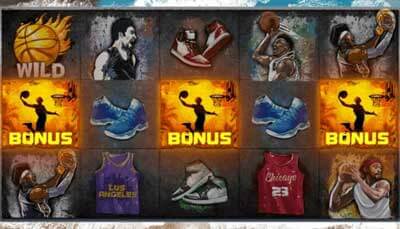 Mystery Pick
You will be awarded a random number of Free Spins and a random Multiplier,
Gameplay Special Features 🎁
What makes Basketball Legends: Street Challenge unique is the freedom that players have in the Free Spins round. When you land three bonus symbols representing a dunking player, you'll have to choose the number of Free Spins you want.
We did note that, the more reels of Free Spins you choose, the lower the multipliers will be, so take your time to study the available strategies before making a slam dunk. Alternatively, you can select the Mystery Tactic option and let the game surprise you!
Wild X40 Multipliers
When Wild symbols form part of a main game win combination, one of the random multipliers (x1-x40) is applied to all wins containing Wild symbols. Your job is to spin the reels and join an intense game with plenty of opportunities to shoot hoops. If you're lucky enough to score, you could win lucrative prizes.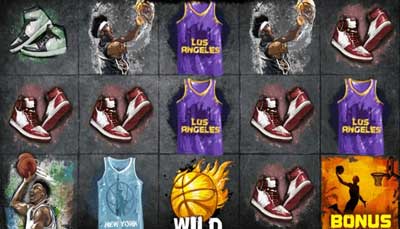 Play For a Win Today
Basketball Legends: Street Challenge is a perfect game for all those slots players who love the NBA, street art, and basketball in general. The game is highly volatile, and you won't be rewarded very often, but once you do, you'll usually get a really high score, especially if you manage to land wilds or start a free spin round.
Judging by all this, we can safely say that this is a game worth testing out, especially if you are a risk-taker looking for a new and unique challenge.
Go a few baskets with a fast-paced slam dunk on anyone of our top partner casinos: