The entertaining three-reel Cash Grab slot is a step up from the traditional old-time classic slot machine. You can play on your PC or mobile device at your leisure to enjoy all the amenities of a simple fun-filled spin-and-win slot that features regular spins, a bonus feature and two wild symbols.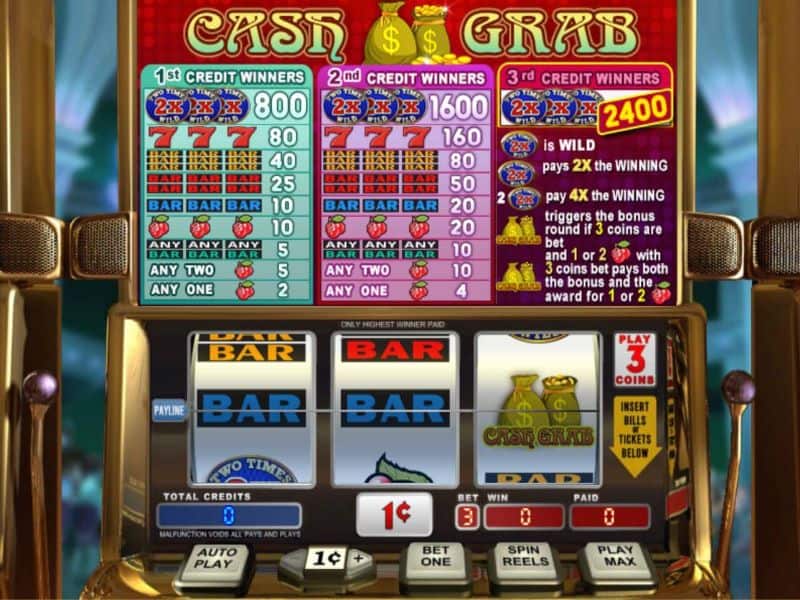 Game Info
Max Jackpot
2,400x bet per line
Cash Grab Slot Review
Cash grabs offer intriguing ways to get a little big extra cash for extra expenses. Some cash grabs are big – schemes to get people to buy products or services that aren't worth what the people pay for them. Others are even bigger – government attempts to increase taxes without increasing services.
But sometimes, a cash grab can offer an unexpected opportunity to get a bit of extra money without expending a lot of energy. That's what the Cash Grab online slot game delivers. It's a simple penny slot but players have the chance to enjoy nice winning payouts and even some bonus wins.
But you be the judge – play Cash Grab at any of our Slots Play Casinos partners:
Cash Grab Slot Information
Cash Grab slot is a great game for players who are looking for a low-key slot machine that doesn't have a lot of bells and whistles but delivers a lot of excitement and real money prizes. Gamers can bet as little as one penny on the one payline but, with that bet, they have the chance to compete for the 2,400 fixed coin jackpot.
Most high-stakes players don't even look at a three-reel slot machine but this slot offers some difference. Real money high-limit players can bet $10 on all three paylines which makes the maximum bet per spin $30 – not the highest limit in the slots lobby but a reasonable bet for a worthwhile payout.
Don't forget — the biggest benefit of the 3-reel slot is its simplicity. You can complete the game in seconds and you don't have to make your way through long bonus rounds as you move through your base game gameplay. In addition, since you only have to play a minimum number of paylines, a three-reeler is the best way to make your bankroll last longer.
Cash Grab Slot Features
Since Cash Grab is such a simple slot machine, it has to work harder to draw gamers in so players see the effort in its graphics which create the illusion of a virtual casino. The seemingly old-school machine is full of details, with flashy lights, a level on the side and the paytable on the top. As you play you'll see the casino gaming floor in the background. Cash Grab is a great example of how 21
st
century technology can make a simple three-reel machine into a fun-filled Slots Play Casino gaming adventure.
At the bottom of the game screen you'll see a Command Bar that mimics a classic slot machine's big square buttons. Everything is easy to understand including the 3-reel online slots matrix that features one payline. All you have to do is to match as many winning combinations as you can on that payline and you'll find yourself pocketing plenty of cash prizes. The arrows are there so you can adjust the coin value from one spin to the next with options to bet 1, 2 or 3 coins on each spin. The payline lights up to highlight each payout.
As always, your payouts depend on the level of your bets. Press "Play Max" to bet the highest number of coins and hope for a jackpot win.
Symbols include all the favorite old-time slots images including low-payout cherries, mid-payout bar signs which can appear as single, double or triple size and red sevens and Cash Grab logos that deliver the top prizes.
The Cherries are the game Wild. Cherries can substitute for other symbols on the payline to form a combination and trigger a cash prize. If you hit the jackpot you'll get a triple logo combination on a 2-coin bet for a win that's 1,600 times the value of your wager.
On a three-coin bet you'll unlock special features so you have more chances to win more prizes. With 3 coins the game logo combination delivers a 2,400x win as each logo acts as a wild. Combinations that include Wilds pay out at a double multiplier value while two wilds in a matching combination quadruple its cash value.
When the money bag appears on the last reel the Cash Grab bonus feature is enabled. Most three-reel slot machines don't have bonus features but Cash Grab does, making it a special three-reeler. Once the Cash Grab bonus feature enables you can choose between 3 cash bags to determine your bonus reward.
Conclusion
Cash Grab slot combines a classic slot game pattern with modern features and technology, both high and low betting options and fun gameplay for new slots gamers and veteran players alike. The lifelikegraphics, low limit minimum bet, multiplier and special bonus game make this slot a good bet for a fun-filled gaming event on PC or mobile.