The Cleopatra's Pyramid slot machine brings back the majesty of Egypt's last empress through engaging graphics, an enthralling storyline and plenty of opportunities to win big money prizes. Spend some time among the legendary wealth of Cleopatra and her powerful lovers as you spin the reels on your PC or handheld mobile device.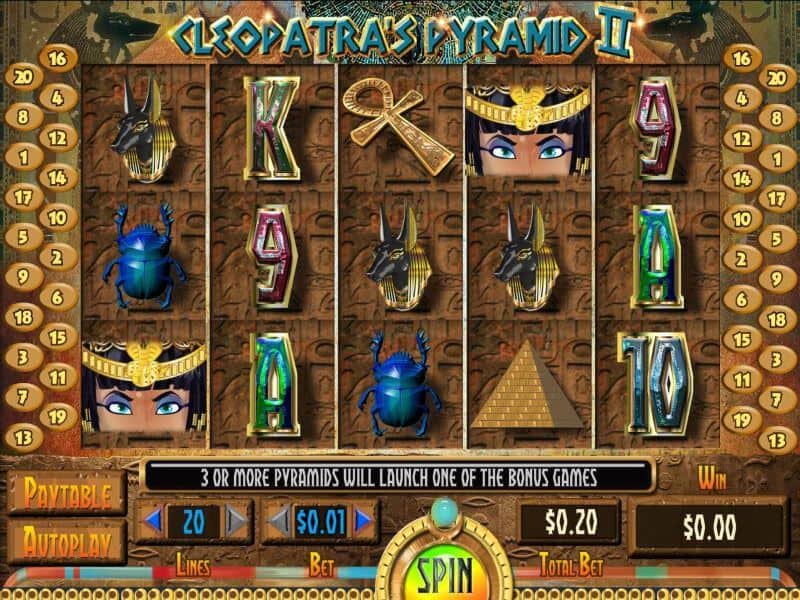 Game Info
Max Jackpot
5000x bet per line
Our Recommendations
Play
Cleopatra's Pyramid II
Here:
Hottest New Games:
Cleopatra's Pyramid Slot Review
Cleopatra was the last ruling monarch of Egypt's Ptolemaic Kingdom. She is best remembered for her beauty, her riches and her unconventional love life. Cleopatra captured the hearts of two of that era's most powerful men, Rome's Julius Caesar and Mark Anthony. Cleopatra is best known for her ability to amass a vast store house of jewels and gold for her personal treasury.
Learn more about Cleopatra via the fun-filled bonus slots Cleopatra's Pyramid.
Cleopatra's Pyramid Slot Information
By the time Cleopatra took the throne in the 1
st
century BCE the pyramids had already been built but as the head of the Ptolemaic dynasty, Cleopatra was destined to rule the Land of the Pyramids. Her subjects regarded her as the living embodiment of the goddess Isis, first marrying her brother Ptolmey XIII and then battling him for the throne. When Julius Caesar came to Egypt to broker a peace, he became Cleopatra's lover. Thanks her new alliance Cleopatra was restored to the throne and soon gave birth to a son, Ptolemy XV Caesar (also known as Caesarion – "little Caesar).
Cleopatra was in Rome in 44 BCE when Caesar was murdered and she met Mark Anthony soon after. Anthony was captivated by the Egyptian beauty and he and Cleopatra sired twins  – Cleopatra Selene and Alexander Helios.
In Rome, Caesar's grand-nephew Octavian began a campaign to take Rome's throne from Mark Anthony. In a bid to re-establish the peace, Anthony married Octavian's sister, Octavia but continued to cohabit with Cleopatra. The two proclaimed Caesarion to be Caesar's son which removed legal legitimacy from Octavian – who had been adopted by Caesar — as Caesar's rightful son and heir.
Cleopatra was recognized as queen of kings when Anthony named Caesarion as the king of kings. Octavian took this to mean that Anthony was challenging his rule. He rallied the Romans by announcing that Anthony was giving Rome to a foreign ruler and announced that Anthony was planning to make Alexandra Rome's new capital. As he had hoped, the Roman Senate declared war against Cleopatra and Mark Anthony. Facing ruin, Cleopatra and Mark Anthony committed suicide and were buried together in Rome.
Regardless of the tragedy of the historical account, the story of Cleopatra continues to fascinate. Numerous pieces of literature have emerged over the years about the account including the immortal Anthony and Cleopatra by William Shakespeare. The narrative has also been retold numerous times on film. Now you can explore the fascinating story of Cleopatra's life, loves, rule and riches in the exciting Cleopatra's Pyramid slot available for both free and real money play at Slots Play Casinos.
Check out Cleopatra at any of these partner casinos:
Cleopatra's Pyramid Slot Features
The Cleopatra's Pyramid online slots focuses on the tales of ancient Egypt where some secrets of man's ancient history have been revealed but much more is still buried. The Cleopatra's Pyramid slot machine is based on the life of Egypt's most famous and powerful queen, Cleopatra, whose wealth and ability to attract rich, powerful men is legendary.
You can play Cleopatra's Pyramid on your PC or your mobile device. Wherever you play you'll find high quality graphics that create an immersive atmosphere that takes you into one of Egypt's most volatile and uncertain period. As the reels spin you'll see a gold background where delicate and precious gems and other exotic ornaments float. Look around Cleopatra's palace and check out what her legacy might leave to you to take home to your own palace.
The game is set up to provide intuitive gameplay pattern that allows gamers on every level and every betting strata to play in a way that meets their personal needs and expectations. The game is a five-reel, 20 payline slot machine so you can enable as few or as many of the 20 paylines as you line.
There are both low-paying symbols – including numbers 9 to Aces for which you can win up to 500 times the size of your wager with 5 Aces lined up on the reels) and high-paying symbols (eagles, sarcophaguses, sphinxes and eyes), along with both low and high bets so regardless of whether you're a budget gamer or a VIP high-roller, you'll be able to play at a level that suits your betting strategy. The highest payout that you can aim to achieve is 1000x the value of your initial bet.
The Wild is the Cleopatra symbol which can substitute for any other symbols to complete paylines. The Cleopatra Wild is a multiplier that doubles the payout when it is part of the completed paylines. Wild combinations can be valued at up to 10,000 times your wager.
The blue beetle symbol is the game's scatter. It awards cash prizes regardless of which position it falls on the reels. Three or more scatters, appearing on a spin, trigger a 15 free spin bonus round.
The bonus symbol is the pyramid itself. If it appears simultaneously on reels 2 and 4 it triggers the game's bonus round where you flip over stones to reveal extra cash prizes. Watch out for the snake – if it emerges, you'll be sent back to the regular game.
Conclusion
Cleopatra's Pyramid online slot isn't full of bells and whistles. It's a solid game with engaging graphic images and generous bonuses that can please any gamer at any level and betting strata.