New game in town! Go play some fun & highly volatile rounds on Copy Cat Fortune – an action-packed 25 payline game. Get acquainted with a super Reel Copy Feature that adds amazing bonus rounds, to up your chances of hitting the big time. You get to choose just what kind of FREE GAMES you prefer from 2 exciting options. When a wild alley cat plays with his toys, it's you players who will spin to win!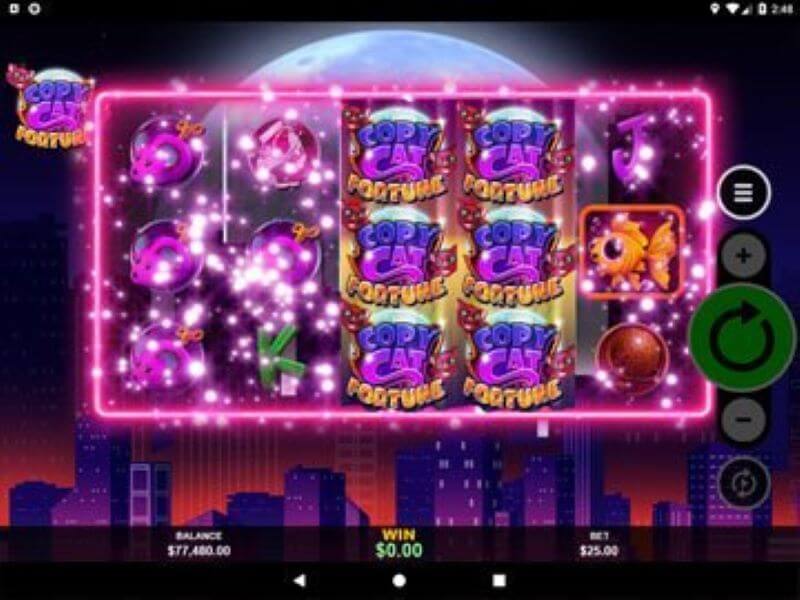 Game Info
Max Jackpot
50,000 times bet per line
Copy Cat Fortune Game Review
Let the fun begin with a brand-new online slots game that is hitting the reels with lots of interest as the hot new slots play in town! Copy Cat Fortune is the latest five-reel, 25- line video slot that is about to break through into the popularity ranks.
This entertaining, engaging, highly volatile alley cat-themed game, provides truly impressive animations set to a bright, colorful theme. Slots Play Casinos happy group of slots play testers set about to go some rounds of online casino play and spin a few bonus rounds, and report the game performance findings back to you guys and gals.
Copy Cat Fortune Impressive Design & Playability
Looking to play from the coziness of your home or while on the go? The Slots Play Casinos team can happily update you that Copy Cat Fortune online game delivers top-notch entertainment both in instant play and mobile variants, offering an equally immersive gaming experience that looks and plays wonderfully.
Moreover, Copy Cat Fortune is available in downloadable online casino formats, which means that players can get their slots play and run the game without any hassle involved on their laptops and desktop computers.
This fresh off-the-line online slot is characterized by some quirky sound effects and truly attractive graphics and visuals that are fun and will make you smile. That cheeky WILD alley cat gets on your reels and can cause some havoc with his toys of a windup mouse, goldfish, quirky parrot, and well-played ball of wool. Top marks for fun animations and lively gameplay!
Copy Cat Fortune Gameplay Highlights
So, who doesn't love an animated slots play bonanza? The Slots Play Casinos Slots gurus certainly do and went wild with some sessions on this brand-new game and came away smiling.
This classic style video slot 5-reeler with 25 lines is set into the background of a skyscraper cityscape filled with kooky animated characters that fill the reels with some pretty fast-paced action.
The top jackpot for Copy Cat Fortune is 2000 x your bet, which is a pretty good jackpot to boost your bankroll!
The copy cat character feature is a scrappy green-eyed cat ready to pounce for his extra bonus hidden in the dark alleyways. You'll also get to meet a copycat parrot WILD symbol, who substitutes for all other symbols. The other symbols to fill the reels are a bunch of quirky cat toys. You'll find popping up a ball of wool, a wind-up mouse, a goldfish, a naughty parrot and a bunch of letter and number symbols.
The specialty of the game is its Reel Copy Feature. It is simple, smart game play and works in your favor. If Reel 1 contains a 'full stack' of the same symbol, it will be copied to 1, 2, 3, or all 4 remaining reels.
All wins are evaluated after the Reel Copy feature is completed and the Slots Play Casinos team found plenty of wins to take on board.
Copy Cat Fortune Free games and Bonus Features
It is during the free spins play that Copy Cat Fortune comes into its own. When reaching the power play stage of free spins, if you win at least a total of ten free games then you get the exciting option to pick between two booster bonuses that really up the ante of this game.
Slots Play Casinos testers got to pick between Regular Free Games OR 50 Line Free Games with half of awarded free games. Any remaining free games are played as Regular free games.
Becoming a Copy Cat Fortune Player
When you really dig down into the nitty-gritty of Copy Cat Fortune, you'll find  a fairly standard slots play machine with only a couple of special features designed to spice things up a bit.
That's not such a bad thing, because not every slot has to deliver up gameplay complexities, but rather the opportunity for great entertainment and the ability to boost your cash flow with some decent reel hits and jackpots.
While some players really like to see a wide range of twists and features designed to make things wild and unpredictable, many others prefer to play the basics.
Well actually Copy Cat Fortune does offer more than just the basics, with its interesting bonus round options feature to make sure that gameplay doesn't get overly repetitive without bogging things down with endless other features. Plus, the Copy Cat Fortune reel copy feature is just innovative enough to make this online slot stand out from the crowd.
The bottom line from Slots Play Casinos is a positive thumbs up for Copy Cat Fortune. Absolutely we'd advise picking yourself some slots play time to wander the city alleys yourself.