Purr with delight and win more on this purrfect online slots game from WGS. Crazy Cat lady is epic entertainment delivering tongue-in-cheek cuteness, top cat WILD play and four potential MEGA WIN Progressive Jackpots.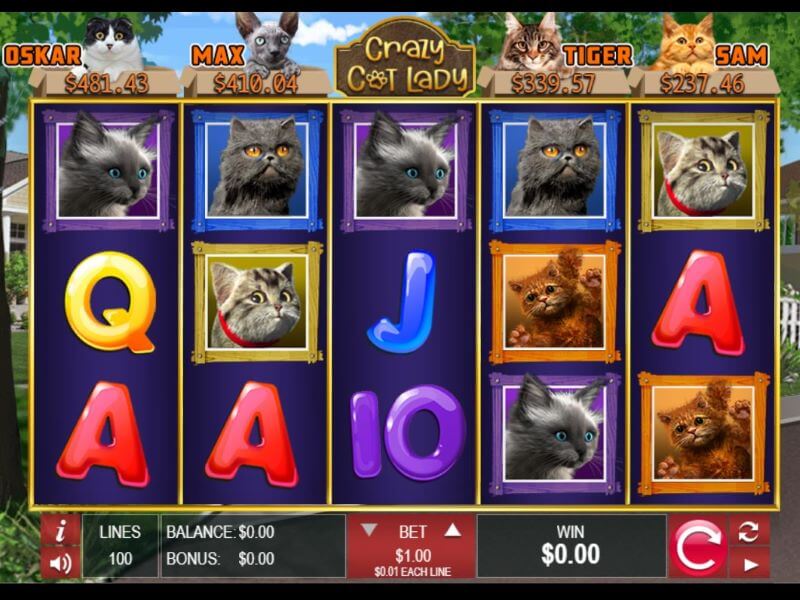 Our Recommendations
Play
Crazy Cat Lady
Here:
Hottest New Games:
Delightful Slot Crazy Cat Lady Review
If you love felines then Crazy Cat Lady is an online slots game to make you purr with reel-play delight. Slots Play Casinos do adore top cats, so we went to granny's back yard and visited her furry friends, for some amazingly crazy gaming!
Designed by WGS, this is a super, 5-reel progressive bonus slot, with FOUR Jackpots played out on 100-paylines, delivering some very hot prospects for way more than kitties' nine lives.
Game Details
Software: WGS
Game Type: Video Slot
Reels: 5
Max Jackpot: Progressive
RTP: 96.3%
Pay Lines: 100 fixed
Min Bet: $1
Max Bet: $200
Progressive: Yes x4
Wilds: Yes – the Crazy Cat Lady
Scatters: Yes – the Grumpy cat
Free Spins: Yes 10 per round
Crazy Cat Lady Game Design
Crazy Cat Lady Slots is a 5-reel progressive bonus video slot that is so much fun. We loved the character animation and the storyboard.
The game meets up in the Crazy Lady's backyard, where she is sitting enjoying the company of her four unruly, sneaky feline companions. It's a case of Slot Granny's naughty, high-return pets, meowing all the way to some instant payouts and guaranteed wins of one of four cheeky jackpots.
Crazy Cat Lady slots, developed by Wager Gaming Technology, delightfully offers free spins, four progressive jackpot options, and some base game-winning payouts wrapped up in so much fun.
At the top of the gameboard are the four ticker leaderboards presenting each of the possible Progressive Jackpots, together with the names of each cat. Yup these are Progressives with tomcat attitude!
The gameplay is easy, you can click on the small info icon at the bottom left corner of the slot to access the pay table.
All symbols reflect different types of cats, which is great fun. The features in this game are fantastic and include Wilds, Scatters, Free Spins, Cat-in-the-Box Jackpot, and more.
Of course, the fact that this slot plays out on potentially 100 paylines means that the action is fast and furious!
Base Game
The game symbols include the four different cats with their kooky, grimalkin personalities, the Crazy Cat Lady herself, a free spins cat, a jackpot cat, and feline symbols fill the reels.
The Crazy Cat Lady Symbol is Wild and substitutes for all symbols except for Grumpy Cat Scatter. The Grumpy Cat Scatter pays anywhere and appears on all reels. Get all five Scatter symbols to win 50xs your bet.
The Cat in the Blue Box is the high win BONUS symbol and will pay out 4000 coins if you get all five of them.
Free Spins Round
When the Free Spin Cat appears on reels 1, 3, and 5, players will win ten free spins that open up the opportunity to win a Progress entry award. All wins pay out double your bet. Players can also retrigger this round and the potential MEGA WINS will make your paws curl!
Cat-in-the-Box Jackpot Bonus Round
Players can win the Progressive Jackpot bonus when the Bonus Jackpot Cat in the box appears anywhere on the reels. This bonus round delivers a guaranteed win on one of the Jackpot Progressives.
Progressive Jackpots
Each of the four cat names represents one of the four jackpots. Their names are Oskar, Max, Tiger, and Sam. As previously mentioned, one of the Jackpot progressives is guaranteed to be won. The progressive jackpot bonus is awarded when the Jackpot Cat appears anywhere on all reels to trigger a bonus choice that promises a win of one of the jackpots, either the mini, minor, major, or grand jackpots.
The total jackpot contribution is 2% distributed as Oskar 40%, Max 30%, Tiger 20% and Sam 10%. There is an equal chance for winning one of the Cat-in-the-Box Jackpots.
What Are the Betting Options?
Place your real money bets with an intention to win. The betting starts at one cent and goes up to to $2.00, with a max bet of $200 per spin. There is only one minimum coin size of $1, and players can choose to place bets on all or some of the pay lines.
Crazy Cat Lady Online Slots in a Nutshell
This was the BEST fun we have had on a slot in a long time. So original, smart and humorous. The Crazy Cat Lady online slots game combined all the elements needed for really good slots gaming entertainment, plus it can be mighty profitable slot game with free spin payouts and of course those Progressive Jackpots!
Each of the kooky cat characters signifies one of the four progressive slots. So, you get to have a go on Oskar, Max, Tiger and Sam 😊.
Crazy Cat Lady is a delightful, fun, and high-paying feline slots game offering players instant payouts with a high return to player for online and mobile players.
Yes, we mention mobile play, because Crazy Cat Lady plays out beautifully on a Mobile Casino device, Android or iOS, the slot is purrfectly optimized for on-the-go, top-cat play!
Get yourself some Crazy Cat Lady Game time today at some of our top partner casinos: