Travel in time with Cubee, our hero. Cubee has to "save" ancient times from Evil Rocco and his band of henchmen. Have no fear: Cubee always defeats Rocco! Cubee has a totally unique look. It has no reels; the characters seem to float around. Cubee is a slot like no other! It has vibrant colors, great graphics, and offers a 50,000x top prize!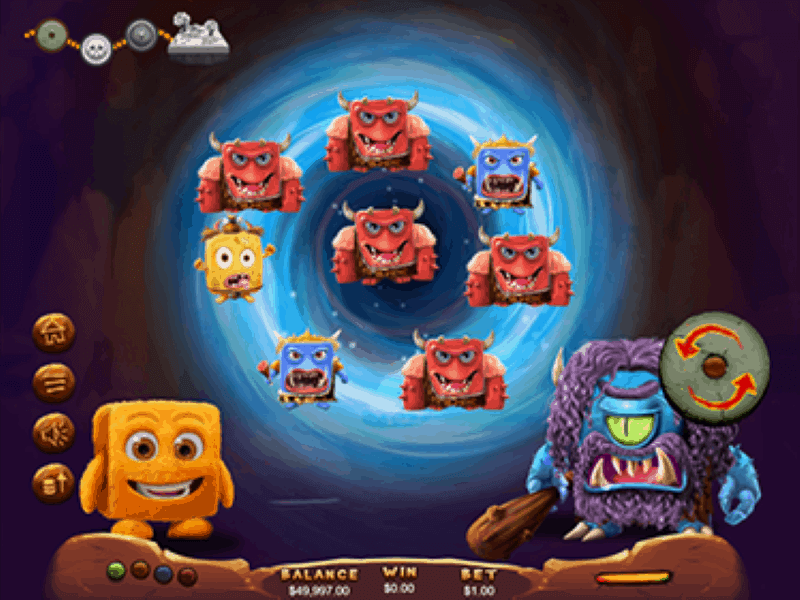 Cubee Slot Review
Most slots are similar. The graphics may change, the math models may change and there may be slight differences in the bonus game options. But for the most part, slot machines have been pretty much one like the other until the present.
Now the Cubee online slot has changed that paradigm to bring you a different kind of slot. The Cubee slot machine still feels familiar and comforting but offers extra features and more opportunities to win big money prizes.
Cubee might just be the slot that you need for your newest online gaming event!
Cubee Slot Information
When you play the Cubee online slot you won't encounter traditional slots reels and paylines. Combinations are formed when you match anywhere from 3 to 8 symbols. The system includes orbital reels which gives extra emphasis to the scatter symbol. There's a possibility of realizing 50,000x the line bet which you can add to Cubee's wins that he achieves when he  battles it out with his enemies.
Since there are no lines to enable with individual bets, wagers ranging from $1 to $20 are set up for the entire game. You can play at a high betting level or make budget-level bets, according to your choice.
Cubee Features
The goal of the Cubee slot is to help Cubee navigate through the Stone Age, the Era of Piracy and the Viking Age while avoiding mean Rocco and his band of sidekicks so that he can return safely to Cubeeland. Throughout the game Cubee hands out generous payouts, free spins and multipliers to show his appreciation for your help.
The symbols are unique because, rather than populating reel positions the varied enemies, weapons and power balls float against the backdrop according to the time period being presented. You'll see axes, bows & arrows, opponents and cannons on the reels which appear in varying shapes and colors. Each of the power balls has its own unique function.
Cubee's enemies are Spike, Casper, Lucifer and Bones. You can use the weapons to make Rocco weaker and the power balls to increase Cubee's strength. Power balls also function as Wilds while they serve as defeated enemies. Depending on the era either cannons or bows & arrows will appear. These are the Scatters.
Once the reels start to spin you'll watch Cubee travel through time. Cubee starts his journey in the Stone Age but he quickly moves on to the Era of Piracy and then to the Viking Age. In each era Cubee must defeat his arch enemy, Rocco, so that he can get to the next period of time. As opponents enter via the time portal they must be beaten back. Cubee's default strength level is 1 in each round and the strength level increases by 1 every time a power ball comes out of the portal. Cubee can only defeat his enemies if he is of equal or greater strength than they.
Each click of the spin button results in the portal ejecting a set of 8 floating symbols which include enemies, weapons and power balls. Every time Cubee defeats an enemy or consumes a power ball, he will lick his lips. For every 3 defeated enemies, you'll get a payout.
Your progress is tied to the amount you're wagering per spin. Every bet has its own progress saved so if you decide to change the wager, accumulated free spins and multipliers are saved and the meter updates for the new bet amount.
Cubee Slots Features
Whenever 3, 4, 5, 6, 7 or 8 enemies appear you get a payout. Prizes start at 0.5x your bet and increase to a maximum of 40x your stake. Don't forget that if an enemy appears to be stronger than Cubee, you won't achieve a payout. So it's worthwhile to spend some time building up Cubee's strength. Cubee needs to consume at least one power ball to beat Spike, two balls to win against  Lucifer, and three cannon balls to overpower Red Bones.
In the upper lefthand corner you'll see a meter that shows how many free spins and multipliers you have waiting for you. Bonus features are triggered in the Pirate Era and saved until the 4th round. Bonus multipliers are activated in the Viking Era and saved until the fourth round.
During the Era of Piracy, every cannon that appears increases the number of free spins and during the Viking Age, every bow & arrow that emerges from the portal makes the multiplier grow.
Cubee reaches his home in Cubeeland you'll collect those multipliers. Since Rocco can't enter Cubeeland, you won't see any weapons during the free spins so you have an even higher win potential when you spin for free.
Conclusion
Cubee is not a regular slot, far from it. It delivers more than its fair share of unique features and exciting payouts which gives players very good reasons to want to try it out for themselves.