Diamond Fiesta marries the vibrant colors and music of Mexico with the Day of the Dead celebration. The holiday is a happy day; it commemorates one's beloved ancestors. Mexicans don masks on the Day of the Dead and masks are a big part of Diamond Fiesta! Diamonds, the four random jackpots, and the wildly expanding reels also play a big part!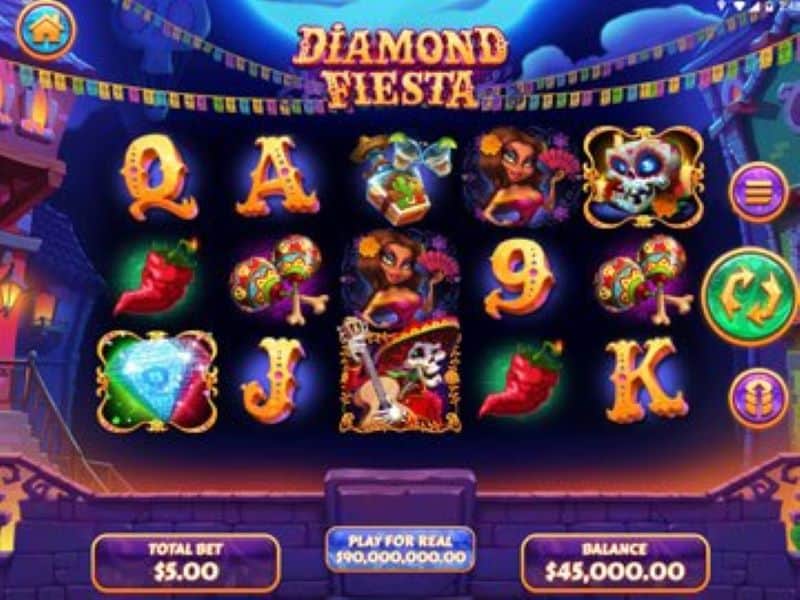 Game Info
Max Jackpot
800 times bet per line
Our Recommendations
Play
Diamond Fiesta
Here:
Hottest New Games:
Diamond Fiesta Slot Review
Close your eyes and imagine that you're in Mexico.  What do you see?
We see great colorful native costumes, mariachi bands, hot peppers, piñatas, and scary looking masks amid all the color, music, and delightful aromas! Did you say scary looking masks?  What would you say if we recommended a new slot that celebrates a holiday called the Day of the Dead? Crazy, no?
But Diamond Fiesta slot does indeed celebrate the grand feast Mexicans call The Day of the Dead. This holiday is actually a wonderful celebration and lends itself very well to slots play, graphics, animation, and sound – and wins!
So, before we get into the fun and exciting nitty gritty of Diamond Fiesta slot, let's take a look at what The Day of the Dead means to Mexicans and people of Mexican descent.
Diamond Fiesta Slot Information
There are many traditions that celebrate one's ancestors and recognize their importance to the people alive at the present time. Some of these traditions are described as ancestor worship while others simply recognize ancestors by lighting a candle, saying a special prayer, or in some other way commemorating the person.
The Mexican Day of the Dead is a national holiday celebrating the memory of all ancestors of all Mexicans. As a national celebration, it is even more important than Cinco de Mayo!
One of the many ways Mexicans decorate their homes and cities is with what seem to be ghoulish masks. Diamond Fiesta slot also has a skull that many consider to be a type of mask. It might seem incongruous to use a skull as a symbol of celebration. But it is a symbol of celebration!
The other prominent symbols are the 9 through ace playing cards, tequila, maracas, red chili pepper, a full-body skeleton of a Mariachi musician, and of course a beautiful senorita! My goodness! What is she doing among all the eerie symbols? She represents the beauty of modern-day Mexico, no less!
The skull mask and the diamonds serve together as co-scatter symbols. Each has a special feature all its own! The full-body skeleton is called Senor Skeleton. He is the wild symbol.
Diamond Fiesta Features
There are many great features in Diamond Fiesta!
Senor Skeleton appears on reels 2 through 5 and substitutes for all other symbols except the two scatters. Senor Skeleton makes extra appearances during the Free Spins feature!
There are four random jackpots that you can win. The mini and minor jackpots can come up at random on any grid and the major and grand jackpots are random only in the 8 x 4 grid.
Did you say that we haven't explained that there can be an 8 x 4 grid?  Well let's see how that is possible! The basic five reels by three rows configuration can expand to an 8 x 4 grid in the Jackpot Diamond Feature. The Jackpot Diamond Feature gets triggered when you get six diamonds anywhere on the reels.
This gets you three free spins and the diamonds stay in place on the reels. During these three free spins, only diamonds create wins. Any new diamond that comes up stays in place until the free spins end. If you get a diamond in a corner it retriggers the free spins. When all of your free spins are finished, each diamond will showcase a prize which could be a jackpot up to 50x your bet or a smaller prize.
If you have an expanded grid, the diamond prizes grow to as high as 250x! So, now we need to explain expanded reels!
During the Jackpot Diamond Feature, you might get a diamond in all four corners. Remember that one diamond in a corner retriggers the free spins so you can get a lot more than three free spins! If you have a diamond in all four corners, the reels expand! They can expand all the way to an 8 x 4 grid! It's at this point that the major or grand jackpots can appear at random!
Believe it or not, we have one more great feature to explain to you! During the regular game, three skulls give you six free spins! If you get three skulls during these free spins, you get three more free spins! You can trigger the Jackpot Diamond Feature during these free spins!
In other words, Diamond Fiesta has a lot of fantastic ways to win!
Conclusion
Diamond Fiesta is such a great new game from RealTime Gaming! It has many ways to achieve wins and, especially because of all the free spins, special features, and random jackpots, the return to player rate is quite high and the volatility is low – a perfect recipe for some slots fun.
All of this means that playing Diamond Fiesta is a wonderful way to recognize the Mexican Day of the Dead celebration, revel in Mexican music through the happy soundtrack, and generally have a great gaming time!