Double Ya Luck is both a traditional three reel slot with a progressive jackpot and a traditional board game! It's great on mobile even as it's set inside a real casino with a bank of slots and a plush carpet! The symbols come from Old Vegas: horseshoe, sevens, bells, cherries, bars, and diamonds, and dollar signs. Double Ya Luck and win!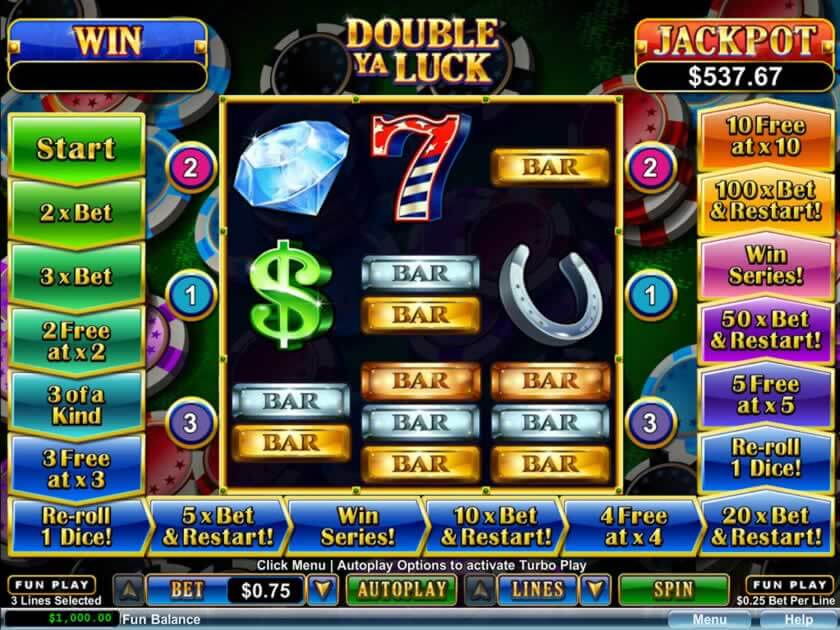 Game Info
Game Type
Progressive Slots
Max Jackpot
Progressive Jackpot
Our Recommendations
Play
Double Ya Luck
Here:
Hottest New Games:
Double Ya Luck Slot Review
Play the Double Ya Luck Slot machine for free or for real money prizes at any time and from any location at the online casino. Double Ya Luck Slots brings the luck of the Irish to the gaming screen to give you a fun-filled gambling adventure of fun, spins and wins.
This game was developed by the Realtime Gaming Developers (RTG), an industry leader in the creation of entertaining, safe and fair gaming events. Veteran players and beginning gamers alike will thrill to this engaging slots where a small 1 coin bet or a large 5 coin size wager allows you to enjoy the same high-level of fun-filled casino entertainment.
Double Ya Luck Slot Information
Double Ya Luck was created to fulfill the wishes of players who prefer to enjoy a low-key, sedate 3-payline gaming event. The game offers enchanting graphics and simple graphics that demonstrate how a basic slots can create a satisfying gambling event.
Game symbols include icons that symbolize wealth and luck including horseshoes, dice, bells, bars of gold, dollar symbols, cherries, diamonds, game boards and more. The colourful 3×3 reel grid is set against a backdrop of the casino floor. As yo spin the reels you'll see the patterned royal blue carpet, a golden chandelier hanging from the ceiling, large slot machines placed against the walls and more
You can create automatic bets or make individual wagers on the lines before each spin. You have the option of placing similar bets on all of the paylines or you can enable each payline at a different level. You can also choose to leave one or more of the lines unenabled but remember — if a win occurs on a payline that you haven't activated with a bet, you won't achieve a real money payout on the win.
Double Ya Luck Slot Features
Double Ya Luck fuses the energy of a slot machine with the familiar functionality and fun of a traditional board game. The grid displays board game squares. These  blue, purple and green squares take you from 'Start' to '10 Free at 10' in the bonus round. You can regulate your bet and lines via the navigational tools that are located below the board game. Autoplay and turbo play modes are also featured.
Ya and Luck symbols appear superimposed on the symbols, If any of these word symbols land on the first, second or third reels you'll trigger a 50/50 'guess the suit' gamble feature, In the Guess the Suit Gamble game you can achieve as may as 40 free spins if you guess the correct suit. Free spins wins are multiplied by four for quadruple payout values.
If a chip with the word 'Double' occurs on a regular game spin it acts as a wild symbol. The Wild substitutes for other regular game symbols (other than the lucky 7s, the red dice and the 'Ya' and 'Luck' chips) The wild then complete the paylines and creates wins.
Whenever a 'Double' wild complete a payline it  pays two for one, 20 for two and 1,000 credits for three. In addition it activates a double prize whenever it stands in for another matching symbol.
Three red dice on the reels, from left to right launches a bonus game. Your token is moved to the Start position. The number that's displayed on the dice reveals a number. Then, as the token progresses along the board, additional prizes are delivered including instant wins, free games, bonus restarts and random multipliers.
The winnings never stop in the Double Ya Luck slot, available for PC or mobile gaming entertainment at the online casino.