After every win in Dr Winmore, the winning symbols cascade down and new symbols replace them. Robots help the mad scientist! Dr Winmore wishes everyone the best of luck because, although he is quite mad himself, he still wants everyone to win more! When a new win appears after a cascade, the multiplier goes up until it hits 6x!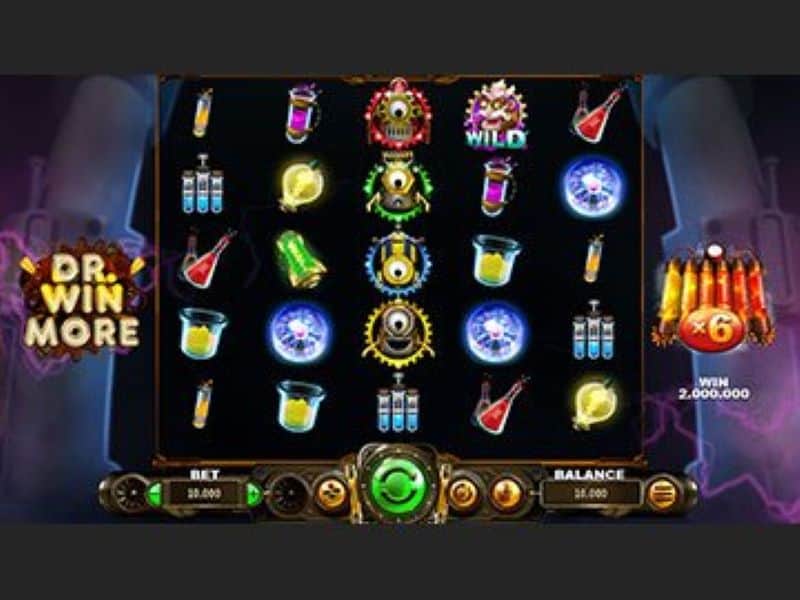 Game Info
Max Jackpot
300 times bet
Dr Winmore Slot Review
Dr Winmore is a great game that sets its goal to do for you exactly what its name suggests: to help you win more! This is a low volatility slot, which means that you will enjoy many small wins.
Dr Winmore adds a lot of slots play excitement by giving gamers a variation on the cascading reels concept plus it uses a very new idea in creating pay lines by not having any pay lines at all! Instead Dr Winmore uses the very newfangled concept in online slots called the "cluster".
Dr Winmore Slot Information
The good Dr Winmore is a true mad scientist. He and his robot "assistants" work tirelessly to find the right combination of weeds, roots, bark, herbs, spices, odd liquids, and secret sauces that will produce mountains of great wealth for gamers!
You may need a slot guide for this one, so here goes… Dr Winmore has five reels and each reel has five rows. The doctor himself is quite the eccentric! His hair is all disheveled. He is a little wild-eyed, too. That's totally okay since the good doctor is also the wild symbol!
Let there be no doubt: Dr Winmore is a mad genius! After all, all of the symbols in Dr Winmore slot are laboratory items such as test tubes, beakers, and bright lights. The symbols are just vague enough that we can't quite tell what each one is or what liquid it contains but the doctor knows and he's in complete control!
The doctor can manipulate these symbols in thousands—maybe even millions— of different permutations. But you don't have to worry about getting matching symbols in a pre-determined pay line. This is Dr Winmore's unique laboratory in which just connecting four of any symbol either vertically or horizontally creates a win.
Let's say that you have three beakers in a vertical line and then another beaker at right angles to the third beaker. Winner!
This means that there are a lot of ways to win in Dr Winmore's labyrinthine laboratory!
Dr Winmore Features
As we said, wins are created by clustering four or more symbols in a vertical, horizontal, or combination pattern. In keeping with the eccentric nature of Dr Winmore slot, the reels don't turn! Don't try to adjust your computer screen! The reels are not stuck!
At the beginning of each round, the symbols cascade down from top to bottom. Any wins are recorded. Then, the winning symbols go "poof". They explode and disappear and lo and behold new symbols cascade down.
The multiplier for wins increases by 1x for every time symbols go "poof" and new symbols come cascading down. The multiplier can reach as high as 6x!
There are also no scatters in this slot! What? you may ask. The robots, which the doctor dutifully works on in his every spare moment, act as special symbols. They clear the columns and rows so new symbols can cascade down. Any robots that appear on the reels stay there until all the cascading has finished and there are no more wins on the screen.
Then the robots clear columns and rows, more symbols cascade down and more wins are recorded!
The graphics in Dr Winmore had to be especially good given that there is a whole lotta cascadin' goin' on!
Dr Winmore has a weird or eccentric scientist theme. Given its quick rise tot the top rung of popularity, we might see more eccentric scientist slots in the future!
Conclusion
Dr, Winmore is the perfect combination of low volatility combined with a great method for winning more! The good doctor is a bit mad himself, mad in the good way that eccentric scientific geniuses are a bit pixilated.
Open Dr Winmore slot often. He and the robots will always work extra hard to bring you the best combination of ingredients that will give you great joy and happiness!