Two fun-filled playing modes, free spins, multipliers, stacked wilds and many other exciting features will give you genuine football fun and entertainment when you play the 3D Football Fortunes online slot on your PC or mobile device at the online casino.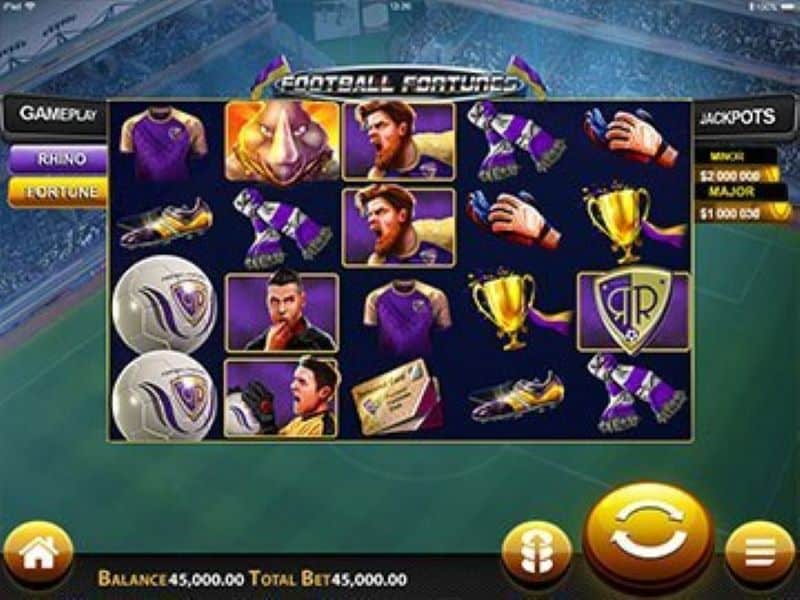 Game Info
Max Jackpot
50,000 times bet per line
Our Recommendations
Play
Football Fortunes
Here:
Hottest New Games:
Football Fortunes Slot Review
Games involving kicking balls into goals have been around for thousands of years but the modern game of European football only dates back to 1830 when it was reintroduced into England after a 250 year ban. In the ensuing 190 years football, or soccer, as it is sometimes termed, has spread globally. There is a soccer team in almost every country in the world and worldwide, over four out of 10 people surveyed said that they consider themselves a football aficionado. Football is the dominant sport in Europe, Africa and South America — the last World Cup pulled in 600 million viewers!
Now you can stretch your legs and hit the pitch from the comfort of your living room couch as you play RealTime Gaming's Football Fortunes, a football-themed new slot game which is available for free gaming fun or for real money prizes at the best Slots Play Casino partners. This game packs in the features with triple multipliers, free spins, a Rhino Mode AND a Fortune Mode, stacked wilds and a Rhino mascot scatter. There's even a Penalty Kick feature that activates during the Free Spins bonus game in which Bonus Ball Goals multiply your wins even more.
Football Fortunes Information
Football dates back 3000 years to the northern region of Central America when balls made out of rocks were kicked around. Thank goodness that today's football doesn't have the same level of stress – back in ancient Mexico, the captain of the losing team was sacrificed to the gods!
Over the years games involving kicking balls took place in ancient China, ancient Greece, ancient Rome and other ancient cultures. The Romans brought the ball-kicking game to Britain where it was played until the 16th century when Queen Elizabeth and her successors banned it.
By 1830, the British aristocracy was ready to readmit football to England and became popular in upper crust boarding schools. Rules slowly developed and football associations were formed. The enthusiasm of Britain's working classes for "their" city's team created a unique football culture and slowly, football was popularized in other regions.
British teams dominated the sport for many years but by the early-1900s, teams from other countries started to challenge British teams. In 1908 football was included as an official Olympic sport and the first FIFA World Cup was played in 1930.
Football is known as a game of passion and there are few sports in the world that elicit the type of passion that is seen among football enthusiasts. Fan cultures have evolved over the years with some fans singing in the stands to show their support for their teams while others attend the games in carnival dress.
Now, RealTime Gaming gives you a chance to actively participate in frenzied football action with the new Football Fortunes online slot.
Football Fortunes Features
Football Fortunes is a five-reel, 50-payline online slot that has something for everyone. It's easy enough for novice players yet includes enough challenging levels and features to keep an advanced slots player involved and engaged. Bets start at 0.50 if you're betting on all 50 lines so that makes this a game that's attractive to budget gamers. (if you want to start even slower you can bet the minimum of 0.01 on a select number of lines).
The bets can go up to $2.50 per line which means that you might end up with regular game wins of up to 3000x the total stake for a maximum payout of $375,000… a nice bit of extra cash by any standards.
One of the reasons that Football Fortunes is going to appeal to gamers who want something a little bit extra is because there are 2 mode options, the Fortune Mode or the Rhino Mode. That gives everyone a chance to play in a way that fits their personal gaming style. And, for something extra, there are two progressive jackpots that trigger randomly and deliver random jackpot bonanzas.
The game's 3D imagery and high-tech graphics provide an atmosphere of genuine soccer excitement. Game symbols include football players, mascots, seasonal cards, referees, cleats, team scarves, club logos, goalkeeper's gloves, boots and team jerseys. The spins are interrupted by images of football game excitement in an atmosphere of real-life action. The ball symbol is a stacked wild. Whenever it appears on the first or fifth reels it covers up to four positions in each column to give you more opportunities to create more completed combinations. Every win that is completed with the help of the ball wild symbol is multiplied x2.
There are two game modes, the Fortune Mode and the Rhino Mode.
Fortune Mode – In the Fortune Mode, 8 free spins trigger at the end of the regular spins.
Rhino Mode – In the Rhino Mode, you can get up to 100 free spins if you achieve multiple Rhino Mascot scatter symbols on a regular spin. Wins in the Rhino Mode deliver 3x multipliers. Even before the Free Spins bonus game begins, you can collect up to 500x your total stake if you spin multiple Rhino Mascots on a base game spin.
You can also look forward to a Penalty Kick bonus that triggers during the Free Spins Round whenever a Bonus Ball symbol appears simultaneously on all five reels. If you achieve that win your payout will be multiplied by up to an incredible 100x.
Conclusion
Football Fortunes online slot
offers fun gaming for players of all experience backgrounds and betting levels. It's a game for slots players who are looking for a challenging slot with good winning potential.