Reel Multipliers, Cash Bugs Bonus Games, Free Spins, Super Spins, Symbol Bonuses, Bonus Rewinds and other exciting features await you when you visit Slots Play Casinos to play the fun-filled Frog Fortunes online slot for free or for real money prizes on your PC or mobile device.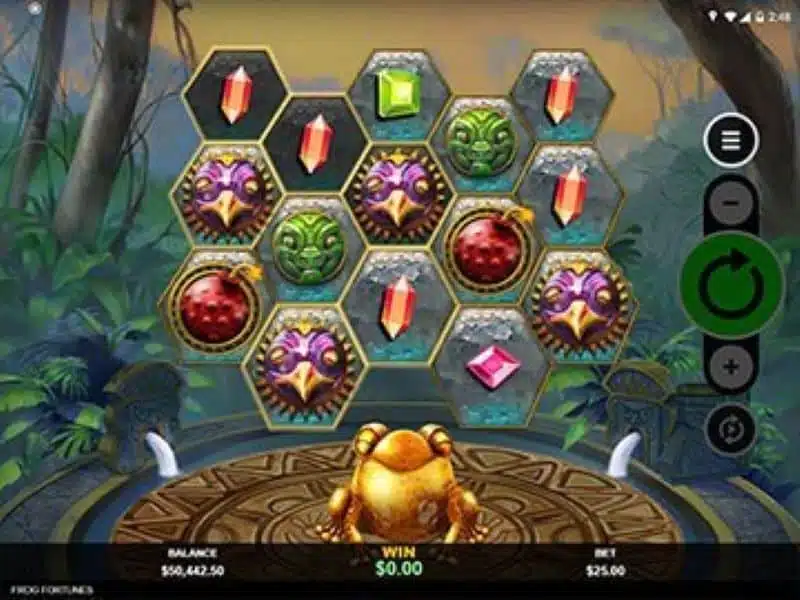 Game Info
Max Jackpot
150 times the player bet.
Frog Fortunes Slot Review
Over the course of hundreds of years, frogs have been major players in fairy tales and other legends. Frogs grant wishes, turn into handsome princes and save princesses. Make Mr. Frog happy on the five-reel, 20 payline Frog Fortunes online slots machine now at
Slots Play Casinos
and he'll share some of his extra cash with you!
Frog Fortunes Slot Information
If you grew up listening to fairy tales and folk legends you probably know that some of the best-loved and most popular fairy tales featured frogs. They include The Enchanted Frog, The Paddo, The Maiden and the Frog, The Queen Who Sought a Drink from a Certain Well and A Frog for a Husband.
Probably the best-known fairy tale in which a frog played a major role was The Frog Prince. The Frog Prince was first published as The Frog King; or, Iron Heinrich and was written by Jacob and Wilhelm Grimm (the Grimm Brothers) in Germany in 1815. The story was translated by Edger Taylor and its Taylor's version that most people know.
In the story, a princess promised a frog that she would allow him into the palace to eat and sleep with her if he would bring her a golden ball which had fallen into his pond. Once she got the ball back she forgot about her promise but the frog pursued her and gained the agreement of her father, the king, who told her that she must keep her promise.
After 3 nights of eating off of the princess's plate and sleeping in her bed the frog changed into a prince, telling the princess that he had been changed into a frog by a witch who told him that gaining entry into the princess's castle was the only way that he could be freed from his frog-body.
The two, as could be expected, got married and lived happily ever after.
Many commentators note that this story, as in other stories that feature frogs morphing into people and people morphing into frogs, uses frogs as a metaphor for change. Frogs change greatly through their lives… they start out as tadpoles who swim in the water, have no legs and are targeted by numerous predators and change into amphibians who can manage on both land and in water with powerful legs and a skin that repels predators.
Some other things that you might not know about frogs are:
In many ancient cultures, frogs were symbols of fertility.
There are 4,740 frog species in the world.
Frogs don't drink water. They absorb moisture through their skin.
Some frogs are big enough to eat lizards.
The "ribbit" sound that everyone believes that frogs make is made only by one species of frog –the Pacific Tree Frog.
All in all, there are over 1000 types of sounds made by the different species of frogs.
Frogs may not be warm and cuddly like a furry puppy or kitten but they are fascinating creatures who have inspired a great deal of research and observation. Now you can get some frogs spinning on your PC or mobile screen with the Frog Fortunes online slot and make some money while you're having fun!
Frog Fortunes Online Slot Features
Make your way through the swampy marsh and step into Mr. Frog's home in the 2000x jackpot Frog Fortunes online slots gala.
The game is a five-reel, 20 payline real money slot machine which is suitable for both budget gamers and high-stakes players. Bet sizes start at a modest 0.20 coins but if you want you can wager as much as 100 coins per payline to achieve the maximum win of 250,000 coins.
Hop through the bog and visit Mr. Frog's moss-covered shack to find out what he's doing and check out the game symbols. Mr. Frog himself alternates between dozing on his porch and playing his beloved banjo. Whimsical graphic images set the stage for some down-home, high-jumping fun.
There's an old Louisiana license plate that drops down from a car bumper every time a big win occurs on the reels. The old tire that's hanging from the tree on a rope sends out the alerts when smaller wins emerge. All spins and wins are accompanied by the strumming banjo.
Game symbols include a fish , a whisky jug and a bucket full of gold coins. Mr. Frog is the Wild. He appears as a stacked logo on the first, third and fifth reel. As the wilds stack up, so do the wins.
You'll find nine special features in Frog Fortunes including a reel multiplier, a Mega Pickin' Symbol bonus, Cotton Shakin' Wilds, a Rootin' Tootin' multiplier, a Bonus Diggin' Chance, a Random Bonus Rewind, A Cash Bugs Bonus Game, Free Spins and a Super Spin.
All this is added to cascading symbols and a RTP of 97.05%, one of the highest Return to Player percentages in the slots lobby!
Conclusion
If you're looking for a light-hearted slot machine that has the potential to deliver big wins, Frog Fortunes is your best bet!