The good girl looks the part and the bad girl looks downright sinister! Good Girl Bad Girl delivers realistic graphics and animation that draw you in! Play for the beauty of the slot or for the two progressive jackpots or both! This game has many other exciting bonuses and ways to win. You can add or lower risk as you wish!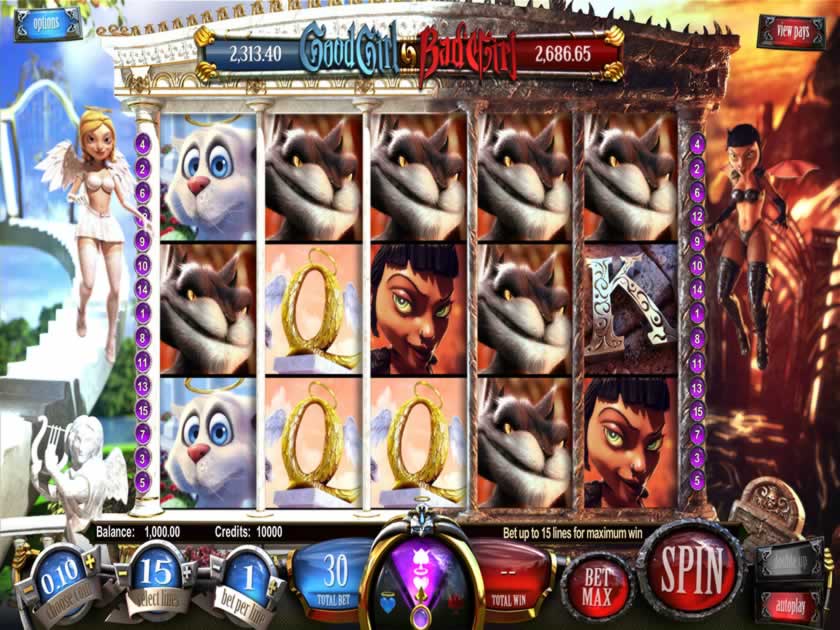 Game Type
Progressive Slots
Max Jackpot
Progressive Jackpot
Play
Good Girl Bad Girl
Here:
More Games for You:
Good Girl Bad Girl Slot Review
What makes a good girl? What makes a bad girl? Who has more fun? Explore these themes and more when you play the Good Girl Bad Girl slot machine at Betsoft online casino sites. The game offers engaging graphic images and special effects that give you pause for thought as you spin the reels for real money wins.
Good Girl Bad Girl is a Betsoft game. The Betsoft gaming designer delivers a high-quality game that has been enabled for any platform. You can play Good Girl Bad Girl Slots on your PC desktop or laptop device when you download the casino software for a Download Casino experience or when you open the casino on your Internet browser at the Instant Casino.
Mobile users can access the mobile-enabled version of Good Girl Bad Girl slots when they play on any iOS or Android device. The game moves smoothly on mobile with navigational tools and compelling graphics and animations, You can access the game at your leisure via WiFi or cellular connectivity when you open the casino's mobile website on your mobile browser.
Good Girl Bad Girl Slot Information
The Good Girl Bad Girl slot brings the world of vibrant feminine antics to life with five reels, 15 paylines and a whopping 97.8 RTP%. The game is a good choice for beginning and veteran gamers alike. It offers betting alternatives that suit low-bettors and high-rollers. You can place a minimum bet of 1 coin  of a .02 value or move up to a 5 value maximum bet.
The game itself is simple — you enable whichever of the 15 paylines that you prefer, spin the reels and then collect your wins on the paylines that appear with 3 or more matching symbols. You can enable as few or as many of the paylines as you wish but it's a good idea to remember that you won't collect anything on paylines that you haven't activated before the spin. Therefore, it's a good idea to enable as many of the paylines as you can, even at a minimum bet, so that you'll collect on a win.
The game is played on 5 reels which are framed by white-robed angel-girls on one-side and sneering devil-girls on the other. Game symbols include images of sweet good girls, scheming bad girls, teddy bears, moon-light nights, sneaky cat creatures, halos and traditional slots letters and numbers.
You are invited to choose the good girl or bad girl side on which you want to play.  If you choose the Bad Girl side the, winning symbols will pay from right to left. Wins occur less often but you have the chance to achieve more lucrative payouts. If you choose the Good Girl to play, wins will be more often but smaller.  Alternately, you can move the dial to the center to play both Bad Girl and Good Girl spins. With this combo mode your bets double but you have more chances to win because the win percentage increases with the new equivalent of a 30 payline machine.
When you create a winning payline one symbol pops out, emitting a good girl 'yessss' or a demonic laugh of the bad gir. Thunder and screams accompany a bad girl win while harp sounds are heard when the good girl side achieves a winning payline.
Good Girl Bad Girl Slot Features
The "Wild" is the wild symbol of this game. Wilds appear after you achieve a pitch-fork (bad side) of a halo (good side). If your spin includes a Wild your win is multiplied up to 4x. On five red wilds you'll  get 1000 coins and for four you'll receive 150 coins.  Five blue wilds get you 500 coins and four blue wilds deliver 150 coins.
There are two progressive jackpots in this game. One progressive is the Good Girl jackpot and the other is the Bad Girl progressive jackpot. You can win one of them which adds an additional $5,000+ to your regular game wins.
When money wheel symbols appear on lines 1, 3 and 5 simultaneously you trigger the money wheel bonus game.
You'll enjoy top online casino entertainment with a progressive jackpot and plenty of real money wins when you play the Good Girl Bad Girl slot machine at the online casino.