Let Jack Frost warm up your slots play with this new winter-themed 25 payline, 5-reel slot full of free spins and special features. It's a battle between Jack Frost and his brother, Harold Heat and YOU come out the winner!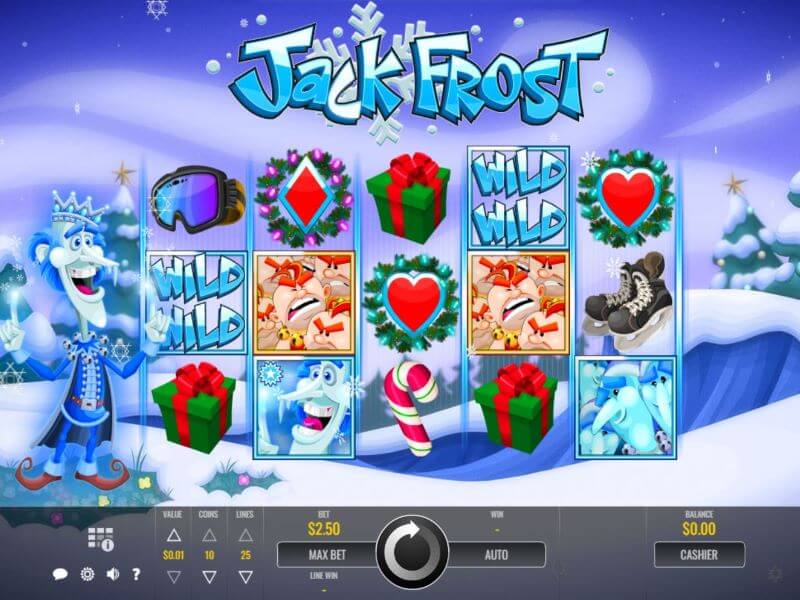 Jack Frost Online Slot Game Review
Hurray! A great winter-themed action-packed online slot game that is very popular at the moment.
The Jack Frost online slot is perfect gameplay value for those who prefer to place smaller bets and keep to a lower budget strategy for their gaming. That's because this fun game is packed with entertainment value that triggers consistent wins.
Our Slots Play Casinos gaming gurus put on their wooly hats and got into the Jack Frost playing mode and delivered their verdict. Stay with us, and we will get you familiar with everything you need to know about this slot.
Chill Out with Jack Frost Online Slots Play
A battle for control over the weather is happening in this seasonal slot. No, nothing about possible global warming here. Instead, you have a battle between Jack Frost and Harold Heat, two brothers with the ability to bring on the winter and summer seasons, respectively.
Game play is definitely stacked on the side of the winter option in this game, but the battle between the brothers makes for some fun reels action and real money cash prizes.
You can happily chill out and play Jack Frost online game on any one of your mobile devices via your Flash-friendly browser and the game interface is also super on desktop.
The action moves around between the base game and the bonus game and the Slots Play Casinos team really liked the ease with which the bonuses appear during play.
For the Jack Frost base game, you'll find the reels filled with icons of Christmas decorations, wrapped gifts, card suits with Christmas tree decorations, ski goggles, skate shoes, candy cane, winter hats and Jack's winter assistants.
Whereas during Harold free spins, you'll enjoy coconut drinks, unwrapped gifts, card suits with tropical flowers, beach slippers, sunglasses, bananas, baseball caps and Harold's summers assistants.
Although this is a pretty basic type of slots play the game the graphics and animations are spot on. Vivid colors, sharp images and the wacky characters are engaging.
You get to meet Harold Heat who dishes out some sizzling free spins, Jack Frost who plows through the snow and ice and if you melt his ice block then you get to win coins or more free spins and finally there is a Flaming Wilds that are sticky.
Once you form a winning combination, the active winning symbols remain and all other icons vanish into flames!
Jack Frost Game Play Features
Jack Frost is a pretty simple falling symbols slot machine, on the face of things. Slots Play Casinos found a 5-reel, 3 row, 25 pay line game and a jackpot of 500 coins that has enough bonus features to keep the game alive and toes warm.
You control your bet sizes, simply by selecting 1 to 25 active lines, using between 1 and 10 coins on each one. Then you can modify the denomination as well from 0.01 to 0.25 coins. This gives you a betting range of 0.01 to 62.50 coins.
The payouts are reasonable and can reach 500x the stake if you fill the reels with the highest paying symbols. There are also nice touches of features that do upgrade your power play as the game plays out. We worked out that about the best winning potential you can hit is 31,250 in one spin.
The average RTP of Jack Frost is about 94.26% back to the players. That, for sure is not the highest RTP around, but, hey you can play for a while on a low budget and still emerge with a pretty decent win. The slot doesn't have a Progressive Jackpot either, however, the slot compensates with free spins feature, a bonus round with money rewards plus free spins, and sticky wilds that add up during your bonus spins.
The Slots Play Casinos testers noted that auto play is only available in the play for real mode, so in free play you'll be clicking on play the manual route. It's a shame that the developers did this, we think that all features should be there whether playing in demo or real money mode.
The high entertainment value is priceless with fun when the Harold Heat Free Spins and Jack Frost Ice Block Bonuses kick in.
Jack Frost Bonus Games
In order to activate the Jack Frost Bonus Game round, you have the task of melting blocks of ice to earn coins or receive some free spins at no extra cost.
Once unfrozen, ski goggles will turn into sunglasses, while boots will become sandals.
The prize rating is arranged so you'll collect 2 to 50 coins for combinations of 3 to 5 of a kind. Harold Heat and Jack Frost pay the most, boosting your bankroll with between 50 to 500 coins.
Additional features that the Slots Play Casino team enjoyed were the 3, 4 or 5 Scatters that appear anywhere on the reels, and warm you up with 5, 10 or 20 Jack Frost Free Spins, respectively.
During the free spins round, Wilds turn into Sticky Wilds that remain position for as long as you keep winning. There are no multipliers, but you will land wild symbols pretty often along with free spins scatters.
Whenever you form a winning combination with 1 or more Sticky Wilds, the game awards 1 Re-Spin which also keeping those Wilds active. All in all, the Jack Frost bonus play is generous and can lead to a series of decent payouts on small coin investments. We wouldn't call this the ultimate power play, more a nice warm packet of extra jackpots to keep you warm on a winter's day.
To Sum Up…
The theme of Jack Frost is the battle between cold and warmth. The main characters of Jack Frost and his brother Harold lay out before us an entertaining slot that is perfect for playing, and longevity on a budget.
It is well thought out and a nicely presented theme with sharp animation and suitably festive in-play audio. The Slots Play Casino team had a good time playing the game and did particularly enjoy the bonus features that deliver plenty of free play with spins, re-spins and sticky wilds. The Ice block bonus feature delivers some decent rewards.
The RTP is low for the game, but you do get bang for your buck on a small investment. We felt that this alone warrants the Slots Play Casinos seal of approval.
Among our partner casinos you can play this weather-themed game at Slots Capital Casino and Desert Nights Casino, and many others.
Go have some fun and get friendly with good old Jack Frost and play some reels to win yourself a cash heartwarming jackpot!