Mexicans attach great importance to piñatas which are featured in many of their most treasured celebrations. Our best online casinos invite you to experience piñata fun with the real money Jackpot Piñatas Deluxe online slot.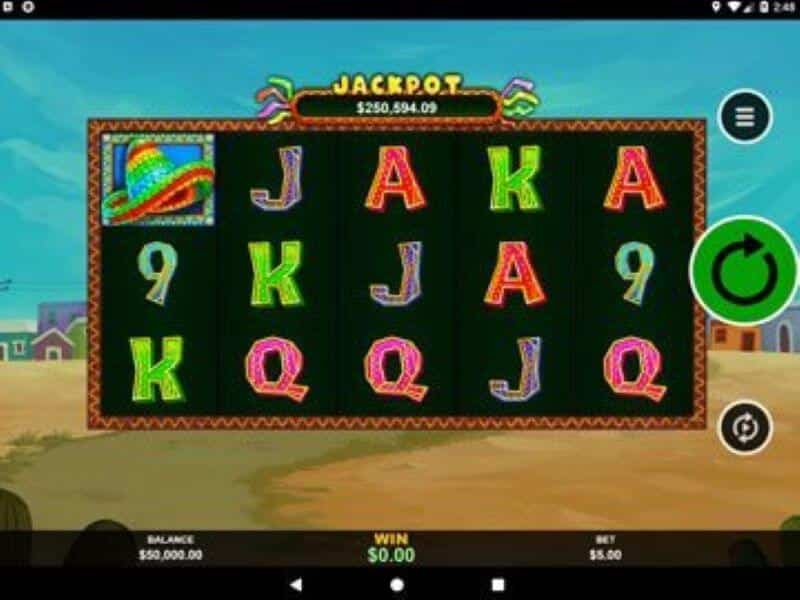 Game Info
Game Type
Progressive Slots
Max Jackpot
Maximum win other than the Progressive Jackpot is 40,000 times bet per line per paid spin
Our Recommendations
Play
Jackpot Piñatas Deluxe
Here:
Hottest New Games:
Jackpot Piñatas Deluxe Slot Review
Piñatas are considered a Mexican party game but their significance is much deeper. They date back to Mayan and Aztec civilizations and are part of a deep cultural history in Mexico. Piñatas are featured at birthday parties, holiday gatherings and other celebratory events but you can enjoy piñatas year-round when you play the
Jackpot Piñatas Deluxe
online slot, now available for real money gaming entertainment at
Slots Play Casinos'
best online casino partners:
Jackpot Piñatas Deluxe Information
Piñatas have become associated with Latino culture, fun-filled celebrations and party festivities. When RealTime Gaming first came out with the piñata-themed Jackpot Pinatas online slot, slots aficionados were enthusiastic about the satisfying blend of Mexican joyfulness and the opportunity to achieve real money payouts. Now Jackpot Piñatas fans can continue the quest for valuable piñatas with the new 
Jackpot
Piñatas
Deluxe slot machine
where you'll find new features, new symbols, new elements and new opportunities for cash rewards.
A piñata is a clay pot that has been decorated with colored paper and ribbons. Some piñatas have animal or character shapes but regardless of how the piñata is decorated or what its shape may be, you can be sure that it has treats inside. At a party, when the piñata is brought out, it's hung from the ceiling. Then, party participants, who are blindfolded, try to break the piñata with a stick to release the goodies. The treats that fall out of the broken piñata are said to represent faith's rewards.
You can buy a piñata or make your own. You can also open the Jackpot Pinatas Deluxe on your PC or mobile device and break open the piñata online to release the cash rewards hiding inside.
Jackpot Piñatas Deluxe Features
Jackpot Piñatas has been one of the online casino's most popular slot machines. The five-reel, 20 payline slot brought the
fun and excitement of
piñata celebration to the gaming screen. The game featured opportunities to achieve line wins of up to $10,000 and a progressive jackpot that started at $250,000.
Now, Jackpot Piñatas gives you all that and more. Like its predecessor, Jackpot Piñatas Deluxe features 20 paylines, a progressive jackpot that starts at $250,000 and grows from there and a theme that highlights the Mexican tradition of celebrating the simple things in life with good cheer and prizes. The game's graphic imagery is even more alluring than the original, displaying  Jackpot Piñatas with bright colors and an attention to detail that enhances the entire gaming adventure.
The game is played against the background of a small Mexican town that is bordered by traditional Mexican artistry. Game symbols include banjos, tacos, maracas and customary slots letters and numbers. Every spin of the reels is accompanied by uplifting Mexican music that prepares you for completed combinations and their accompanying winning payouts.
The special symbols display in vibrant colors including the Star Piñata Wild, Sombrero Piñata Bonus Scatter, Rose Piñata Scatter, the Dog Piñata Bonus Symbol and the Progressive Jackpot Bull Piñata.
Throughout the game, the presence of the Star Piñata on any payline will complete the combination to trigger the payout. If three or more Sombrero Piñata Bonus Scatter symbols display on the third of fourth reels their presence will trigger the Bonus Feature.
Three or more Dog Piñata Bonus Symbols, appearing anywhere on the reels, will launch the Jackpot Piñatas Deluxe Feature. You will be given three symbols and you can choose two of them to see what prize you are given – look out for payouts up to 200x your bet.
If a Rose Piñata is uncovered the Deluxe Feature retriggers and you will be given another 3 symbols with the chance to choose two of them. Collect enough Rose Piñatas and you'll get anywhere from five to twenty-five Free Spins.
The most exciting part of the game is the progressive jackpot competition in which you compete with other Jackpot Piñata Deluxe players for the progressive jackpot. That jackpot prize starts at $250,000 but it increases with every deposit made by you and other players from around the world – you may be the one who spins the spin that lands the prize of hundreds of thousands of dollars! If you're the one who spins Bull Piñata symbols on one payline you've hit the jackpot prize!
Conclusion
You can play Jackpot Piñatas Deluxe on any PC or mobile gaming device. The game is available in both the Free Mode, where you can play for free, and in the Real Mode where you can play for real money prizes.
Jackpot Piñatas Deluxe picks up where Jackpot Piñatas left off. Enjoy the catchy music, Pick'em Bonus Feature, Jackpot feature, Bonus free spins and more.