The Singing Fan online slot is a simple slot machine with beautiful graphics and an intriguing bonus game. This game lacks the usual bells and whistles. Just old-time hand-fans of various colors that line up on paylines to deliver real money payouts along with an Asian design, haunting background music and good old-fashioned fun and excitement.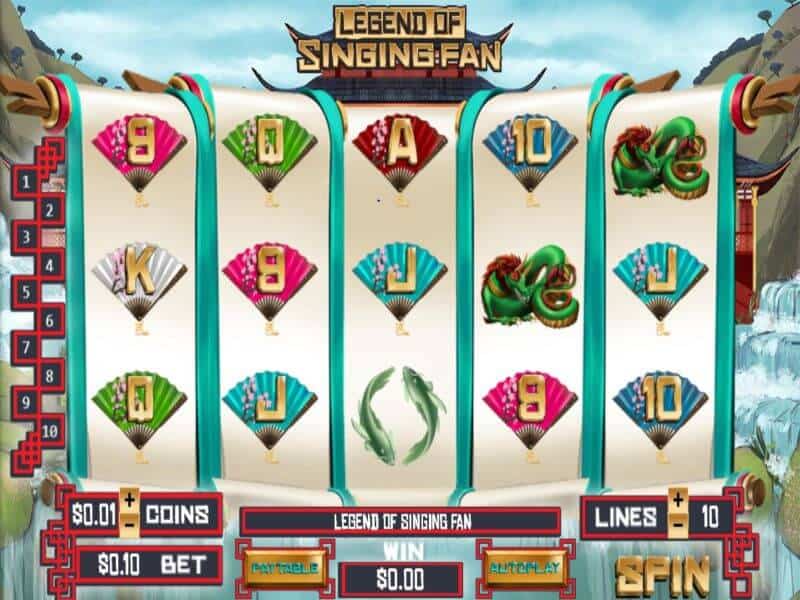 Game Info
Max Jackpot
1,000x bet per line
Singing Fan Slot Review
The five-reel, 10 payline Singing Fan slot takes a simple concept and turns it into a real money-maker. The Singing Fan bonus video slot can be played on your laptop, phone or tablet – at any time and from any location at
Slots Play Casinos
partner casinos. Singing Fan is a no-bells no-whistles online slot. Simply line up matching fans on the paylines and claim your payout.
Singing Fan Slot Information
Early handheld fans were known to have existed in ancient Egypt and Babylon but today the paper fans are mostly associated with Japan. The fans — known as "harisen" in Japan — are created by arranging paper on a bamboo frame. There are both ōgi (folding) and uchiwa (non-bending), both of which are primarily used for fanning oneself on hot days. Throughout history Japanese hand fans were tools of the samurai class and aristocrats. During the Heian period laws restricted the use of handheld fans to specific social classes and their use signified social standing. 6th century CE Japanese burial tombs were adorned with pictures of fans.
Few people know that Japanese fans' structure and design is symbolic. The fan itself, which spreads out when opened, is associated with prosperity such as with the widening of wealth. In fact, in Japan, the handheld fan is symbolic of royalty and wealth. Traditional Japanese will never open the last three sticks so as not to "complete" it. The tradition comes from the belief that once you reach the highest possible state, there's nowhere to go but down. Therefore, older Japanese deliberately leave their fans in an "incomplete" state.
The pattern on a fan can be seen as a mode of self-expression. Some of the most beautiful Japanese art can be seen on Japanese handheld fans where scenes of nature and other designs create their own art form. There were different types fans including soldiers' war fans which samurais painted with bright and striking sun motifs, Edo-era artistic fans which are delicate folding pieces of art that are made from ink and color on silk and other fans which were, basically, showcases for artists' work. In fact, the finest fans were considered to be for decorative use only and were rarely, if ever, opened.
Now you can explore Japanese culture and enjoy exciting payouts playing Singing Fan online slots at our partner casinos: Red Stag Casino and Intertops Classic Casino.
Singing Fan Slot Features
Singing Fan online slot is a machine that's suitable for low-bettors and high-stakes players alike. Wagering ranges from $.01 to $5 with a maximum bet of $50 per spin. In addition to the fan symbols there are low-payout card symbols so you can aim for the high or the low payout combinations at your leisure.
The paytable is located to the left of the WIN button where you set your bet, set the machine on AutoPlay if you want and hit the "spin" button to spin. The +/- sign lets you increase or decrease your bet but you can always press "Max" to set your bet at the maximum possible wager.
There are 10 paylines and you can enable as many or as few of the paylines as you wish – don't forget though, only those winning combinations that fall on a payline that you've enabled with a bet will pay out on a win.
The game's high payout symbol is the Chinese Woman with a Fan. This "Wizard Warrior" is also the Wild Symbol and if your spin results in five Wizard Warrior symbols you'll win $1000. In addition to delivering a high payout, the Wizard Warrior symbol can substitute for any other game symbol to trigger a win.
The Magpie is the Scatter symbol. If your spin results in 5 scatters you'll win 250x your bet. The Magpie symbol can also trigger the Free Spins bonus game – if three Magpies emerge you'll receive 5x your total bet plus 5 free spins. If you get 4 Magpie fans you receive 50x your total wager and 10 free spins. 5 Magpie symbols results in 250x your total bet and 15 free spins.
Any win that you achieve on a free spin will be multiplied by your total bet.
The Bonus Game starts when three Singing Pebble Fans appear to take you to the Royal Opera Theatre. In this bonus round, a Royal Magpie symbol emerging on the first, third or fifth reels will usher you into the Wizard Warrior's private chambers where you can choose the number of pebbles needed to win a prize. The prize that you receive is determined by the number of pebbles that you select — choose the right amount and walk away with the best win!
While the Singing Fan slot is not regarded as a high-energy game, it does feature the popular Opti-Nudge round which has become favored element for many slots players. The Opti-Nudge round gives you the chance to raise the reel up or down once space to increase your winnings. The round starts when the Royal Dog appears on reel 4. All 10 paylines have to be in play in order for you to take advantage of this round.
Conclusion
The theme of this game is something that few people know about, but once you learn about Japanese hand-held fans and their significance in Asian culture, you'll appreciate the gameplay, the graphics and the various elements that much more. Ten paylines is more than enough for players to enjoy multiple opportunities to increase winnings and enjoy the challenge of the various rounds and elements.