Colors are the big story in Magic Mushroom! Purples, blues, greens, reds, and yellows adorn the hats the naifs wear! Magic Mushroom has expanding wilds, a re-spin feature and a kind of floating graphic design instead of the standard reels. The naifs are not as naïve as you might think; they will draw you in with colorfulness and fun!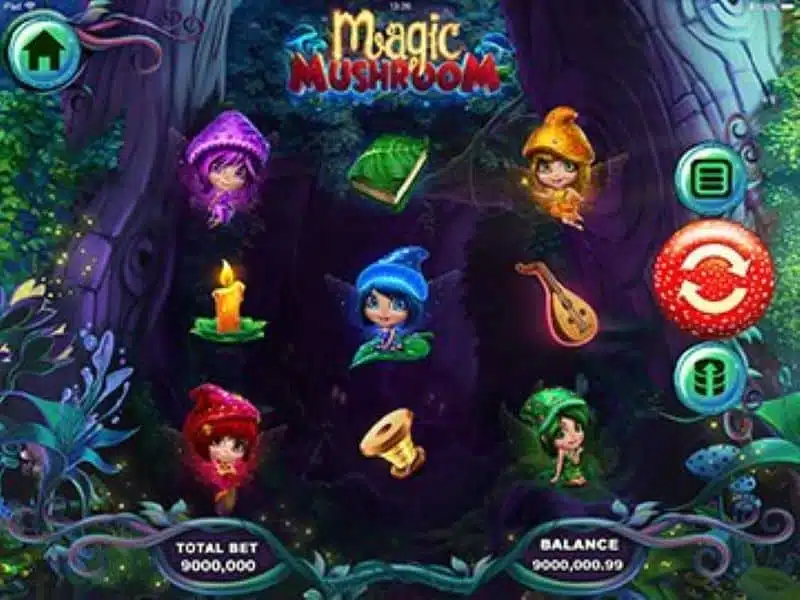 Our Recommendations
Play
Magic Mushroom
Here:
Hottest New Games:
Magic Mushroom Slot Review
People have been fascinated with mushrooms for thousands of years. Not only do they provide a delicious and nutritious addition to many dishes but there are hundreds of different varieties of mushrooms that grow in different locations around the world.
Some people believe that mushrooms enhance their confidence, boost their physical and mental abilities, have medicinal properties and can act as anti-inflammatory and anti-viral agents. They feature in the traditional medicine of cultures around the world and provide nutritional benefits including protein, vitamins, minerals and antioxidants.
Some mushroom aficionados say that mushrooms have magical powers as well. Slots enthusiasts will find out just what types of magic mushrooms can bestow when they play the Magic Mushroom slot that delivers fun, excitement and real money prizes.
Magic Mushroom Information
The Magic Mushroom is a whimsical slot machine that gives players mushroom magic with wilds, multipliers, free spins and spreading wilds.
When you play Magic Mushrooms you'll set out on a nighttime walk through a diamond-shaped forest. The moonlit path will take you through thick foliage, strange sounds, birds, frogs, snails, lizards and, of course, lots of colorful magical mushrooms.
When you hit a winning combination the forest creatures and the game's symbols will light up. Your task in this five-reel, 40-payline game is to find the Magic Mushroom that will reward you with wealth and riches.
Magic Mushroom Features
There are 3 different wild symbols in the Magic Mushroom slot game — the Blue Mushroom, the Red Mushroom and the Purple Mushroom. The Blue Mushroom emerges on the second and the fourth reels to trigger multipliers of  2X to 10X winning combinations.
The Red mushroom is a spreading wild that spreads its tentacles across the reels when it appears on the third reel. When it spreads it can turn up to four additional symbols into wild symbols. The Purple Mushroom substitutes for all other symbols when it appears on reels 1 and 5.
The snail is the game's scatter. Two or more snails trigger the free spins bonus game. If you get two snails you  trigger 2 free spins. Three snails will deliver 10 free spins for you. If 4 snails emerge you get 20 free spins and if you get 5 Snails you can spin the reels 75 times for free. All free spins are real money spins and the wins that you achieve in the free spins mode will be added to your regular game wins.
Wilds that appear during the free spins game cause the free spins mode to retrigger. Multiple snails on a free spin will cause the free spins game to reactivate. When that happens you'll be awarded an additional round of free spins game.
Conclusion
Play the Magic Mushroom slot for an exciting adventure through a fairy-laden forest – all while exchanging magic mushrooms for real cash prizes!