Mardi Gras Magic slot brings the fun and excitement of New Orleans Mardi Gras festivities to your gaming screen with a genuine atmosphere of Mardi Gras gals, x4000 payouts and Vegas-style entertainment available for PC & mobile gaming entertainment.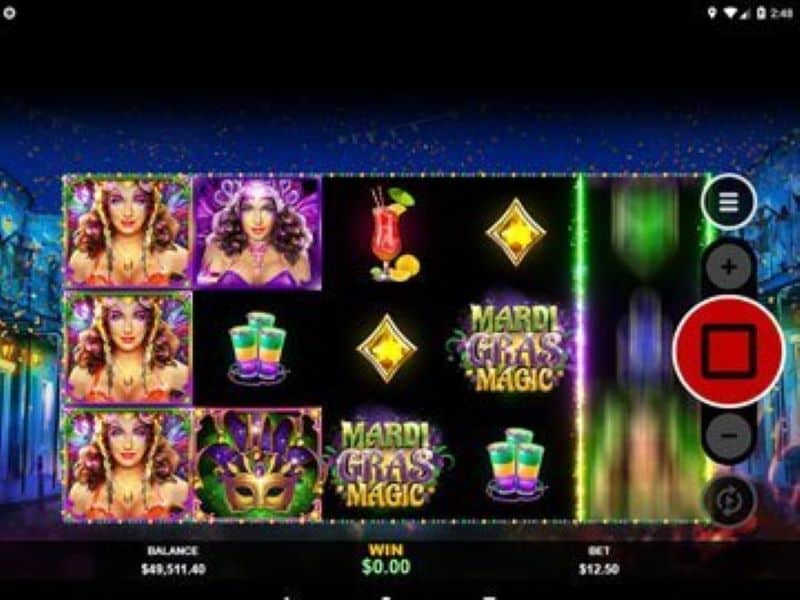 Game Info
Max Jackpot
20,000.00 times bet per line
Our Recommendations
Play
Mardi Gras Magic
Here:
Hottest New Games:
Mardi Gras Magic Slot Review
Mardi Gras Magic is 
RealTime Gaming's
 new online slot where simple classic slot gaming combines with lucrative payouts for a fun-filled slots session of real money home entertainment. Mardi Gras Magic is available at any time and from any location at the online casino. You can play this slot on your PC or mobile device at your leisure. Open your free account, click on the slot in the New Games lobby and play for free in the Free Mode or for real money prizes in the Real Mode.
Mardi Gras Magic isn't a game with a lot of bells and whistles. That means that, on the one hand, there aren't a lot of special elements and features to learn and navigate. On the other hand, it's a straight-up classic slot which is fun to play and where it's easy to create and collect wins.
You'll find Mardi Gras Magic offered at all of our Slots Play Casinos partners who feature RTG games. For instance: Intertops Casino, Jackpot Capital, and SlotoCash Casino.
Mardi Gras Magic Information
Pennsylvania's Kutztown German Heritage Festival, the Gilroy Garlic Festival, the Albuquerque International Balloon Fiesta and many other municipal festivals owe their inspiration to the granddaddy of them all – the Mardi Gras.
Mardi Gras celebrations date back thousands of years to pagan fertility rites of the spring. Mardi Gras means "Fat Tuesday" and the pagan rituals were adopted by the Roman Catholic Church as the Church enveloped pagans and their customs into Christian observance.
Over the years, the custom grew that, in the days leading up to Lent, people would binge on rich, fatty foods before they entered the Lent period when they would eat only lean products in-between frequent fasts. The Church decreed that Mardi Gras was to be observed on the day before Ash Wednesday as kind of a "last fling" before the period of Lent – a time of fasting and penance in the weeks leading up to Easter – begins.
The Mardi Gras of New Orleans marked the introduction of Catholicism into America. The first official Mardi Gras was observed in 1699 when French explorers Sieur de Bienville and Pierre Le Moyne landed in Louisiana and named their landing spot Point du Mardi Gras with a small celebration.
From then on, residents of New Orleans, which was settled by French Catholics, observed a subdued Mardi Gras but in 1827 a group of students who had returned from Paris emulated the Paris Mardi Gras by donning colorful costumes and dancing through New Orleans Streets. Within 10 years the custom had grown and a Mardi Gras parade took place, setting the stage for future expansion.
The famous Mardi Gras "krewes" were introducedin 1857 when Mistick Krew of Comus, a secret society of New Orleans businessmen, organized a torch-lit procession to celebrate Mardi Gras. The parade included rolling floats and marching bands and ever since, krewes – social organizations that organize parades and balls for the Carnival season – have been a central feature of New Orleans' Mardi Gras festivities. There are many krewes but the oldest and the most established – the Twelfth Night, Comus, Momus, Rex and Proteus – organize the festival's most massive, extravagant and intricate floats.
Some unique customs of the Mardi Gras celebration include the famous purple, green and gold color scheme, dressing up with masks and costumes (a custom whose origins are rooted in the need of celebrants who were officially excluded from the festivities to conceal their identities in order to join in the celebrations), throwing beads and fake jewels from the parade floats to those watching below and eating the round "King Cakes" which have a baby Jesus figurine baked inside to symbolize the Epiphany when 3 Kings brought gifts to baby Jesus.
Mardi Gras Magic Features
Mardi Gras Magic by RealTime Gaming was designed to deliver an enjoyable gaming event for players on all ends of the slots gaming spectrum. Instead of the high-tech five- and six-reel games that feature dozens of paylines and multiple elements, this slot was created to take slots back to the basics and give all players an easy yet fun-filled slots gaming adventure that is uncomplicated but still delivers generous winning payouts.
The Mardi Gras Magic slot is a 3-reel, 1-payline slot machine which highlights the Mardi Gras festivities. As you spin the reels you can enjoy the rich carnival background and observe the celebrants who wear colorful masks and costumes.
In keeping with the objective of offering a simple game, players will find total bets-per-spin that range from $0.25 to $15. You can wager as little as one single coin per  line and still look forward to cash payouts for your wins. This machine is a bit different than other 3-reel slots however – if you wager one or two coins per spin per payline you can anticipate a regular payout for matching single, double or triple bars.
If, however, you bet three coins, you'll get a special payout if you hit three sevens of three matching bars across a payline since sevens are the high payout symbols in this slot. Three-of-a-kind Blue Sevens pay out x1000 while three-of-a-kind Red Sevens pay out x4000. Casino advisors suggest that, in this slot, since the maximum bet is so low, you can really maximize your payouts if you bet three coins.
Conclusion
There aren't any wild symbols, scatters, multipliers or other fancy elements to Mardi Gras Magic. Just straight-style slots gaming entertainment. The Vegas-style simplicity of the game make this a perfect gaming adventure for classic slots fans as well as for novice players.