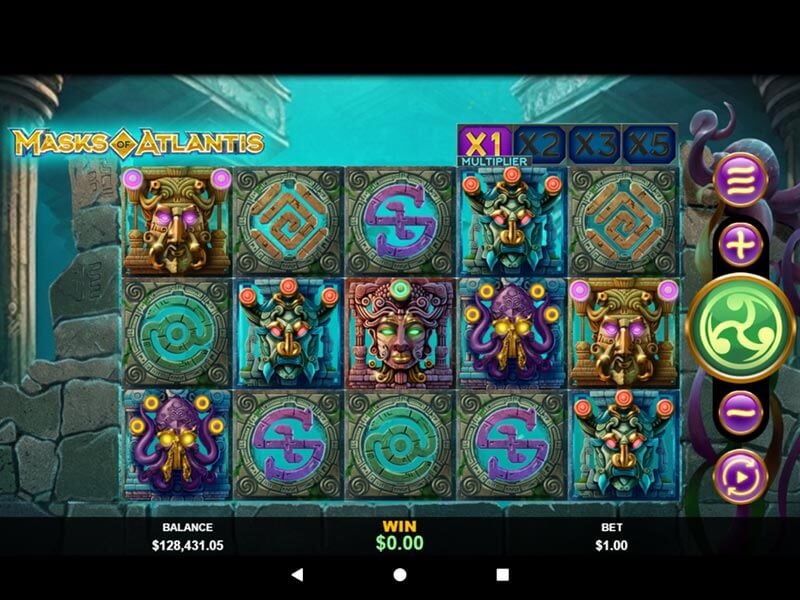 Game Info
Max Jackpot
50,000x your bet
Our Recommendations
Play
Masks of Atlantis
Here:
Hottest New Games:
Masks of Atlantis Review
Masks of Atlantis by legendary software providers, SpinLogic, is about to transport you to a long-lost mythical underwater kingdom.  The city is now longer hidden and players have first dibs on the many treasures that are hidden beneath the ocean's surface!
The 5×3 gameboard is packed with powerful winning symbols, not to mention the precious bounty courtesy of the numerous bonus features!  If mythology paired with great winning potential sounds good to you, then give Masks of Atlantis a spin at Slots Play Casinos recommended casinos!
Symbols and Payouts
Masks of Atlantis is a beautiful new video slot release by SpinLogic Gaming.  The game theme is based on the legend of the Lost City of Atlantis and is filled with mystery and intrigue.
The game offers a top payout of 50,000 times, whilst boosting wins with multiple bonus features – including Free Games that can be retriggered!
Masks of Atlantis video slot has three main symbols based on the theme – masks locked in stone amidst the ruins of the lost city.  Besides these three symbols, there are plenty of other symbols that contribute to payline wins, albeit in smaller amounts.  Three or more of any of the paying symbols are required to construct winning combinations.
The two special symbols to look out for are the Wild and Scatter symbols, as these unlock the real magic on the reels… and deep underwater!  As for the rest of the paying symbols, this is what you can expect in terms of payouts in Masks of Atlantis video slot:
Female mask in stone with green glowing eyes: 50 x for 3 symbols, 250 x for 4 symbols, 2,500 x for 5 symbols
Golden mask in stone of a male with purple glowing eyes: 20 x for 3 symbols, 100 x for 4 symbols, 1,000 x for 5 symbols
Blue mask in stone of a fearsome looking man with red glowing eyes: 10 x for 3 symbols, 50 x for 4 symbols, 500 x for 5 symbols
Purple octopus bejewelled in gold: 10 x for 3 symbols, 25 x for 4 symbols, 200 x for 5 symbols
Green geometric shape in stone symbol: 5 x for 3 symbols, 20 x for 4 symbols, 100 x for 5 symbols
Orange geometric shape in stone symbol: 4 x for 3 symbols, 15 x for 4 symbols, 100 x for 5 symbols
Purple geometric shape in stone symbol: 3 x for 3 symbols, 10 x for 4 symbols, 50 x for 5 symbols
Note that line wins are multiplied by the bet per line, and the total bet equals the bet per line multiplied by the number of lines (which is 20):
Special Symbols
Masks of Atlantis has two special symbols that unlock the real hidden gems in this Greek mythology-inspired SpinLogic video slot.  Both symbols have unique 'powers' that will land you in the center of ancient relics worth mega money in today's world.  Let's take a deep dive into the Wild and Scatter symbols and how they stand to benefit you.
Masks of Atlantis Wild Symbol
The Masks of Atlantis Wild symbol is an ancient stone with the word WILD in big, bold and gold, making it hard to miss.  The Wild symbol performs its usual function – which is to replace all other game symbols, apart from the Scatter symbol, to help you achieve winning symbol amalgamations.
Masks of Atlantis Scatter Symbol
The Scatter symbol in Masks of Atlantis video slot is an ancient golden relic locked in stone.  The Scatter symbol is, for all intents and purposes, your key to the ancient underwater kingdom of Atlantis!  When three or more Scatter symbols make an appearance on your gameboard, the Free Games Feature is triggered.
Special Features
Slots Play Casinos love the part where we get to share 'Special Features' with players as this is where you really get to see the true potential of what a video slot can offer!  In Masks of Atlantis, there certainly is no shortage of special features – and some might even continue infinitely… with lots of luck on your side!
Seaquake Cascading Wins Feature
Each time you spin the reels on Masks of Atlantis video slot and you happen to land on a winning symbol configuration, the Seaquake Cascading Wins feature will activate.  After all the successful symbol combination wins are paid out, the symbols that formed part of the winning combo disappear from the gameboard.
The remaining symbols fall to the depths of the 5×3 interface.  Once that happens, all of the blank spaces are substituted by new Cascading symbols that appear from the top.  The feature will continue after every win until you hit a dead-end with no further winning combinations.  What does this mean?  Well, with luck on your side, the Cascading Wins feature can produce infinite winning combinations – or at least boost your bankroll sky-high!
Free Games Feature
What do Slots Play Casinos love even more than the randomly triggered bonus feature?  FREE games!  The ancient golden relic Scatter symbol is precisely what you need to trigger free spins action on Masks of Atlantis video slot.  The Free Games feature is triggered whenever three of the Scatters show up on the reels in sequence – from the leftmost to the right – on an active payline.
There's more though…  The Free Games feature applies to ALL paylines upon which three of the symbols appeared – which means you can get multiples of 10 free games in one spin!  Your winnings will coincide with the bet you placed that triggered the feature.  Once you've used up all of the free games that the triggering spin produced, or you reached the top payout, the feature will end.
With the Free Games feature in Masks of Atlantis being one that can continue to generate countless spins and wins, we're quite surprised – and delighted – that the entire feature can be retriggered!
Seaquake Multiplier Feature
Last but not least, the Seaquake Multiplier feature in Masks of Atlantis is always active.  That means during every spin of the reels!  Along with each new Seaquake Cascade, the coinciding multiplier cranks up several notches.  The feature continues until all winning combos are exhausted.  To further explain the mechanics of the Seaquake Multiplier Feature in Masks of Atlantis, see the following table:
| | | |
| --- | --- | --- |
| Seaquake Multiplier | Base Game | Free Games |
| Initial Seaquake | X1 | X3 |
| 1st Seaquake Cascade | X2 | X6 |
| 2nd Seaquake Cascade | X3 | X9 |
| 3rd or more Seaquake Cascade | X5 | X15 |
Explore the Never-Before-Seen City of Atlantis for Priceless Real Money Treasures!
Masks of Atlantis is an exquisitely designed slot by SpinLogic that once again reminds us why they are pioneers in the online casino world when it comes to casino and gaming software.  Launch the game and you'll be impressed by the scenery, with a striking underwater seascape that hides the ruins of Atlantis.
The soundtrack that accompanies the graphics and gameplay is perfect, with a relaxing and almost meditative feel.  Complete a winning symbol combination and activate one of the special features, and you'll see the reels come to life with stunning animations.
As a game with medium volatility, everyone stands a chance to win by spinning the reels on Masks of Atlantis.  The vast betting range also allows for conservative players and high rollers to partake in the search for real money treasures… but remember, the bigger your bet, the greater your wins!
Slots Play Casinos gives Masks of Atlantis a solid thumbs up and you can play the game for real money right now at one of our partner casinos:
Demo Play