The fun-loving Meerkats combine their naughty mob-like antics with four separate wilds and a 4-stage bonus game extravaganza that can deliver a maximum payout of 2,000x your wager.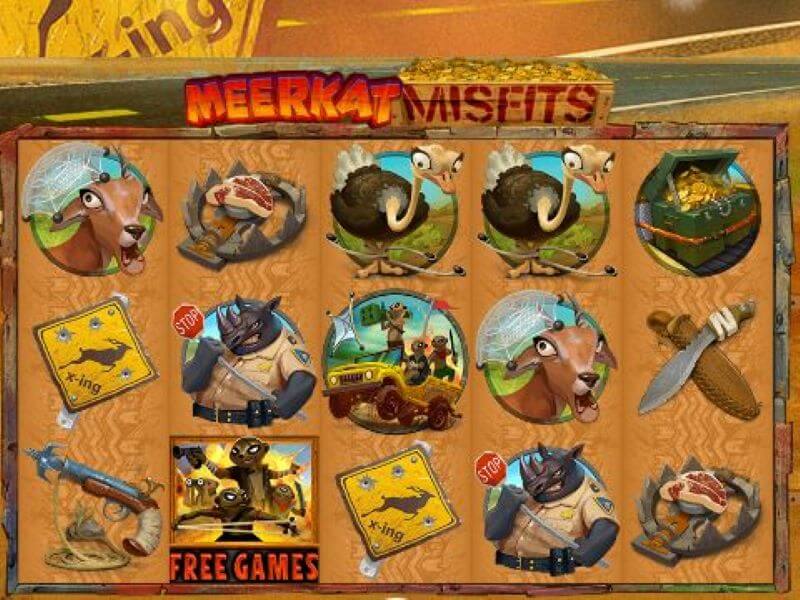 Game Info
Max Jackpot
20,000X stake (500x4)
Our Recommendations
Play
Meerkat Misfits
Here:
Hottest New Games:
Meerkat Misfits Four Times Stake Winner Latest Review
Here's a brand-new slot that is filled with plenty of cute critters. Did we say cute? No, these Meerkats are armed to the teeth, dangerous and deliver super-action online slots gameplay.
Got to love the new SpinLogic production team creation in online slots play! Meerkat Misfits is an entertaining, high-paced game that lets you go battle with Scout, Hunter, Muscle, and Commander Meerkat to cash in on the ferocious fun in Meerkat Misfits!
Meerkat Misfits is a 5-line video slot with hard-shooting, 30 pay lines and a full inventory of power-packed bonus features that make for some explosively rewarding wins!
Come and join the Slots Play Casinos team as we head out to face some cheeky, armed but not really dangerous Meerkat Misfits in this humorous and thrilling online slots triumph!
Meerkat Misfits Game Details
Volatility: High
Rows: 3
Reels: 5
Max Payout: 20,000X stake (500×4)
Pay lines: 30
Min Bet: 0.20
Max Bet: 50
Progressive Jackpot: No
Features: Multiplying Wilds, Scatters, 4 Stage Free Game design
RTP: As yet unknown
All symbols pay Left to Right beginning from the leftmost reel, except scatter, which pays on any reel.
This super-slot plays amazingly well on all three platforms or Download, Instant play and Mobile, with no lags, great design and comfortable gameplay.
All About Meerkat Misfits
Well, hello to Scout, Hunter, Muscle and Commander, AKA as those gun-packing Meerkat Misfits. This rascally band of western critters are armed, dangerous and digging in to defend their bit of turf and most of importantly – their gold coins.
These are not your usual cutie Meerkats, but a feisty bunch, who deliver a fun, lively punch to your 3-D video reel play, with 5-of-a-kind, Huge Wins and Mega Wins, all thrown about like Road Runner tumbleweed!  When Meerkats pop up, they're Multiplying Wilds, boosting your winnings by up to 4x. The music is in keeping with a fun sense of western bandanna, animated adventure, and comic drama.
This video slot is well designed, with clever use of perky cartoon animations on a backdrop of a western corral, full with some cliched, yet fitting symbols. So, we mentioned the 4 meerkat fighters, but we also encounter some other icons. Old West pistols and weapons, deer road warnings, hunting traps, hunting knives and possibly a road runner himself.
Wilds
Great bonus features have been developed for Meerkat Misfits. Literally there is never a dull moment when you land a Wild symbol on your reels. The Wilds substitute all symbols, except for the Scatters and are rewarding Multiplying Wilds. The breakdown of the least to most rewarding symbols plays out like this:
x1 Wild (Scout Meerkat)
x2 Wild (Hunter Meerkat)
x3 Wild (Muscle Meerkat)
x4 Wild (Commander Meerkat)
x1 Wild, x2 Wild, x3 Wild and x4 Wild appear on reels 2, 3, 4 and 5 respectively.
The prize is x2, x3 or x4 when a multiplying Wild appears in a win, respectively.
Only the highest Wild multiplier on your reels is used with no other combination.
Scatters
The Scatters are the Meerkat Free Spins icon. A popular reel booster of fighting meerkats! Be sure to be on the lookout for these rewarding little icons, that just pop up on your reels to deliver lots of bonus free games. Here's how it works:
Free Games
3 or more Scatter symbols appearing anywhere in the gameboard trigger Free Games with Stages feature.
Free Games with Stages
Players will be able to progress through 4 different stages upon each feature trigger.
Once all 4 Stages are completed, players will start over from Stage 1 upon the feature trigger.
The 4 possible stages are:
Stage 1
7 Free Games are awarded with the first trigger combination.
All Wilds are changed to x1 Multiplying Wild.
Any retrigger adds 7 free games to the current feature stage.
Stage 2
8 Free Games are awarded with the second trigger combination.
All Wilds are changed to x2 Multiplying Wild.
Any retrigger adds 8 free games to the current feature stage.
Stage 3
9 Free Games are awarded with the third trigger combination.
All Wilds are changed to x3 Multiplying Wild.
Any retrigger adds 9 free games to the current feature stage.
Stage 4
10 Free Games are awarded with the fourth trigger combination.
All Wilds are changed to x4 Multiplying Wild.
Any retrigger adds 10 free games to the current feature stage.
Progression through Free Games Feature stages is independent per Bet Level.
Primary game reels are different per Stage.
Slots Play Casinos are Happy to Recommend…
Who would imagine that Meerkats could be so much fun! Slots Play Casinos testers really did smile a lot when playing the reels on this ultra-engaging game.
The characters of each individual Meerkat is hilarious and makes the game play highly entertaining. The developers at SpinLogic devised a smart way to include lots of rewarding free play and added a sense of online slots adventure.
The game is pretty volatile, so our advice is to budget with care and keep your bets on the lower side. Nevertheless, the cash winning options of Meerkat Misfits is good and we scored a consistent amount of decent wins. We could have cashed out, but truthfully, we just kept on playing because we were having so much fun.
The best feature of this game is, without doubt, its four-stage free spins that you can progress through and really add up some pretty awesome bank roll cash-boosting play.
We would highly recommend giving this game more than a few spins. It may have a lighthearted theme but it really is an online slots winner! You can play this game in its demo, free to play mode for quite a while. Once you feel ready to put in some real money cash you can go ahead, make a deposit and then push towards a nice return on your bets. We did great and so will you!
Go visit Slots Capital Casino and many other of our Spinlogic software operational partner casinos, to go a few rounds with those fighting Meerkats!