Prospect for MEGA PROGRESSIVE GOLD with Mega-Money Mine and win some rich pickings on this immersive WGS-powered 3-reel, 5-payline fun play slot. Get into the Progressive Jackpot mode with 4 potential progressive pay dirt bonanza jackpots!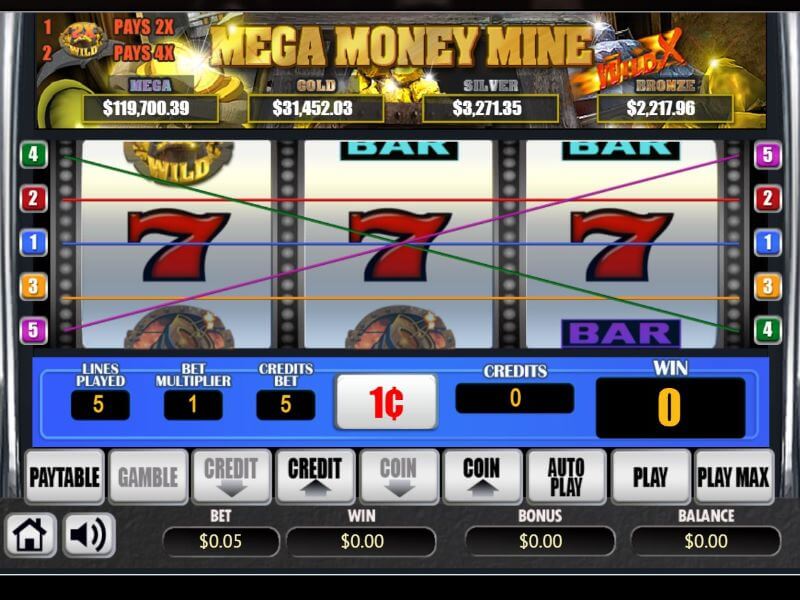 Our Recommendations
Play
Mega Money Mine
Here:
Hottest New Games:
Find Your Mega-Money Mine Fortune
The prospectors of old were always looking to strike it rich with that perfect golden seam and blast their way into big-time pickings! Well, now you don't need to work so hard or dig so deep. Here's a slot that will have you shouting out Eureka as you play! Find your fortune on Mega-Money Mine, a 3-reel, 5-payline game of golden reel play.
Some of our Slots Play Casinos prospectors went down the mines on your behalf and came up with a mother lode of gold. They also had fun in the Mega-Money Mine! We think you will enjoy this entertaining, nostalgic WGS production that is part of the exclusive WILD X slots series.
You can mine and hit real epic pay dirt too, because this online slot offers four progressive slot machine jackpots to boot! Read on to dig out more details…
Game Details
Software: WGS
Game Type: Mine themed video slot
Reels: 3
Rows: 3
Pay Lines: 5 fixed
RTP: 95.36%
Min Bet: $0.05
Max Bet: $75
Wilds: Yes
Free Spins: Yes
Progressive Jackpot: Yes X4
Max Payout: Base Game is $22,500
About Mega Money Mine
The latest addition to WGS gaming's unique Wild X slots series is Mega-Money Mine, a fun, gold-rich, 3-reel video slot with five fixed pay lines. Mega Money Mine is a winning mix of fun, simplicity and excitement.
The design is based on the familiar three-reel retro looking one-armed bandit machine. All the game details are clearly laid before you on the game board, plus the progressive tickers are on the top of the game board to boost the thrills and expectations. Mega-Money Mine is easy to play with set betting and a classic design that is fail-safe.
The symbols are standard three-reel: Cherries, Gold Bars, Shovels, Double Bars and Sevens, Diamonds, plus there's a 2X Wild Mine Logo symbol, that pays out the maximum from the basic Mega Money Mine game when three of these appear on any payline.
Game Play
This Wild X series game, like all of the WGS Wild X series games, pays a multiplication to the player if any wild symbol occurs on any pay line. A single Wild symbol awards 2, 4, or 6 times the amount wagered in this game, depending on how many coins are wagered. Two Wild symbols pay 4X the coins wagered, and if they form part of a winning combination across one of the five paylines, the multiplier is applied to the payline for the win!
Ten free games can be won and re-triggered forever with the appearance of the WILDS, while a bonus game located deep within the Mega-Money Mine ensures a payout of one of the four massive (MEGA) jackpots!
Four Progressive Jackpots
The real mother lode in this online slots game is the four separate super Progressive Jackpots. Play to win the BIG POT that is fed by 1% of the base game wagers. Each of the jackpots are triggered by the Random Bonus Feature, as long as the player is using 3 credits, regardless of denomination.
The 'Mega' jackpot is configured to grow sky high, which will mean that Mega-Money Mine is really popular! The progressive jackpot is only available to players who wager the maximum of three coins.
These are the four Super Progressives in which each of the jackpots is triggered by the random bonus feature:
Betting Options
The game allows players to purchase $1.50 coins and gamble $1.50, $3, or $4.50 on a single spin. Players can wager one, two, or three credits on coins ranging from $0.01 to $5.00. Players can win 500 and 1000 coins, respectively, with a wager of one or two coins.
The Mega Money Mine progressive slot machine jackpot begins at 2,000 coins and is won when a player wagers the maximum $4.50 (three coins) on each spin and lands three Mega Money Mine logo symbols.
Apart from the jackpot winning combination, the game has eight winning combinations for any given wager.
Slots Play Casinos Summary
Mega Money Mine not only has four Mega Progressive Jackpots, but also multiple possible winning combinations. The whole point of playing the slot game is to win the big jackpot, but you can also get some nice, smaller wins along the way during the base game.
Like all progressive jackpots, there is no way to know exactly how much you could possibly win, but at any point in time, you can refer to the ticker on the slots machine to see how large the jackpots are. These numbers will creep higher as players fail to win, but when somebody gets lucky (YOU), it will be reset. The Progressive Jackpots are the best feature of the online Mega Money Mine slots game, especially since classic slot machines so rarely offer such large payouts. This unique combination makes this the perfect game for anybody that wants a progressive jackpot without all of the hassle of an overly complicated slots game.
This is a simple slot, but not lacking in potential powerplay spinning. The lighthearted symbols and somewhat old-fashioned gameplay is the perfect combination when looking for an entertaining few hours. More than that, you could come away, as we did, with a few extra bucks in your gambling wallet.
Try and win the Mega-Money Mine Progressive Jackpots today. Play the game at one of our fabulous partner casinos, with a bonus incentive…