Meet real mermaids and search for pearls in Mermaid's Pearls. This awesome slot has a 5 x 5 grid which gives you 3125 ways to win! Mermaid's Pearls is celebrates the vastness of the seas and the exquisite beauty of both pearls and real-life mythical mermaids! It also celebrates the 2500x top payout and the top prize of $125,000!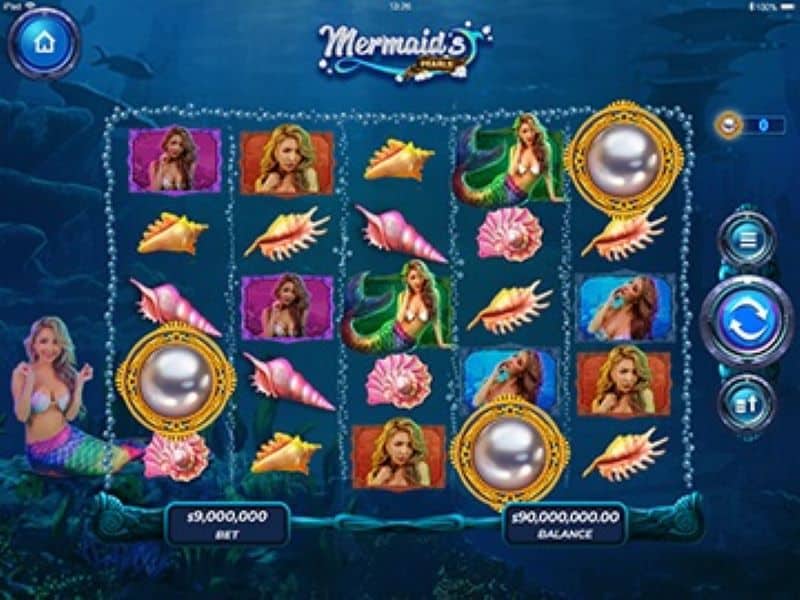 Game Info
Max Jackpot
2500X the total bet
Our Recommendations
Play
Mermaid's Pearls
Here:
Hottest New Games:
Mermaid's Pearls Slot Review
The deep sea holds two great treasures: the fantastical beautiful mermaids and real life pearls. Mermaid's Pearls combines the passion we all feel for both mermaids and pearls.
Mermaid's Pearls uses real life models and turns them into mermaids to add a sense of reality to this entertaining slot. Even more realistic is the quite high return to player rate which adds yet another enticement for gamers to play this gorgeous and alluring game!
Mermaid's Pearls slot also has two unique ways of creating free spins! You will reach the free spins rounds quickly time and again. The deep ocean casts its immense beauty and power over the game. Mermaids' Pearls is a perfect combination of the physical beauty of mythological creatures, the power and grace of the deep sea, the exquisite smooth texture and elegance of pearls, and a high return per spin to players!
Mermaid's Pearls Information
Mermaid's Pearls is a ways-to-win slot. How many ways are there to win? How does 3125 ways to win sound? One way that RealTime Gaming – RTG – is able to create so many ways to win is by using a 5 x 5 grid. This gives you a lot more space to view the mermaids and to mine the depths for pearls.
The vast number of ways to win is RealTime Gaming's way of demonstrating the vast expanse and power of the deep blue sea! We have only just begun to explore the deep sea and every day scientists discover new and wonderful things "hidden" beneath the ocean's waves.
One of the things that are "hidden" in the ocean are pearls themselves. Pearls have long been considered one of the wonders of the physical world. They are cherished for their smooth surface and the texture which is a unique combination of soft and hard at the same time!
So, Mermaid's Pearls is a kind of celebration of all we know about the sea and all we will eventually discover. Who can say; we might even discover that mermaids are also real!
They certainly are real in Mermaid's Pearls! Not only are they real, they are as beautiful as we imagine pearls to be!
Another thing that is quite real is the maximum payout of 2500x the original wager which means that the largest jackpot available to lucky deep sea divers is an oceanically cool $125,000!
Mermaid's Pearls Features
The first of this slot's unique features is the Pearl Meter. Pearls can come up on any reel and on any row at any time so you can get as many as 25 pearls on a single spin!
When you get at least 15 pearls, you win a prize from 5x your original bet to 2500x the bet. The Pearl Meter does a lot more than just wait for 15 or more pearls to appear! The meter keeps track of all your pearls. When you reach 300 pearls—a sum that is quite easy to reach given the large number of pearls that can come up on any single spin—you get to the Shipwreck Bonus.
RTG may have called it the Shipwreck Bonus in order to remind us that the open seas can be dangerous as well as thrilling but the Shipwreck Bonus is actually a very good thing! You get to choose a hidden prize.
When you accumulate 600 pearls, you arrive at the Treasure Pearl Feature. Here you have 10 free spins to use wisely and well. The screen becomes filled with pearls and blank spaces. The mermaids are off taking a well-earned break!
You win based on how many pearls come up during your free spins.
Conclusion
Mermaid's Pearls is far more than a snorkeling slot! You'll need your full deep sea diving regalia to get the most out of this wonderfully entertaining game! The gorgeous mermaids are just one of the many delightful features. You'll love watching the Pearl Meter rise as well and the benefits of getting all those pearls will go a long way to making your day!