Mice and Magic offers a new kind of immersive slot event that will enchant players as it draws them into the action-filled activity on the screen. The slot is chock-full of interactive features and special elements including Wilds and Sticky Wilds, a Special Symbol, Scatter Combinations, Multipliers, Wild Frames, Free Spins and the popular Buy Bonus feature. Now available on SPC recommended casino – Ripper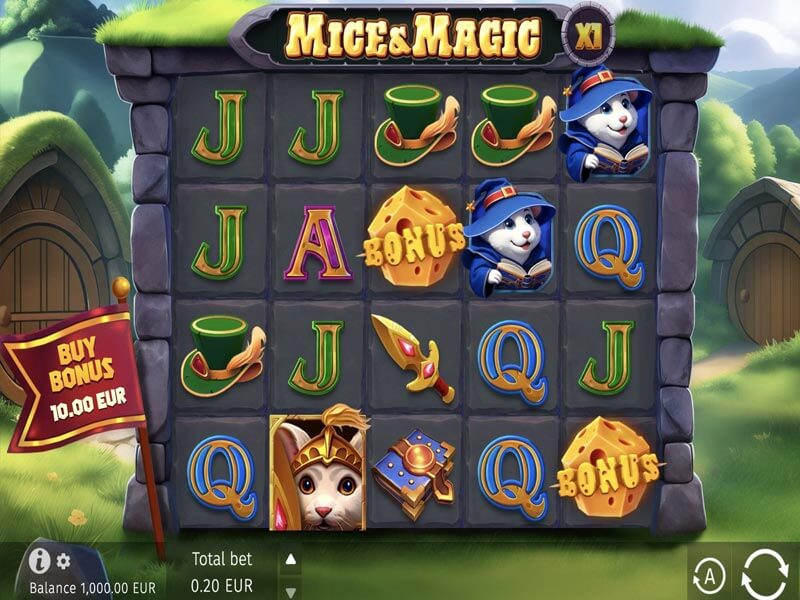 Our Recommendations
Play
Mice and Magic
Here:
Hottest New Games:
Mice and Magic's Cheesy Delight
The Mice & Magic online slot delivers a fun-filled gaming adventure where a chunk of well-placed cheese can morph into big cash wins! This slot will have you squealing with joy as you prepare to enter into a world of whimsy, wonders, and some cheesy fun.
Whisker-Twitching Entertainment
BGaming introduces a whimsical gaming experience where winning is as easy as a mouse's journey through a maze. This rodent fest will have you standing on your chair in excitement as cute mice face off against sneaky cats to find the treasure embedded in their pieces of Swiss Cheese.
With extra elements that include multipliers, sticky wilds, scatters, free spins rounds and the lucrative Buy Bonus feature, his five-reel, 20 payline online slot offers gamers the chance to score big wins.
There's an RTP of 96.93% which puts the Mice & Magic slot at the higher end of slots in terms of the Return to Player.
You can bet as little as 2 coins per line but as much as 25 coins on each line which gives you a game that enables you to play according to your personal preferences. However you play, you can look forward to a max win of x2820 so you have a lot to look forward to!
Get ready to follow the magical exploits of a band of brave mice who must guard their hoard of cheese where their wealth is hidden. The mice must outwit Sneaky Graf Cat Marquis III to hold onto their cheese and protect their treasures.
As daggers, hats, bows and arrows, mice and cats spin on the reels, you'll be able to apply the extra features as tricks of your own as you keep the cheese away from Graf and collect some of the riches for yourself.
Wild Symbol
Graf Cat is the Wild Symbol in this game. Whenever Graf emerges on a payline, you will be able to apply it as a substitute for other symbols and complete your lines. If the payline is enabled, you will collect your winning prize but if you haven't enabled the line, there is no payout.
Casino advisors remind you to enable as many of the 20 paylines as you can, even for small amounts, in order to enjoy the wins on the matching combinations that you complete.
Wild Frames
During the base games the machine features Wild Frames as it spins in cycles of 10. Whenever the game's Special symbol appears on the reels during the base game, it's cell is automatically framed with golden lines.
These Wild Frames then become sticky for the following 10-spin cycle. After the 10 spins are finished, the symbol that was framed turns into another Wild which increases possible winnings.
Multiplier
The Special symbol also serves to trigger the multiplier which increases by x1 every time the Special symbol drops on a framed cell. The multiplier is active both during the regular game 10-spin cycles and during the Free Spins. In the base game, every time a new cycle of 10 spins begins, the multiplier will return to a value of 1.
Sticky Wilds
Sticky Wilds appear during the base game and the Free Spins round. If Graf the Cat Wild emerges on a spin, that Wild becomes sticky and remains in place throughout the remainder of the free spins. The multiplier applies to each winning combination.
Scatter Symbol
When 3 Scatter symbols appear on reels one, three and five, in any position, they trigger the Free Spins round. You'll be given 10 opportunities to spin the reels for free and collect the resulting wins.
Buy Bonus
The Buy Bonus Feature is one of the newest and most popular features in the slots world. You're given the chance to buy 10 additional free spins with up to 9 Wilds per spin. To Buy a Bonus, place a Buy Bonus deposit and you'll see 3 scatter symbols drop down on the reels.
If you Buy a Bonus at Level 1, the multiplier will be x1.
If you Buy a Bonus at Level 2, the first spin the stack of 2×2 wilds will fall out randomly on the reels at the first spin.
If you Buy a Bonus at level 3, the stack of 3×3 wilds will fall at the first spin at random places on the reels.
Achieve a win on a Buy Bonus and watch the animated combination dance across the screen as your win amount is displayed.
Let's Wrap it Up
If you're looking for a whimsical, captivating and interactive gaming experience, check out the Mice & Magic online slot. With charming characters and innovative features, this slot machine delivers a fun-filled gaming adventure with real money payouts.
Play for Free
Casino advisors suggest that you play Mice & Magic in the free mode to get used to the features and hone your skill before you start to make real money deposits on your spins. You can play for as long as you want without placing a bet. Once you're ready to start competing for cash prizes you can wager at the bet level that best suits your gaming preferences.
Play to WIN!
You'll find the Mice and Magic slot at the following Slots Play Casinos' top online platform including:
● RIPPER