When time-traveler Miles Bellhouse combines with the Gears of Time you'll be looking at slots entertainment at its best along with lucrative real money payments and special bonus prizes.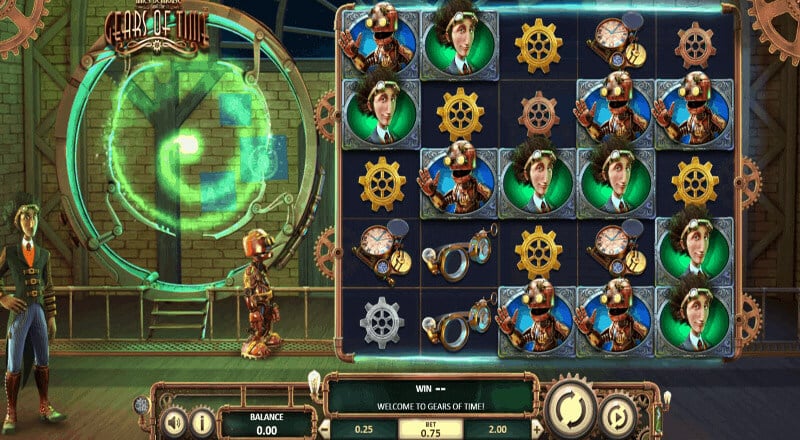 Game Info
Max Jackpot
€ 54240 (1084.8 x Max Bet)
Our Recommendations
Play
Gears of Time Slot
Here:
Hottest New Games:
Gears of Time Slot Review
Regardless of whether you played
Curious Machine
and are looking for an
online slots
follow-up or you simply want to find a fun-filled
online casino
gaming event that includes adventure, special features and big real money payouts, the
Gears of Time slot
is the best bet. Gears of Time brings you into a world when traveling through time isn't a fantasy – it's a reality!
When you play the Gears of Time slot you'll be setting off on an escapade with Miles and his Robot Assistant, machines, cogs, modes and more. All of this is available for real money and free mode gaming on any PC or mobile gaming device at our Slots Play Casinos partners carrying Betsoft games:
Gears of Time Slot Information
The notion of man's ability to travel through time has fascinated people since ancient times. There are ancient myths that depict characters moving forward in time including a Christian/Islam story entitled
The Seven Sleepers of Ephesus
in which a group of early Christians escaped persecution by hiding in a cave during the reign of Roman emperor Decius and slept for 200 years until the reign of Theodosius II when the Roman empire had become Christian. Another Islamic story is that of Uzair who was so distraught at the destruction of Jerusalem that he was transported to the time of the rebuilding of the Temple.
Judaism had time-traveler Honi HaMa'agal, the Hindus taught of King Raivata Kadudmi, the Buddhists relate the story of Pali Canon and the Japanese tell the tale of Urashima Taro. In almost any ancient society, it was almost assumed that time travel could be achieved.
In today's world, time travel is almost always associated with science fiction. There are many stories in which characters are transported to the past or fall into a deep sleep and wake up in the future including Memoirs of the Twentieth Century (written in 1733), Missing One's Coach: An Anachronism, (1838), A Christmas Carol (1843) and The Forebears of Kalimeros: Alexander, son of Philip of Macedon (1836).
In the 1880s, the notion of a time machine that could transport a person forward or backward in time was popularized. The first mention of a time machine was in Edward Page Mitchell's The Clock that Went Backward. From there, it was only a matter of time until the idea of such a piece of machinery would become an assumption that was cemented by H.G. Well's The Time Machine (1895).
Does science support time travel? There are theories, including those of general and special relativity, that suggest that time travel could take place using specific types of space motion or geometries of spacetime. The theories are in the realm of the field of physics where concepts such as closed, timelike curves — worldlines that form closed loops to allow objects to return to their own past — are posited. To date, no one has proven the physical reality of such solutions but the possibilities continue to intrigue physicists.
Some of the most famous suspected time travelers John Titor, a recent "visitor" from 2034 who said that he could predict what was going to happen in the coming years, Charlotte Ann Moberly and Eleanor Jordain who visited the Versailles in 1901 and swore that they had entered 18th century Paris and see Marie Antoinette and Rudolph Fentz who was killed in a car accident in 1950 and found to be in possession of 19th century identity cards and old bank currency.
Now you too can enter the world of time traveling excitement and anticipation when you play the new Gears of Time online slot game
Gears of Time Slot Features
With an almost 97% RTP, the Gears of Time slot machine is a worthwhile gaming adventure that takes you into Miles Bellhouse's lab where he's experimenting with Time. You'll set out on a trip of a lifetime that will present as many twists and turns as a time machine! There's Miles, his robot, his machine and the parts,
free spins
, a gamble option and a Wild Vortex plus a Back in Time bonus in which you collect artifacts for prizes.
Staking options vary, making this a great game for players with any gaming budget. You can wager as little as 0.10 or as much as 5.00. The win multipliers boost payouts to up to 2,000x the total stake.
As the reels spin Miles and his time machine elements will take you on a journey to the Past, Present and Future within a Victorian-style world of science fiction surprises. As the reels spin Miles will change from a young scientist to an older man of science. Regardless of whether he's old or young, his commitment to proving time travel never wavers.
There are three modes in this game, the Past Mode, the Present Mode and the Future Mode. Each ode activates respins, symbol cascades and multipliers as well as free spins and in-game variations.
One of the most unique aspects of this slot machine is the clusters. If you achieve three or more matching symbols that connect horizontally or vertically, you win. With a cluster pays mechanism you achieve higher prizes from bigger groups as the entire grid covers with matching symbols. With each spin, the game selects 5 positions randomly. Each position may be covered by a winning Cluster at the end of the cascade. With each additional Cluster that covers selected positions you'll have more opportunities to activate one of the special Time Traveling features!
You need to keep your eye on the pay table to watch and see the amount that the minimum and maximum clusters are paying back. There are Clusters of 3 and Clusters of 25 so if you get the Bronze Gear the payout ranges from .2x to 20x while with the Silver Gear the payout can start at .4x and go up to 30x. Payouts increase with the Gold Gear, glasses symbol, the timepiece, the robot and, of course, Miles.
The Wild symbol is the Ball of Energy. The Wild can substitute for any other symbol to facilitate completed combinations and payouts.
Gears of time is chock-full of special features as befits a mechanical-themed game. There's a cascading symbols that holds winning clusters on the reels — even as other symbols drop off, new symbols appear and add to the cluster so you can build bigger groups of matching symbols for bigger prizes.
The pipes move around the reels randomly, surrounding five symbol positions. Whenever a part of a winning cluster appears within those pipes, the special Time Traveling features launch.
If you achieve five cascades you'll Travel to the Past for a chance to improve the past and win big. In the Travel to the Present mode, you can pick up a random multiplier of between x2 and x20 from any cascade. In the Future Mode, 10 matching symbols will cascade down for a free respin.
Conclusion
It's been a long time such a slot has featured so many thrilling elements, mini-games and opportunities to pick up winning payouts. Check out Miles' Gears of Time and put your time to good use!