Wear your most colorful clothes when you play Monster Pop online slot! The so-called monsters are a lot more colorful and goofy than scary and hairy! They may have one tooth or three and one eye or three! The Monster Cloner can expand the reels to form a 13 by 13 grid and can add wild symbols, too. Monster Fury cascades symbols for more wins!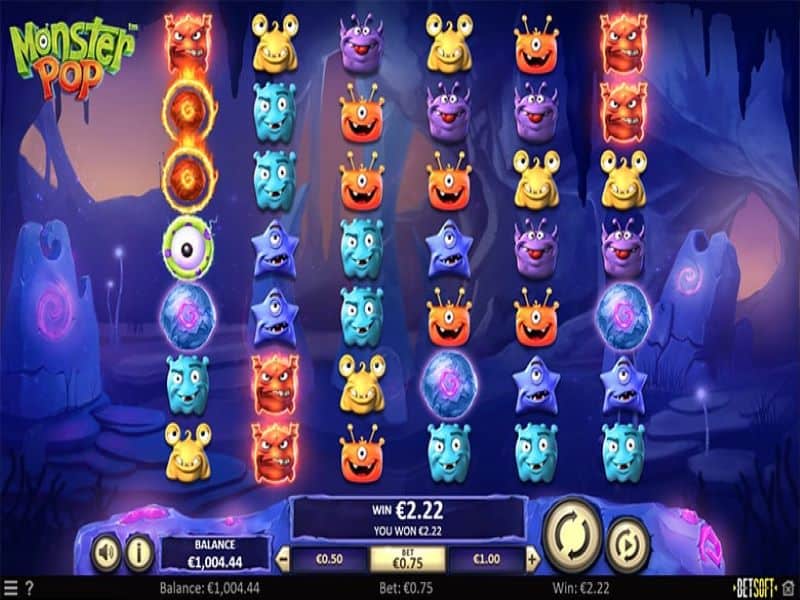 Max Jackpot
1921.12 x bet
Monster Pop Slot Review
From trolls and demons to one-eyed giants and fairy tale ogres, every culture and era has had its monsters. People have been fascinated by the stories of these creatures who appear in mythologies, legends and even history books. What do monsters tell us about ourselves and our society? Why are we so fascinated by these beings, and why do the same types of creatures – werewolves, dragons, griffins and others – appear in the writings of every continent and every society?
Monsters are seen as creatures whose existence are opposed to the laws of nature. They come in different colors, have different types of temperaments and look quite different from one another. Some are composites of two or more animals and others can morph from one form to another. Some talk while others grunt and some are benevolent  while others are vicious and dangerous.
If monsters fascinate you, you can open your account at your fav Slots Play Casinos online casino and play the new Monster Pop slot machine to meet some of the monster world's funniest and most loving monsters ever!
Monster Pop Slot Information
Betsoft's new Monster Pop slot will keep the slots reels popping with a maximum jackpot of 1921.12 x your bet. The Return to Player (RTP) is a generous 97.07%, a significant improvement over many slots' 95% or 96% RTP. The RTP is the main indicator of the machine's value to the player and lets the player know what kind of return s/he can anticipate on his/her wagers.
What's interesting about the Monster Pops slot is that there are 169 paylines so players have a massive choice of which paylines to activate – or even activate them all. At a minimum of 0.25 coins per line, it's possible to activate all of the paylines which gives gamers dozens of chances to hit a win on each and every spin.
The game has all the standard slots features plus more – wild symbols, scatters, bonus games, multipliers, free spins and even an auto-play option.
Monster Pop Slot Features
Monster Pop is one of the slots known as a "cluster pay" slot machine. This machine differs a bit from traditional slots in that the player collects stacks of symbols to achieve payouts. In this game, the goal is to collect monsters and the more monsters you collect of the various colors – purpoe, green, blue, yellow and orange – the more you win.
The grid on the machine is similar to any five-reel, five payline slot. In this game however, the grid expands, thanks to the Monster Cloner. When the Monster Cloner symbol emerges it duplicates columns, rows or both.
The Oracle Eye is the game's Wild. When it appears, it substitutes for other monsters to create winning combinations. Thanks to those Wilds you enjoy tons of chances to achieve wins.
The Flaming Sphere symbols are also unique – three or more flaming spear scatter symbols trigger the free spins game. When the free spins bonus game starts you can spin for real money prizes without adding any additional deposits and keep the payouts on any wins that you achieve during those free spins.
The free spins retrigger whenever three Flaming Sphere symbols emerge on a free spin. If you don't achieve a free spin respin, the Monster Fury may activate, creating reactions that deliver more winning payouts.
Conclusion
Thanks to the fanciful monster images, the imaginative Monster Fury, Monster Cloners and Flaming Sphere features and the general atmosphere of slots whimsy and lighthearted fun, casino players will be able to look forward to a Monster Pop of a good time when they play the Monster Pop slot at the online casino.