More Gold Diggin is a follow-up slot to the super-popular Gold Diggers slot. Here two redneck gold diggers and a gopher combine forces with multipliers, bonus free spins, and cascading reels to reel in (that by the way is a mixed metaphor!) the big wins! In More Gold Diggin, the gold is extracted with TNT. That makes for explosive wins!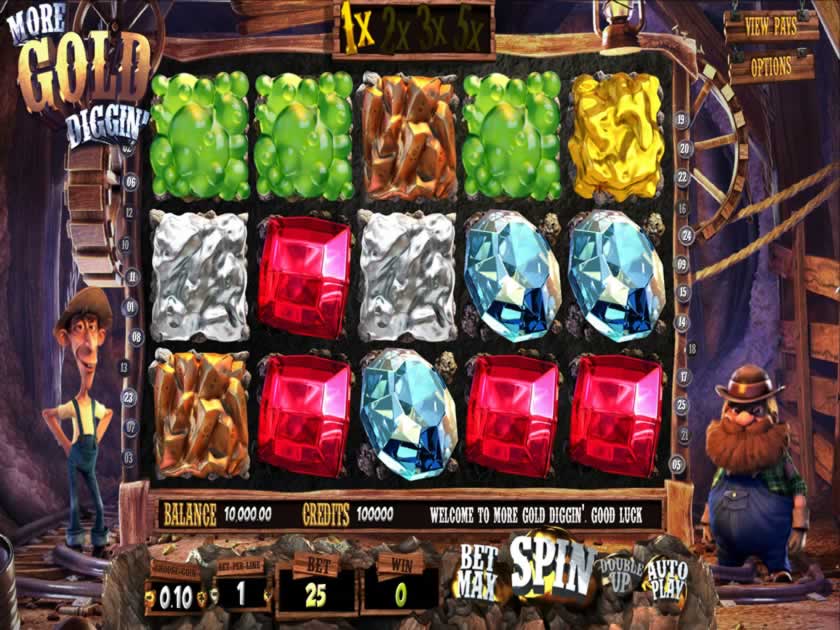 Our Recommendations
Play
More Gold Diggin
Here:
Hottest New Games:
More Gold Diggin Slots Review
The gold mines continue to produce valuable ores and the payouts keep coming when you play the More Gold Diggin slot machine. More Gold Diggin slots takes you into the challenging world of gold mines, diggers and exciting discoveries with 25 interactive paylines and the chance to win the entire $31,250 maximum payout.
You'll thrill to the game action as you spin the reels and accrue wins. More Gold Diggin is a Betsoft game, meaning that every spin takes you further into a fantasy of wealth and excitement. You can play at a low level of .02 coins per payline or move up and compete at .05 coin wagers on each line.
This is a great game for older, veteran gamers and new players alike.
More Gold Diggin Slots Info
The motley crew of the More Gold Diggin slots is armed with buckets and pickaxes and ready to set off on an adventure of fun and excitement. Follow the diggers as they crawl underground in an interactive search for gold. You'll encounter whimsical characters, free spins, bonus symbols and more.
More Gold Diggin follows up the successful Gold Diggers slot machine with more paylines and more wins. Game symbols include the gold diggers themselves, their gopher mascot, mining tools and more paraphernalia for exploring  gold mines.
The 3D graphics and enthralling animations make this gold-rush game a delightful interlude that allows you to experience fun-filled gaming entertainment while you play to achieve real money wins. In the opening sequence old-time miners stand around the mining equipment while the wily gopher taunts them, dropping things on their head, biting them and jumping in front of the screen to grab some attention.
More Gold Diggin Slots Features
Game symbols include blocks of color, gems, TNT barrels and sticks. Although the game itself is a high-energy adventure of 25 paylines, there's only one free spins round, though that's a doozy. When you achieve your payline and winning symbols explore, a multiplier number appears that explodes winning symbols and allows other symbols to move down and take their place. If those new symbols create a new winning payline you'll get your win PLUS a double multiplier on the payout. New symbols appear and the next win delivers a triple multiplier! This continues up to a 5x multiplier. All of these wins combine to present you with your final payout. The multiplier number then resets to 1.
Increasing multipliers are also present during the free spins. The free spins round is triggered when multiple TNT Barrel symbols appear, scattered across the reels. The multipliers are higher in the free spins round, with multiplying payouts of 3x, 6x and 9x — up to 15x!
During the free spins round an optional Double Up feature is offered. You're given the opportunity to gamble your winnings on a picked card — if your card value is higher than that of the dealer, your wins double. The risks are high but so are the possible winning payouts!
Play the whimsical More Gold Diggin slot machine for a chance to mine some of your own wealth.