Fireflies take center stage in this entrancing online slot that features old favorite elements along with new stimulating features, enchanting symbols, alluring graphics and plenty of real money payouts.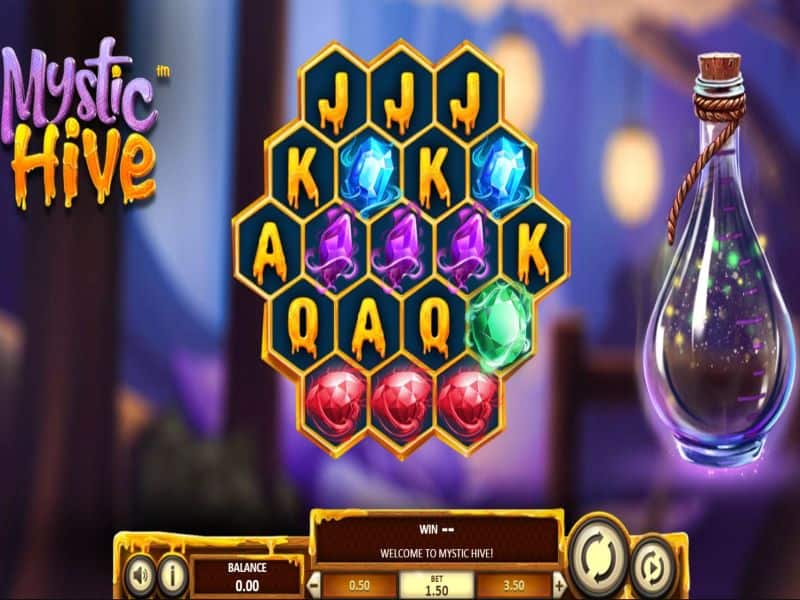 Game Info
Max Jackpot
€ 19440 (243 x Bet)
Mystic Hive Slot Review
Fireflies light up the screen in the
Mystic Hive slot
, a honey-themed 
online casino
slot machine which is now available at
Slots Play Casinos partner casinos
for PC and mobile gaming entertainment. The
online slots
adventure is enhanced by a stunningly beautiful landscape background that lights up the world of honey-making.
Mystic Hive combines high volatility with an RTP of 96.13% to present Slots Play Casino gamers with the perfect mix of entertainment, action and opportunities for big win results to create a great gaming adventure.
Check out Mystic Hive at these great Betsoft partner casinos:
Mystic Hive Information
Honey is often termed "Liquid Gold." It was used by Egyptian Priests and Physicians, praised by Greek Philosophers, a staple of ancient Chinese Healers and a central feature of Roman banquets. Honey is often associated with its sweetening properties but it can also be used for medicinal purposes. Ceramic jars containing 5,500 year-old honey were discovered near Tbilisi, in Georgia, Russia, in a tomb of a noblewoman, and while there are no reports of anyone having tasted the honey, archaeologists did taste 3000 year-old honey that was found in Egypt and said that it was "tasty."
Honey is produced by bees which collect pollen from trees and flowers and turn the nectar into honey. The most common form of honey is clover honey, produced from clover flowers, but bees also make honey from the nectar of citrus, blueberry, dandelion and macadamia blossoms, basswood and beachwood trees and sage, tulip poplars and wildflowers.
There are many different types of honey. They include raw honey that comes directly from the hive, pasturized honey that is heated and then filtered, strained honey which still has the pollen inside, natural comb honey and micro-filtered honey which has all particles and pollen removed.
Honey isn't only valued for its taste. It's also recognized for its health benefits of which there are many.  Researchers believe that there are 16 Flavonoids – antioxidants – in honey which help keep our immune system functioning well It also improves fat metabolism and disposal, reduced metabolic stress and can help stabilize blood sugar levels. The hydrogen peroxide contained in honey is an antiseptic, making it a good thing to drink to sooth a sore throat and an effective salve for fungus or bacteria on the skin. It has also been proven to aid in tissue regeneration.
Once you know what an amazing product honey really is, you'll be ready to dive into the Mystic Hive online slot game and experience what "liquid gold" can really mean to your bank account!
Mystic Hive Online Slot Features
The latest
Betsoft
online slot, Mystic Hive, brings together a number of different elements to present gamers with a slot that is aesthetically alluring, interactively engaging and financially rewarding. The central theme of honey is ensconced within a group of fireflies, each of whom brings its own set of powers to deliver cash prizes. With an RTP of 96.13%, every player has plenty of opportunities to achieve significant winnings!
Coin values range from 0.10 to 90.00. You can bet on as few or as many of the machine's 30 paylines as you like. This slot allows you to collect payouts on matches that occur either horizontally or vertically. The Violet Nectar Meter tracks those bets but don't forget – if you achieve a winning match on an unactivated payline (on a payline on which you didn't place a bet), you won't collect any prizes for that win. As noted, on matching Green Gems you can win from 180x to 900x your original stake. Matching Mushrooms pay out from 135x your bet to 450x and  Purple, Blue and Red Gems from 27x to 72x.
There's an online slot honey pot of features that pours out liquid gold throughout the game. The Wild honey pot substitutes for any other symbol to complete winning combinations and trigger combination payouts.
In addition, there are three types of mystic fireflies that zip around the hive, delivering special random features. They include:
The Green Firefly who brings other fireflies to the area so you can fill up on violet nectar.
The Yellow Firefly who brings a stacking multiplier when you land a winning payline that includes a Yellow firefly. The more yellow fireflies that show up, the more this multiplier grows – the multiplier is calculated by counting the number of Yellow Fireflies +1.
The Red Firefly delivers free spins.
Once the Violet Nectar Meter is full you will receive 5 free spins with up to 3 Nectar Burst-Spreading Wilds that spread out to cover adjacent cells and create more winning paylines.
Conclusion
The spectacular visual imagery of this game combines with its unique special features and dynamic interactive elements to make this a great game for beginning slots gamers and advanced veteran players alike.