Betsoft game designers have created the Primal Hunt 80-payline online slot that delivers 21st century free spins, expanding symbols, wild, multipliers, scatter combination payouts and more to a Neanderthal-themed slots event.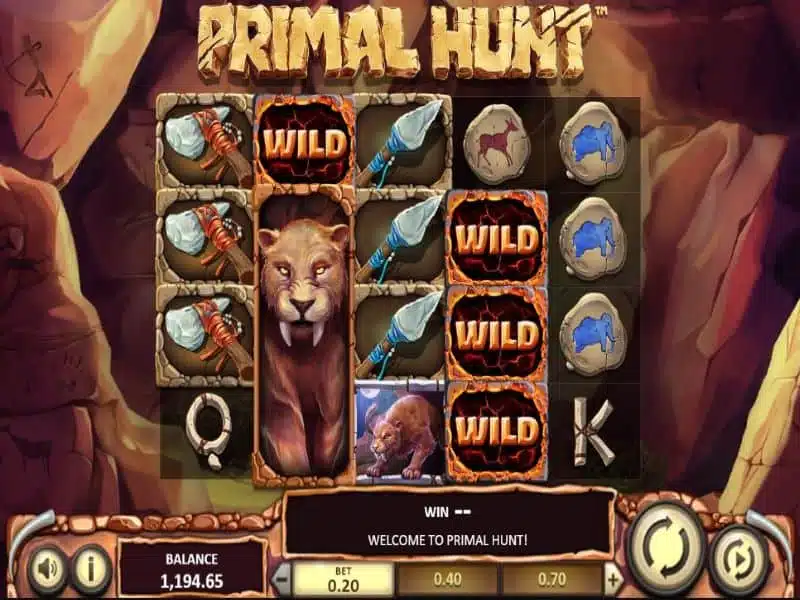 Game Info
Max Jackpot
€ 88406 (4420.3 x Max Bet)
Primal Hunt Slot Review
Life wasn't easy for cavemen. Food could be obtained only by scavenging or hunting, wild animals preyed on the humans, elements were harsh and the lifespan was short. Despite the challenges, there were rewards for those who successfully battled the elements. Today, you can also reap rewards when you play the
Primal Hunt slot
at any of our 
Slots Play Casinos
partner casinos on your PC or mobile gaming screen. The
online slots
is full of surprises and special features including bonus rounds, random multiplies, extra
online casino
payout elements and more.
Primal Hunt Slot Information
The Betsoft game designer has produced a game that allows players to travel back in time to the Stone Age when life was simpler and the challenges of daily life were more straightforward. When you start playing this
online slots
you may start out with the idea that you're entering another era. But the longer you play, the more you'll realize that we have more in common with cavemen and cavewomen that you might have thought.
Some of the ways in which we are very much like our ancestors of 10,000 years ago include:
They had pets. Anthropologists have found extensive evidence that shows that people lived with pets and were even buried with their pets. There are indications that people of the Paleolithic period nursed sick puppies and fed them the same kind of food that they themselves ate. Wolves that were adopted by humans of that time period evolved into the dogs that we know today.
They knew how to preserve food for long periods of time. Evidence of cured meat has been found that dates back more than 5000 years ago and ancient sites have been discovered where food was stored for long periods of time. Honey stored in ceramic jars that date back 5,500 years was discovered Georgia, Russia and other jars, found in the same area that date back 8000 years were found to have contained wine.
They valued cleanliness. Mud huts dating back 9000 years were found in Turkey. The homes were built close to one-another but they had alleyways for waste disposal.
Women played a central role in all tasks needed for survival. Women functioned as both hunters and gatherers and were almost as strong as the men. They were involved in almost all types of labor.
Families occupied the same homes for generations. The homes were often passed on from one generation to the next as people became settled in a certain area, with neighbors that they liked and in a location that fit their needs and preferences.
Their diets were similar to ours. The image of cavemen as mainly meat-eaters does not seem to be accurate. Evidence has been discovered that shows that people living in the Paleolithic era harvested and milled grain and made breads.
They were artistic. Flute-type instruments were made from mammoth ivory and bird bone. Cave drawings have been discovered on cave walls around the world.
But enough history, make your own Primal Hunt fun at these partner casinos:
Primal Hunt Slot Features
Primal Hunt online slot takes gamers back in time where they can learn about man's ancestors through cave wall drawings, reels, paylines, free spins and much more.
Primal Hunt is a fast-paced slot with interactive gameplay and many extra elements that boost winnings over and over again. The game has 5 reels and 80 paylines that payout from left to right. The RTP is a respectable 96.10% which is higher than most of today's slots so you have a good chance to pick up the jackpot of up to 4,420x the original bet ($88,406). Players have their choice of going for the max payout by betting $20 per spin or betting at a more moderate level of as little as $0.10 for each spin for lower winning prizes – it's all up to each individual gamer.
As the reels spin you'll see the symbols of the caveman's life — stone axes, sharpened spears, runes plus drawings of the wild animals that ancient cavemen placed on the walls of their cave-homes including horses, antelopes, mammoths, bison and lions. There are even crude Royals, made out of stone and tied with rope, that are the game's low payout symbols.
Wilds emerge on reels 2, 3 and 4 to substitute for other symbols and create additional completed combinations. The appearance of a Wild on a winning payline can multiply the win x2 or x3. If there are multiple Wilds on a winning payline they multiply each other which can mean a total multiplier of up to 27x.
The Cave Lion is the game scatter. If the Cave Lion symbol emerges he stacks to cover the entire reel for more winning rewards. The Hunting Cave Lion triggers the free spins if 3 Cave Lions appear simultaneously on the reels. When that happens, not only does the player receive a scatter combination payout, it triggers 8 free spins. If 4 Cave Lions display, the number of free spins increases. If 5 Cave Lions appear, the player receives 20 free spins, plus the scatter combination payout for 5 scatters.
Conclusion
The Primal Hunt online slot takes you into the distant past with interactive spins, multipliers, free spins, symbol stacks, bonuses and much more!