Wild reels, prize multipliers and 96,000 x top wins are part of the Princess Warrior online casino slot. It is powered by immortals and available at featured RTG Slots Play Casinos!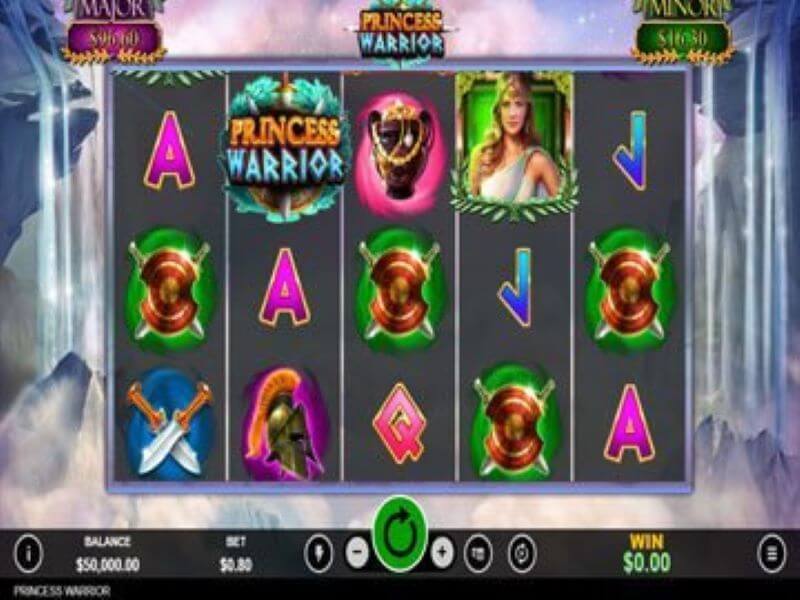 Game Info
Max Jackpot
96,000.00 times bet per line
Our Recommendations
Play
Princess Warrior
Here:
Hottest New Games:
Princess Warrior Review
Don't be fooled by the seemingly conventional gameplay in Princess Warrior online casino slot. As with all Real Time Gaming (RTG) developed slots online, the best features are locked away for some lucky gambler to unleash on the reels, which in this instance, is the Princess Warrior bonus feature! Check out what this brand-new online casino slot has in store for you at Slots Play Casinos.
Princess Warrior Game Theme
Princess Warrior online casino slot is based on Greek mythology and is a homage to Athena, the lovely yet fearless Greek goddess of warfare, wisdom and the arts. Athena is one of 12 immortal deities who resided on Mount Olympus and waged war against the Titans to claim the Pantheon of Gods as their own.
As immortals, the gods were imbued with special powers, some of which can be used to your advantage when you play Princess Warrior on your PC or phone. With Athena as the main character, Princess Warrior slot is focused around the goddess and everything that embodies her.
The game's graphics are cinematic, rich, bold and immersive, and the soundtrack is dramatic, lending a sense of suspense. You'll be forgiven for feeling like you're readying yourself to set off for a mighty battle with a legion real of warriors!
Why did RTG choose Athena as a focal character for their latest slot? That question can be answered by asking who Athena was… She was the daughter of the mighty Zeus. Legend has it, she was born from her father's forehead. Along with Hera, Poseidon, Demeter, Apollo, Artemis, Ares, Aphrodite and Hephaestus – along with her father – Athena was one of the principal deities of Greek mythology.
She appeared in Homer's epics, the Iliad and the Odyssey – and is credited with creating the first-ever olive tree! In addition to leading soldiers into battle wearing nothing more than a helmet and carrying a spear, Athena was the great protector of Athens. She was also friend and mentor to Greek heroes like Heracles, Perseus and Jason – he of the Argonauts and seeker of the Golden Fleece!
In keeping with her role as goddess of war, Athena is one of three deities reputed to have triggered the Trojan Wars. She transformed Medusa into a gorgon, Arachne into a spider, and together with her Roman alter ego, Minerva, is often depicted with snakes, owls, and trees.
In the second of two back-to-back RTG-developed mythological slots online, Athena is wild… but more about that a little further down the page!
Princess Warrior Gameplay & Betting Information
Princess Warrior online casino slot has a 5 x 3 reel grid structure with 40 fixed paylines – and is classified as a high volatility game. Since the paylines are fixed, you can't adjust the number of paylines in-play, but you can tweak your bet size by adjusting your chosen coin denomination. With flexible betting values ranging from $0.40 to $200, you are in total control of your bet size, and ultimately, the size of your winnings!
As far as slots online go, high volatility games are generally best suited for those with a hefty bankroll to back extended gameplay. You might experience lengthy dry spells with what could feel like endless spins delivering meager to zero wins. The good thing about playing high volatility slots online, such as Princess Warrior, is that when luck strikes, it strikes huge… and you can expect massive payouts on winning symbol permutations!
Princess Warrior Payouts
Princess Warrior pays for matching symbol combinations from left to right. Along with the payouts that standard symbols such as the J, Q, K, A, helmet, sword, and shield delivers, you are in line for a top payout of 96,000 x your stake! Do the calculations and you'll see why a max bet with that lucrative top win could fund an early retirement!
Princess Warrior Game Features
In Princess Warrior online casino slot, the goddess Athena plays the traditional role of the wild symbol, which can substitute for any other symbol, apart from the scatter symbol. She, however, only ever appears on the third reel to complete paying combinations. If perchance you hit a full wild symbol stack during the base game, the Princess Warrior bonus feature is automatically activated, which randomly awards one of four bonuses:
Random prize multipliers up to 4 x
Random wilds on all of the reels
A wild reel on any of the 5 reels
The Olympic Reward, which awards random prizes
There is an additional feature attributed to the scatter symbol, which is the Princess Warrior game logo. Land three scatter symbols and the Free Games Pick Bonus will trigger. This instantly rewards you with 10 free spins… but that's not all. You also get to choose from one of four free bonuses as follows:
Free games with random multipliers on each spin
Free games with wild reel on every spin
Free games with random wilds
Free games with all features
Note that the Princess Warrior feature cannot be triggered during the free games – and that the free games feature can't be re-triggered.
As with many slots in the RTG library, Princess Warrior slot offers a network-linked progressive jackpot that can trigger at any time. In fact, it has two – the major and minor jackpot. Watch them ticking away at the top of your screen with ever-increasing prize pools… and know that you can be the beneficiary of one of them at any given moment!
Why Play Princess Warrior?
Princess Warrior bonus feature
Scatter-enabled free games pick bonus feature
Random prize multipliers up to 4 x
Win up to 96,000 x your stake
Major and Minor progressive jackpots
Where to play Princess Warrior?
Play this hot new slot at our 
Slots Play Casinos
partners:
Conclusion
Princess Warrior online casino slot has the potential to become one of the more popular slots online. Like RTG's Legend of Helios – another recent addition to the burgeoning libraries at our featured gaming platforms – players can expect high resolution graphics and fluid game play with plenty of action on the reels. If your bankroll permits, keep at it as Princess Warrior online casino slot is sure to reward you fiercely for your efforts.