Catch the Wild Rabbit as he wrecks mayhem in the Carrot Farm for a chance to achieve bonus carrots, free spins, random jackpots and winning payouts of as much as 50,000x the triggering bet.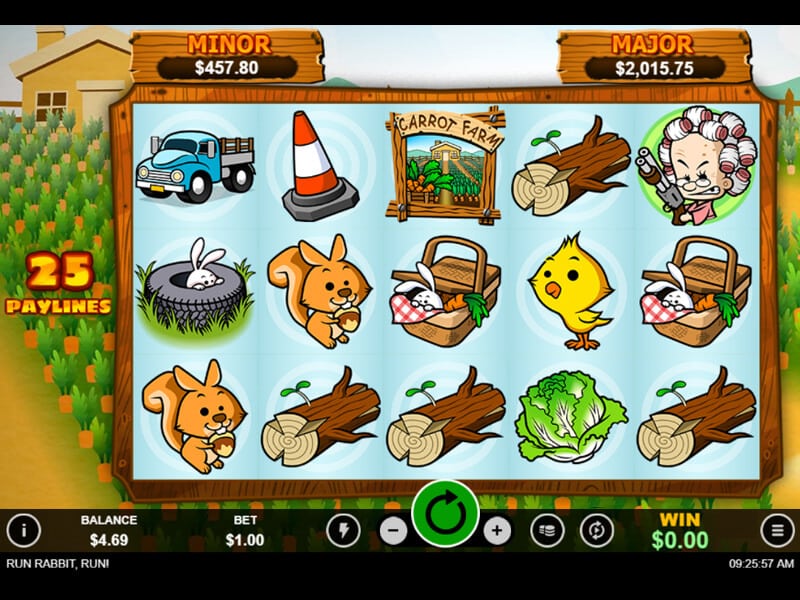 Game Info
Max Jackpot
50,000 times bet per line
Our Recommendations
Play
Run Rabbit Run
Here:
Hottest New Games:
Run Rabbit Run Game Review
Ever since Peter Rabbit disobeyed his mother and left his siblings to go munch on some goodies in Mr. McGregor's farm, fans everywhere have been rooting for the wily rabbits who are looking for a nice veggie dinner. Now slots gamers can join in the merriment as the new Run Rabbit Run online slot machine gives the rabbits extra chances to snatch some dinner with 25 paylines, scatter symbols, wilds, bonuses and more.
Run Rabbit Run is a 25-payline, 5-reel slot machine that follows the hungry bunnies as they dash across the highway and into the Carrot Farm. It's not an easy task… not only do the cars and trucks threaten to flatten the cottontails but Grandma is standing guard at the gate with her sub-machine gun, waiting to blast the fuzzy furballs into smithereens.
And you can get blasting those wins at these fine Slots Play Casinos:
Run Rabbit Run Game Information
Run Rabbit Run is chock-full of fun-filled features that give the bunnies, Mr. Rabbit and you more chances than ever to achieve a high-level of goodies. Not only do the rabbits get their share of Vitamin A from their haul of carrots but you also collect rewarding prizes that you can take with you to the bank.
Run Rabbit Run can be played on a PC or a mobile device at any time, from any location at the 24/7 online casino. The casino is open at your leisure so whenever and wherever you want to play, you have access to your favorite games.
Run Rabbit Run is a medium variance game. That means that there's a balance between the hit frequency and the payout size at every win so if you are betting at a medium rate or over, you'll enjoy a good win percentage at a satisfying rate! There's no pressure to make big bets in this game – you can bet as little as one coin on as many of the 25 paylines as you want but you need to remember that only those paylines that you've enabled with a bet will pay out real money prizes on a win. With the maximum payout coming out at 2000x the triggering bet, it's a good idea to put your wager up a bit so that your win will be worth your effort!
Run Rabbit Run Features
Run Rabbit Run offers a number of entertaining features including an image of the Carrot Farm Grandma guarding her area with her machine fun, the rows of the carrots in the carrot farm, Mr. Rabbit hugging his carrots, a log, a truck that comes rumbling down the highway that separates the Carrot Farm from the Bunny family, a rabbit hiding in a tire, a squirrel, lettuce, a picnic basket, a baby bird, a traffic cone and more.
If you play your spins right you can achieve up to 50,00 times your bet per line, especially if you get the Wild Mr. Rabbit to appear! Mr. Rabbit substitutes for all other symbols except for the Carrot Farm symbol. Don't forget Mrs. Rabbit either – if either she or Mr. Rabbit appear it enables the Mr. Rabbit Wild to fill in the other 2 positions on those reels and complete the win.
The Carrot Farm scatters create a scatter win whenever any 3 scatter Carrot Farms emerge simultaneously on the reels in any scattered positions. In addition to the Scatter Combination Payout, which is based on the bet that was made on the spin that triggered the scatter combination, you also activate the Run Rabbit, Run! free spins feature. During the Free Spins feature you can spin the reels for free and achieve real money prizes with no additional deposit required.
The Run Rabbit, Run! Feature is triggered when 3 or more scattered Carrot Farms appear anywhere. Rabbits attempt to run across a highway to get to the carrot farm on the other side.
If you achieve 5 rabbits that cross the highway you win 100 free spins. For 4 rabbits that cross the highway you get 25 free spins. There are 15 free spins for 3 rabbits that cross the highway, 10 free spins for 2 rabbits that cross the highway and 7 free spins for 1 rabbit that gets across the highway.
Bonus carrots are waiting en route for bunnies that get across and the more Bonus Carrots that you collect, the bigger your multiplier becomes. For the 2nd Bonus Carrot, all Mr. and Mrs Rabbits reveal additional Wild Symbols while for the 3rd Bonus Carrot there's an extra free spin on each scatter that appears during the free spins.
Jackpots
This slot machine even has TWO jackpots, a Major Progressive Jackpot and a Minor Progressive Jackpot.
The Progressive Jackpots can be triggered at random and if the jackpot comes up, you win! All Jackpot wins are added to your other wins so if you achieve the jackpot prize, you can withdraw that jackpot money together with your other wins.
Conclusion
Run Rabbit Run gives you a 96% Return to Player (RTP) which is a good percentage for such a light-hearted, whimsical online slot. You can play Run Rabbit Run for free in the Free Mode but if you're looking for real money wins, sign into the casino, make your bets and enjoy this new game! The more you spin, the more you win!