Fifty fixed paylines, two ways to win and a wild feature capable of filling the entire game board is what awaits you in Safari Sam 2 slot – an online casino game for hunters of monetised treasure!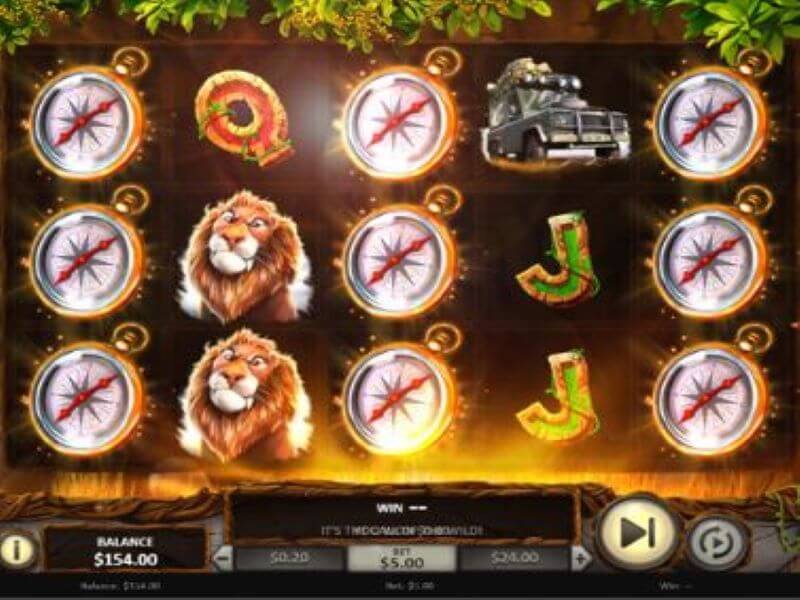 Game Info
Max Jackpot
€50500 (505 x Max Bet)
Safari Sam 2 Review
Cartoon-style graphics and the staccato of the African drums set the scene for a gamified big game hunting expedition. In this African safari, trophies are not on the agenda. The only prey in the crosshairs is payline wins… and in Safari Sam 2 slot, they are available in horizontal
and
vertical configurations!
Safari Sam 2 Game Theme
Open Safari Sam 2 online slot in your browser and a typical bush scene evokes images of big cats stealthily stalking their prey.  Dusky reels, embedded in a super-sized Mashatu tree, are flanked on either side by Sam, the monocled big game hunter, and Pam, his nondescript partner decked out in girl guides' garb.
Big game safaris are a recurring theme – in movies, documentaries, books, tourist brochures and now, for the second time, Betsoft Gaming slots. This particular duology of online casino games is a tribute to the fearless hunters who tracked man-eating predators on foot for days and even weeks at a time, with only pangas, spears and low-velocity rifles as weapons.
During the Victorian era, big game hunting was a favourite pastime of bored aristocrats who had had their fill of croquet and cricket. Fellows like Denys Finch Hatton, Philip Percival, Harry Selby and Frederick Courtney Selous, of Selous Scouts fame, made a living off this 'sport'. They'd escort presidents, princes, and literary geniuses like Ernest Hemingway, on lion and leopard hunts.
Our Sam may not have the pedigree of past hunting professionals – but he can generate quite a cache of cash when ensnared on the reels. Don't be fooled by the Disneyfied graphics either… this high-resolution 3D online slot is wild as wild can be!
Have we piqued your interest in Safari Sam 2? Check it out at these Slots Play Casinos partner casinos:
Safari Sam 2 Gameplay & Betting Information
Gaming action takes place on a conventional 3 x 5 game board, with 50 fixed paylines in-play at all times. Players have a choice of 11 bet values, ranging from $0.20 to $100 per spin. What is unique about Safari Sam 2 slot is the unconventional payout configuration. Not only are wining combinations achieved horizontally from left to right – they are accrued vertically too, and that improves the odds!
Safari Sam 2 Payouts
How much can you win playing Safari Sam 2 slot online? As the paytable is typical of a low variance slot, you are not going to bank life changing single wins… but you can accumulate a nice tidy profit. Here is a breakdown of the Safari Sam 2 payouts, some of which could be headed directly for your betting account.
The top paying symbol is the acacia tree scatter. It pays up to 80 x the line bet and unleashes a feature. In cash terms and with the maximum wager in-play, that translates to $160. Thereafter, the compass wild and title character generate 16 x for five of a kind.
Pam is the only other symbol paying double figures. When she appears across all five reels, you are awarded 12.80 x the payline wager. The lion, zebra, landrover and tent multiply the line bet by 6.40 x, 5.60 x, 4.80 x and 4.00 x, respectively. Then it is the playing card icons, from jack through ace, which offer 1.60 x up to 2.40 x a pop.
Safari Sam 2 Game Features
We have mentioned the vertical payouts generated by three-deep symbol stacks on the reels. When that happens, the winning symbols disintegrate and a new stack drops into place. If they are also a paying combo – and it happens quite frequently – the feature recurs until there are no winning stacks on the reels.
In addition to acting as a standard symbol substitute, the wild has the random capability of replicating to fill up to four reels at a time. The Call of the Wild feature is pretty sporadic in the base game but it does provide an opportunity to boost the bankroll.
Three, four or five scatter acacia trees trigger 7, 12 or 20 free spins. Cascading vertical symbol stacks are active in the free game rounds. What is more pleasing is The Call of the Wild Feature is integral to every free spin… and that of course pushes the payout rate up, big time!
When you hit the free spins rounds you can expect recurring symbol stacks and a gaming interface pasted with wilds. It is essentially the key feature in Safari Sam 2 slot – and one that has the potential to turn your gaming fortunes around. You will have to practice patience though, as the scatter activated free games bonus is typically only accessible after 70 to 100 paid spins.
Why Play Safari Sam 2?
50 permanently active bet lines
A wide betting range suitable for risk-averse players and high rollers
Combinations are paid horizontally and vertically
Consecutive recurring symbol stacks
Up to 20 free spins
A permanently active replicating wild feature
Low variance
An average payout rate of 96.30%
Conclusion
Safari Sam 2 may be light on creativity but it is surprisingly lucrative – provided you are fine with steadily building your payouts. Symbol stacks maintain a constant presence on the reels to top up the betting balance, which is great. Unlock the free spins feature and there is every chance you will walk away with some money in the pocket… although you shouldn't expect any seriously life-changing single wins.