Sea Treasures online casino video slot delivers fun 5-reel marine-themed adventure and lucrative spin play. Spin the reels and be challenged to search out hidden treasures within the sea depths. Sea Treasures merges colorful design with rewarding Bonus play, a Risk Feature, and special effects, to deliver top slots play entertainment and jackpots!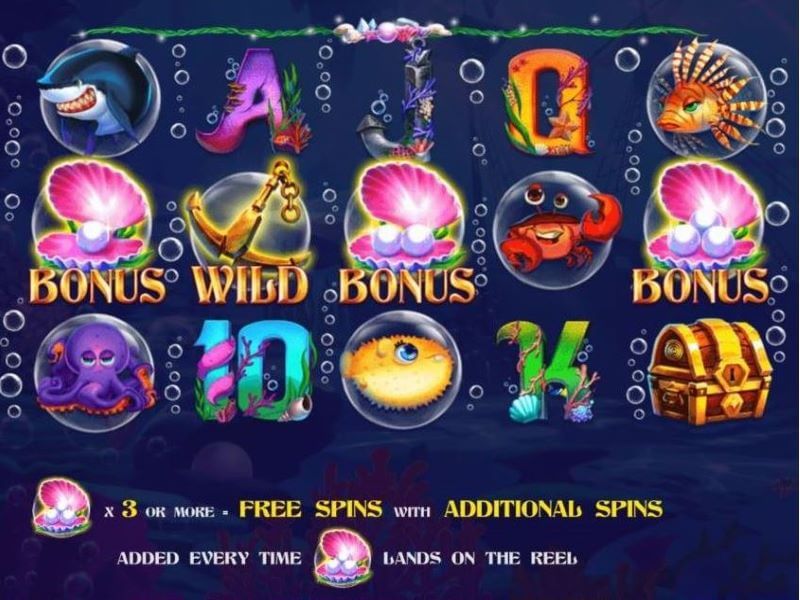 Sea Treasures Online Slot Games Review
Discover the marine adventure online video slot Sea Treasures and swim with your spins deep into an ocean world of pirates, sunken ships and lost civilizations. Play vivid Sea Treasures 5-reel game with 10 fixed paylines and you could turn your watery reels into a bonanza of jackpot winnings.
The Slots Play Casinos team of slots play divers took to the oceans in search of the secrets of the fun, action-filled Sea Treasures game play.
They found a deep-sea bonanza of Free Spins, Multipliers and an exciting Risk Game Gambling Feature that can double your winning after every winning reel combo. Let's dive into the slot game details, so that you players can fish the profits!
Sea Treasures Theme & Performance
Sea Treasures online casino slot immerses play into the ocean depths. The game board introduces the player to a sunken galley ghost ship and a fishy, wacky bunch of icons.
The animation is snappy, colorful and fun, plus it enjoys a bubbly in-play audio that adds to the lively, high-quality watery ambience.
Sea Treasures online slot is an attractive game that we, at Slots Play Casinos, found to play beautifully both on a desk top device and across the gambit of mobiles – cell phones and tablets. The HTML interface is cutting edge and we can say that Sea Treasures is a super slot for on-the-go play.
We say this is a high-performing game that is well designed for maximum effect and entertainment value.
Sea Treasures Online Slots Game
This is a simple game to play. You will find a play board that has 5 reels and 3 rows, set deep in the ocean depths. The game is played with 10 fixed paylines and each game cost a minimum of 10 fixed coins. The reels pay out from left to right and only the highest win per active pay line is paid out.
Slots Play Casinos testers noted that the game is pretty volatile and statistically it offers up an RTP of 96.10%.
When we played some rounds of Sea Treasures, we found the game in a hot reel mode and threw out a number of pretty decent wins. To get started on your winning deep-sea dive you only need to:
Open the menu
Play by clicking the button in the upper right corner to view the pay table and read the rules
Press the + or – button to change your stake: from 0.10 to 5 coins. Choose the amount you would like to play with that suits your game play and budget.
Spin the reels! Your winnings are automatically added to your account balance. You can see your total win displayed in the WIN section of the screen after each spin.
Players will find reels that are filled with aquatic icons that make up the gameplay-winning combos. Watch out for:
The WILD symbol is the Anchor, replacing all other symbols in a win, except the Pearl Shell BONUS and the Treasure Chest MULTIPLIER.
The WILD Pearl Shell delivers x5 – 1000 coins, x4 – 200 coins and x3 for 50 coins
Shark – delivers x5 – 750 coins, x4 – 150 coins, x3 – 20 coins
Lionfish – delivers x5 – 500 coins, x4 -100 coins, x3 – 20 coins
Puffer Fish – delivers x5 – 400 coins, x4 75 coins, x3 – 10 coins
Squid – delivers x5 – 250 coins, x4 – 75 – coins, x3 – 10 coins
Crab – deliver x5 – 250 coins, x4 – 50 coins, x5 – 5 coins
In addition, there are 5 lower-paying symbols which are sea-themed cards marked 10, J, Q, K, and A, that pay out on between 150 coins down to 3 coins respectively.
Enjoy Sea Treasures Special Bonus Features
Sea Treasures has a nice set of bonus play features that at the end of the day make this game entertaining and even profitable. There are several extra elements in Sea Treasures that you should pay attention to.
The main feature is the Pearl shell SCATTER. The scatter play is exciting, and you only need to spin 3 pearls (scatters) on your reels to kick off your 5 free spins!
Hit two and three additional Scatter spreads and you will trigger either an extra 1 or 3 extra free spins, respectively. This means that you can earn up to 15 free spins just from the base game. The Scatter feature can be reloaded to keep you in the spins.
During the bonus game, MULTIPLIER Treasure Chests can suddenly appear on the 5th reel. The multiplier will remain in position until the new multiplier is activated, which will be added to the previous one. The maximum multiplier is 15x.
Sea Treasures Risk Gamble Feature
After any win, you can accept or decline the Risk Game. Its rules are simple. You need to guess the COLOR or SUIT of the upside-down playing card. The correctly-guessed suit – Heart, Diamond, Club or Spade – will give you 4x and picking the color between black and red will pay 2x. Simply click the Gamble button to activate the Gamble Feature.
Slots Play Casinos testers loved this risk gamble feature that added to the element of excitement. Gamble on the right outcome and you double or quadruple your win. If you guess wrong, you lose your initial winnings.
Final Words on Sea Treasures Online Casino Game
The Slots Play Casinos slots gurus went into the Sea Treasures deep sea scenario and reported back that they had a fun gaming experience.
The team found Sea Treasures gameplay itself is not cutting edge. It is a simple base game of 5-reels and a set 10 pay lines, but the bonus features do rock. The Wild Anchor feature pops up frequently, the game has enough free spins to boost your power playing time. The Risk feature is perfect for those of us who love to take a chance against the flip of a card.
You can play free slots games with bonus spins in the online Sea Treasure fun play mode, or play for real money and gain some impressive cash boosters.
A hot spot to play Sea Treasures is at one of our top partner casinos, Red Stag. Plus find the game on many of our other top online casinos recommended by the Slots Play Casinos casino reviews.
The Slots Play Casinos bottom line on Sea Treasures is an approving nod and a worthwhile slot for players who love to up the gambit with a Risk Feature.