The classics never go out of style and here's proof – our new slot Sparky 7 may look like a classic 3-reel slot but is it really? Wait… is that a fourth reel we see??? More like a bonus reel – check it out NOW download, instant and mobile!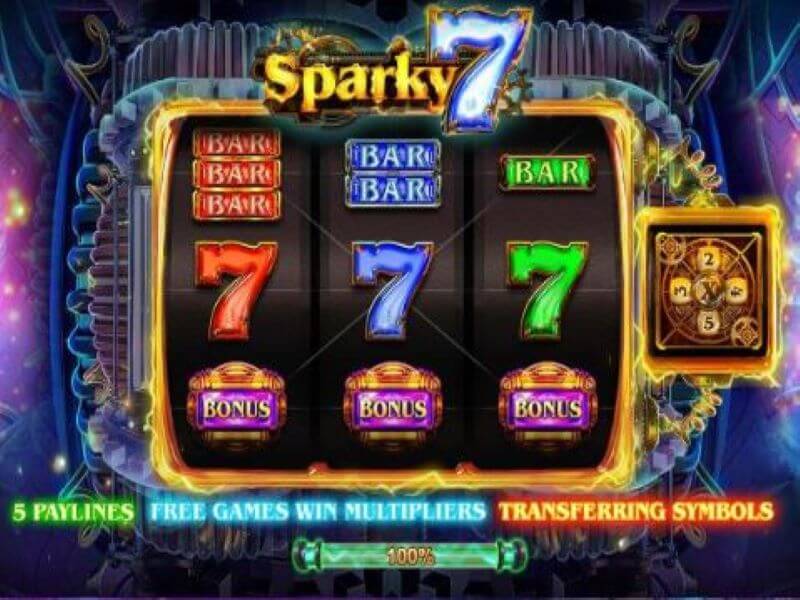 Game Info
Max Jackpot
50,000 times bet per line
Sparky 7 Review
Sparky 7 may fall into the classic online slots category but there is more to it than what meets the eye. It is a high-octane casino game, souped-up with features designed to release a cash crescendo on your PC or phone. You too can exploit the mesmerizing, teleporting-enabled wins at a download, instant play or mobile casino featured right here at these
Slots Play Casinos
partners!
Sparky 7 Game Theme
What transforms a conventional 3-reel slot into a dollar dazzler? Does the word 'sparky' ignite any ideas? Yup, you are right on the button. Sparky 7 is an electrifying rendition of an authentic slot machine, proudly brought to you by Real Time Gaming (RTG) software.
Besides the virtual wires and electrical coils powering the machine, there is plenty of live current on the gaming interface to keep the reels spinning seamless at perfectly synchronized speed. Paylines are clearly outlined to display precisely where matching symbols have to align in order to generate real money payouts. In all the most important ways, Sparky 7 is true to theme.
The RTG developed online slot is the kind of game that fits neatly into the brick-and-mortar gaming halls of Las Vegas, Atlantic City, Macau and Monte Carlo. Despite its traditional structure and layout, Sparky 7 is equally at home on the remote gaming channels.
As far as online slots go, the 3-reeler is a shoo-in for the best-ever gambling category in terms of important stuff, like odds, house edge, average payout rate and probability. If you are serious about gaming, you are no doubt aware 3-reel slots online have some of the best odds in the business – and Sparky 7 is no exception.
As is typical of a classic 3-reel slot, the Sparky 7 game board is devoted almost entirely to the reels. Along with the trademark blue, red and green sevens, the all-new casino game features iconic slots symbols in the form of one, two and three bars.  That is where the resemblance to the fruit machines and one arm bandits of yesteryear begins… and ends.
In this version of slots online, a selection of bonus symbols has been slipped into the action to provide a game that really is the best of both worlds; old and new!
Sparky 7 Gameplay & Betting Information
What defines Sparky 7 is not the 3 x 3 reel format or the five paylines. Oh no, it is the fourth reel, which is tacked onto the left side of the gaming interface – almost like an afterthought.
In reality, the fourth reel isn't so much a reel. It is a revolving bonus window. What is the purpose of the bonus window? If you are lucky and there are voids to fill on the reels, the bonus window has the capacity to boost your betting account sky high!
Sparky 7 Payouts
Sparky 7 goes live on 17 August.  Until then, there is no reliable payout data to tap into, apart from the fact that it pays up to 50,000 x the line bet. What we do know for sure – and it is backed up by the value of the top prize – is the 3 reel and 5 payline game has a high variance.
In other words, when you play Sparky 7 at our recommended Slots Play Casinos, you can expect a few big wins, interspersed by cold streaks. It does, by all accounts, belong to the high risk, high reward genre of slots online!
Sparky 7 Game Features
What makes Sparky 7 so unique is the eclectic collection of special features. The bonus showpiece is undoubtedly the Transferring Symbols feature. It is exclusive to the sevens icons and activated when two matching sevens, plus a void, appear simultaneously on a payline. When that happens, the fourth reel engages and spins. If a wild or matching seven appears in the window, it is beamed across to the reels and you are paid out what can be an eye-popping amount of cash!
Wait… there is more. When three bonus icons appear anywhere on the gaming interface, you are awarded seven free games. During the free game rounds, the bonus window is in-play. This time, the window resembles a bonus wheel featuring prize multiplier values ranging from 2 x to 5 x. Unlike the vast majority of slots online, the wild symbol in Sparky 7 is neither active in the base game, nor the free games feature.
Why Play Sparky 7?
High variance
Prize multipliers up to 5 x
Seven scatter-activated free games
Unique 4th reel bonus window
Win up to 50,000 x the payline bet
Conclusion
Sparky 7 has all the ingredients of a high hit rate online casino game. It is an exciting gaming hybrid which successfully encapsulates the best of both classic and video slots online. The bonus window adds a whole new dimension to play. What is even more gratifying is big wins are possible – and that is largely due to the multiplier values randomly assigned to the payouts in the free games feature! Visit Slots Play Casinos again soon to get up to date information on the Sparky 7 paytable.