The majestic green gemstone is an enticing backdrop for the action-filled Thai Emerald slots gaming entertainment where gamers spin amidst jeweled-filled reels and real-money cash payouts.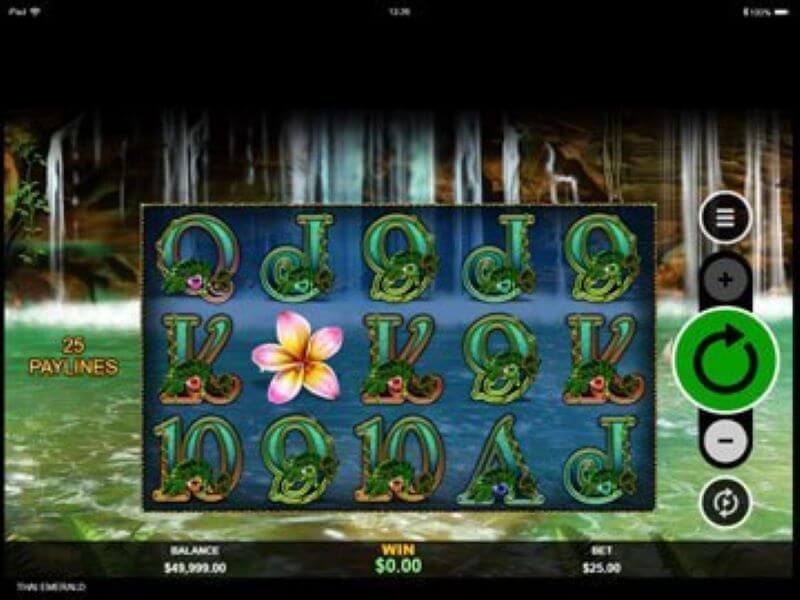 Game Info
Max Jackpot
2000 times the bet
Thai Emerald Slot Review
Emeralds are second only to diamonds in worth but for many people, it's the emeralds that represent the most beautiful gemstones that the earth has to offer. Gemologists value emeralds by their cut, the presence or absence of lines or cracks and, of course, that sparling green hue that signifies growth and rebirth. Emeralds symbolize true love and fidelity. Just looking at an emerald bestows a feeling of renewal and optimism.
Emeralds have been a valued gemstone for thousands of years. Some of the most valuable emeralds have been owned by Lollia Paulina, the wife of Caligula, Queen Theodelinda, Josephine wife of Napoleon, Queen Elizabeth II, and other well-known historical personalities.
Now the Thai Emerald has appeared on the Thai Emerald online casino slot machine and slots players can acquire their own emerald rewards when they play this exciting real money game.
Thai Emerald Information
Thai Emerald is a five-reel, 25 payline slot machine that evokes at atmosphere of riches and treasures. The reels are full of sparkling green gems that signal wins whenever three matching symbols come up together on the reels simultaneously. You can play Thai Emerald for free in the online casino's Free Mode or you can place your bets and play for real money prizes. The game is perfect for both low-budget and VIP high-rolling players, allowing gamers to place low wagers or high bets.
Casino advisors note that it's possible to bet on as few or as many of the 25 paylines as you wish so you can place a high bet on some paylines, a low bet on others and leave some paylines without a bet at all. The payouts, however, are dependent on the bet that you place and on the payline that you place it on so you have to consider – if you place a high bet, your payout will be correspondingly high and if you place a low bet, the payout will be low.
If the win occurs on a payline on which you haven't placed a bet – there's no payout. The top wining payout is 2000 times the bet that you deposited on the line that triggered the bet!
Thai Emerald is a high volatility game. That means that  the wins don't come fast and furious… they come slowly and at greater intervals. However, when they do come… watch out! High volatility slots have payouts that will knock your socks off!!!!
You can play Thai Emerald at any time and from any location on your PC or your mobile device. The online casino connects to any device via cable, WiFi or cellular connectivity so you can jump into the casino and start playing at your leisure whenever and from wherever you want.
Thai Emerald Features
The wild symbol in Thai Emerald is the Parrot which substitutes for all other symbols (except the scatter Mystery symbol) whenever it appears on the second, third or fourth reels. The Mystery symbol is the scatter that completes scatter combination payouts whenever three scatters emerge together in any pattern. In this game the scatter appears on Reels two, three or four but not on Reels one or five.
In addition to triggering a scatter combination payout the Mystery symbol stacks and then transforms randomly into other symbols. The Mystery Stacked symbols change to the same symbol randomly after a spin and once all of the Mystery symbols are revealed the winning payouts are calculated.
The Mystery Symbols also trigger eight free spins whenever three or more appear on reels 2, 3 and 4 after the Mystery Stacks feature ends. During the free spins additional Mystery Symbols appear and if three or more appear during a free spin, eight more free spins are triggered. Winning payouts are determined by the bet that was placed on the spin that triggered the free spins.
Conclusion
Sign into one of our SPC recommended online casinos and play the fun-filled Thai Emerald slots adventure of shimmering emeralds and glittering real money payouts!