Tramp Day slot is a ripper of a game! 🐕🔥 Refilling reels, thumping Multiplier values and Free Spins power up the payout rate 💯 In this BGaming classic paylines are redundant. Winning combos pay out prizes for up to 12 + symbols anywhere on the gameboard. Go on. Get your fill of cumulative cash wins. Play the demo game now at SPC recommended Casino – Ripper ! 🎰💸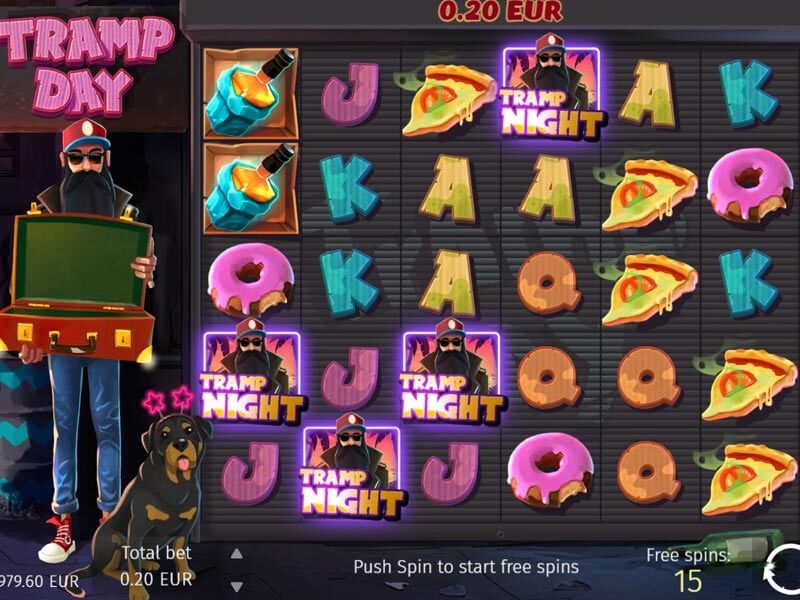 Game Info
Max Jackpot
5000 x the total bet
TRAMP DAY SLOT REVIEW – BADASS 3-FIGURE MULTIPLIERS
Cool tunes, nifty animations and a homeless guy and his dog set the scene for a cracking online casino game. Trump Day slot has all the elements of a cult classic! Refilling reels, super-mega Multipliers and winning combos that pay out anywhere are integral to a positive cashflow.
The gaming interface swings between Tramp Day and Tramp Night. It also accommodates 12 or more matching icons at a time. Take Free Spins with cumulative Multiplier values into account and BGaming has developed a stunner in every respect.
If you want to bop to chilled-out hip-hop and bank up to 5,000x the bet, you know where you have to be. Not entirely sure? Well, we can spell it out for you… At a partner casino featured right here at Slots Play Casinos!
The Game's Platform
Tramp Day online slot has a large 6X5 reel set erected on a roll-up door. You know? The kind of metal security feature that is pulled down over a storefront at night. As with all online slots, your mission is to land matching symbols on the reels to win the corresponding payouts. This particular game has no defined paylines and pays out prizes for 8 symbols up to 12 or more!
Unlike the vast majority of slots, symbols do not have to land on adjacent reels to win. The game pays anywhere – and that is a boon in itself. What is more, the payouts on the pay table automatically adjust to the current bet. You don't have to be a math wiz to figure out the potential rewards. All you have to do is multiply the posted payout by your total bet. See… no ambiguity.
At 50 x the wager, the roll of banknotes is the highest-paying standard symbol in the game. The bottle of hooch and slice of pizza deliver up to 25 x and 15 x, respectively. That is followed by up to 12 x and 10 x for the cooldrink can and glazed donut. The royal cards in a deck generate wins of 2 x through to 8 x the wager.
In cash terms, the most that is available in standard play is $/€2,5k. That is for 12 or more rolled banknote icons on a maximum $/€50 wager. Don't fret people. Bets start from just $/€0.20 per spin and that adjusts the top prize to $/€10! The amounts quoted are straight wins – wins that are not impacted by the Multiplier effect!
What! Consecutive Payouts at No Extra Cost?
Tramp Day is a refilling reels slot. Winning combinations pay out, disappear and new symbol sets fall into position. Here is the betting bombshell, folks. Reels refill and pay out continuously until there are no further payout permutations on the reels. What that means is you can win four, five or even six times on one paid spin!
That in itself is the best reason yet to migrate to a BGaming casino via Slots Play Casinos. You only win it, when you are in it – and that takes an active online casino account.
Scatter Wins and Free Spins
Besides rolling in the loot with infinite back-to-back wins, there are a few stellar bonus symbols secreted on the reels. The first is the Scatter Symbol. It is represented by the Tramp Day game logo. As a symbol, the Scatter is the undisputed pay-maker. It offers up to 100 x the bet for 6-of-a-kind!
The Scatter plays a second, arguably more significant role. Drop 4 or more on the reels in one spin and Tramp Day morphs into Tramp Night. During free spins, the bearded bespectacled dude and his dog hang out outside a neon-lit bar.
Initially, you are awarded 15 free spins. This number can arbitrarily increase in batches of 5. Listen up folks, during free spins the Multiplier effect is at its strongest. When good fortune is smiling down on you, free spins can deliver what could turn out to be the proverbial jackpot!
Hey all! Be good to the tramp and he'll be good to you! Sign up, settle in and unlock Free Spins at a Slots Play Casinos featured gaming platform. Reap the rewards now!
Nudge, Nudge for the Multiplier Effect
The standout feature in Tramp Day slot is the Multiplier. It looks like an ordinary brown suitcase. That is until there is a paying combination on the reels. When that happens, the tramp gives the reels a sharp nudge and the suitcase flies open to reveal a random Multiplier value of up to 500 x! When more than one Multiplier drops on the reels, the values are added together and applied to the win!
In Free Spins, the Multiplier effect is two-fold. As above, winning combinations are boosted by one or more random Multipliers. The very same Multipliers then flit across the screen and into the tramp's suitcase. There they accumulate until the end of the feature to deliver a second collective prize!
What is the best way to raid the vault? Register an account at a Slots Play Casinos partner site, open Tramp Day in your browser and go all out. A quick nudge of the reels can make the difference between a nominal profit and a major gain!
Don't Wait! Pay to Win $$$!
BGaming has thrown a lifeline to players who want instant gratification. Rather than waiting for Free Spins to trigger, you can buy the bonus. That will cost you 100 x the bet. Alternatively, a meager 25% on top of your wager doubles the chances of activating the feature.
One way to get the best out of the Buy Bonus or Buy Chance X2 is to fork out right from the get-go. If you are lucky, you can land a big, mega, or super-mega win. If not, most of your bankroll is still intact to chase the losses.
To Sum Up
Tramp Day slot has it all. The homeless guy is a real character – and a likable one too. He stands selling Buy Bonus and Chance 2X all day, with his faithful pooch by his side. At night, he collects Multiplier values that can reward you beyond your wildest dreams. The phlegmatic title character isn't the only element that merits a special mention. The audio, animations and detailing in the game deserve a shout-out of their own!
The gaming mechanics are as pleasing and unique. From the refilling reels to the accumulated Multiplier values, there is always the potential to win. That is a sentiment statistically backed up by an average return to player (RTP) of 97.17% – one of the highest payout rates around!
The ability to buy access to the Free Spins round is a huge attraction, especially for players who have limited time at their disposal. With random Multipliers up to 500 x and a Scatter that pays as much as 100 x the wager, there is plenty to play for in this high-volatility online slot! Don't miss out. Play Tramp Day slot now at recommended Slots Play Casinos and grab a share of the bank notes that fritter across the screen!
Play for Free
How do you give yourself the best chance of winning? You practice – and the Tramp Day demo game is a great place to start. Play for free and you can dabble with a Buy Bonus strategy. You can also get a feel of the payout rate and hit frequency. Enjoy the no-risk no-reward action now!
Play to WIN!
Want to earn your stripes and get paid out in cash? Play Tramp Day in the real money mode at one of the Download, Instant and Mobile partner casinos at Slots Play Casinos:
*Bonus code – TRAMPDAY40 is exclusive free spins on Tramp Day (BGaming). WGR: 60x. Max. cashout: $180. Winnings can be played on all pokies. Can be claimed once per player. New players only. Terms and Conditions apply.