Time to drop anchor and hit paydirt with the classic 1-payline, 3-reel, Treasure Trail Online slot from WGS. X marks the spot, with 2X and 4X Wild Multipliers and let's dig for a epic win on the game's Progressive Jackpot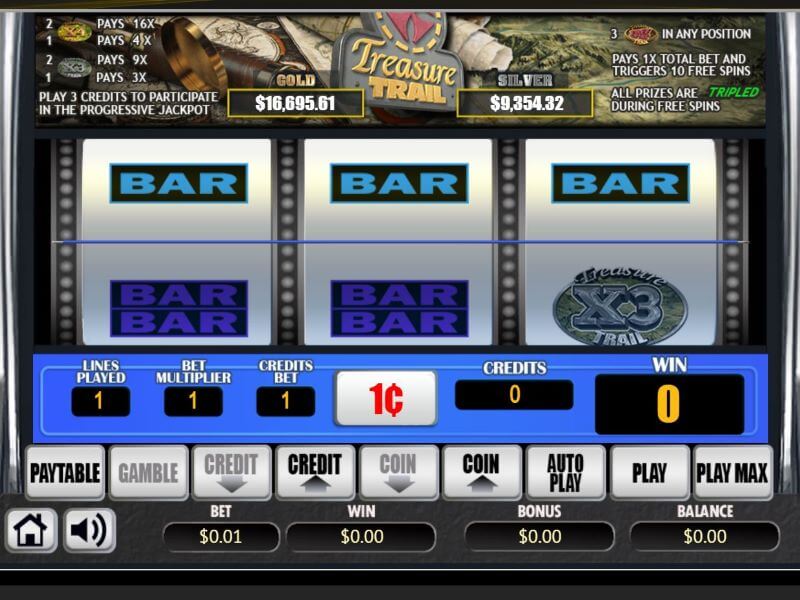 Play
Treasure Trail
Here:
More Games for You:
Treasure Trail Golden Game Review
Buccaneers ahoy! Time to drop anchor and start digging for the buried gold, 'cos we are off on a grand adventure to take on the Treasure Trail. The golden doubloons are in your reach with this classically-designed slot from the studios of WGS.
Slots Play Casinos dug deep into the treasure chest of this bespoke slot that comes complete with a Progressive Jackpot and a treasure map where X marks the spot for some BIG Progressive Jackpot potential wins! Join us on our trip into one of the WGS – WILD X Slot Series and let's dig up some gold.
Game Details
Software: WGS Gaming
Genre: Classic Video Slot
Volatility: Medium
RTP: 95.2%
Rows: 3
Reels: 3
Paylines: One Fixed
Max Jackpot : Progressive
Set Coin Size: 2 coins
Adjustable Coin amount: 1-3 coins per game
Max bet: 15 coins per spin
Features: Badge Ensign Multiplier x2 and x4 on payouts
Wilds: Yes – the Badge Ensign
Free Spins: No
Scatters: No
Progressive Jackpot: Yes x2 Win with 3 Badges
All the symbols pay out from Left to Right. There are both auto-play and high-speed play options.
Treasure Trail Theme
Treasure Trail offers you 3 reels and a single payline. It was released by Wager Gaming and includes a multiplier, a wild symbol and a progressive jackpot. WGS developed this game based on the time-honored adventure theme of hidden treasure and pirate hoards.
The Treasure Trail slot game plays out on a board that reflects a real slot machine, with the old-fashioned handles, slot machine levers and a faux coin slot. It has a retro feel that is clever, comforting and familiar. We felt like we were re-reading our childhood favorite of "Treasure Island", slots style 😊
Treasure Trail Features
This is one of the more thrilling classic slots to be released by Wager Gaming. It is a Billy Bones-style three-reel video slot that aims to deliver a vastly different classic slots play experience from your usual classic slot gameplay, even though the reels seem deceptively simple. Just how exciting can a 1-payline slot game really be, you must be asking yourself.
Well, even though this is a classic, one-armed bandit-type slot, the difference stops there. Treasure Trail offers an entertaining format with all new wilds and multipliers. But … the game offers up a good Progressive Jackpot that is well worth your time of day.
The play grid includes a ticker tab on the top with the running Progressive Jackpot total, a grid with the values of each symbol and the 2X and 4X Wilds. The maximum Slot win that is offered is 500 coins.
This online slot showcases the theme icons of Treasure Chests filled with Gold Doubloons, Gold Bars, Treasure Chests, Jolly Rodger Skull and Crossbones, together with Map Marker X, Red 7s and Diamonds.
The X Marker Badge is the money symbol that will trigger the Progressive Jackpot. The Marker also acts as a WILD and delivers a 2x multiplier to your payouts with one badge and 4x multiplier the payout with two badges. Three badges will pay the Progressive Jackpot. The X Marker Badge is the wild symbol.
1 X Wild in a winning combination – the payout is Doubled.
2 X Wilds in a winning combination – the payout is 4x.
3 X Marker wilds on the payline, give the following payouts:
One 2.00 credit coin selected gives 15% of the current Jackpot.
Two 2.00 credit coins selected, or a 4.00 credit bet, gives 25% of the current Jackpot.
Three 2.00 credit coins selected, or a 6.00 credit bet, Win the Jackpot!
Progressive Jackpot
Treasure Trail is one in a handful of classic WGS-powered slots that offer a progressive jackpot. So, in Treasure Trail progressive slots, the X really does more than mark the spot. The more times X appears on the pay line, the larger your payout. And with the 2.00 credit coin bets selected, those payouts can add up quickly.
You'll win 15, 20 or 100% of this jackpot when three X markers appear on the payline. The percentage is determined when using single, double or triple coin wagers respectively.
The progressive jackpot takes this slot up several notches on the heat meter as it can surpass several hundred thousand dollars. This is a fixed-coin slot but does allow for single- and double-coin spins. Note that to win the progressive, three coins must be played. The reality is it would not be wise to play fewer than three coins as the difference in the payout, should you land the jackpot symbols on the payline would amount to a serious amount not capitalized on.
Betting Options
Treasure Trail is a fixed coin slot. That means the only coin size offered is 2.00. You have the option to wager 2, 4 or 6 coins. Should you choose to play fewer than the three coins offered and get three X markers on the center pay line, you will win 15% of the jackpot with one coin, 25% of the jackpot with two coins and with three coins played, 100% of the jackpot.
Slots Play Casinos Take on Treasure Trail
We think that Treasure Trail is a truly awesome classic slot that can turn a small wager into a very large win indeed! Punters often ignore classic slots because they lack the bells and whistles of modern video slots games.  Yet, it is the actual simplicity of design, combined with a few smart extras, that make this slot a winner.
Treasure Trial combines the best of all worlds between classic and new generation online slot games, with Wilds and Multipliers, which play an active role during gameplay. We love the theme too, which includes plenty of attention to detail for a classic slot.
Get on the Treasure Trail today at some of our top partner casinos: