What better way to try out this new online slot – Wheel of Chance II – The Big Wheel than with 50 Free Spins? Use Bonus Code: BIGWHEEL50 at participating casinos to start the wheel a-spinnin'!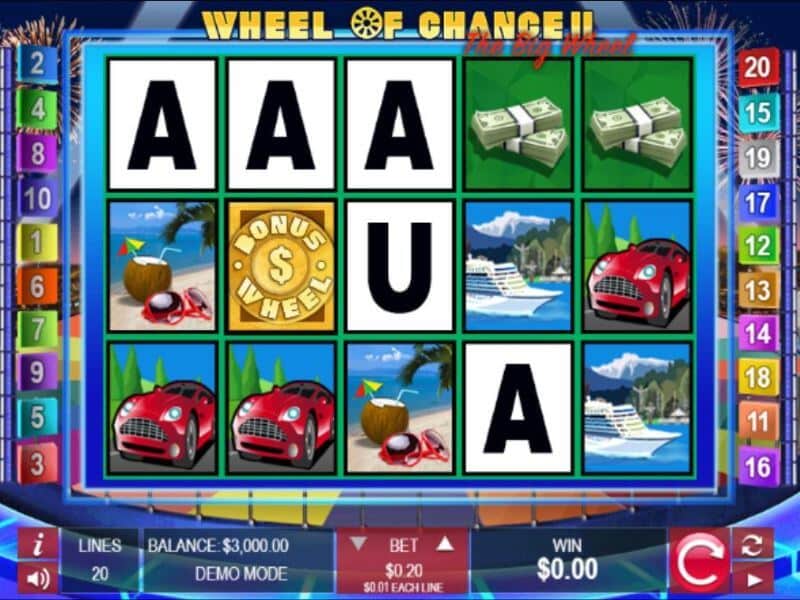 Our Recommendations
Play
Wheel Of Chance II – The Big Wheel
Here:
Hottest New Games:
Wheel of Chance II – The Big Wheel Game
By popular demand – welcome back to the amazing Wheel of Chance video slot that is bigger and better than ever! It is now Wheel of Chance II – The Big Wheel Game and delivers more gaming power and the most-loved slots play, as per the request of so many players who enjoy this slot.
The WGS game is now in its full glory as an action-packed 5-reel game, 20 lines, filled to the brim with free spins and a mighty, bonus-packing Big Wheel.
Come and take to the reels with our Slots Play Casinos slots aficionados, on this classically designed game that delivers massively on entertainment value.
There is a mega budget-boosting Big Wheel of Chance bonus feature of multiplier wilds and a special additional reward wheel bonus games. There are plenty of spinning reels features as well as free spins bonus rounds that are designed for the perfect combo of spin to win!
If you loved the original WGS Wheel of Chance, you will go crazy for this new and feature-boosted online game spinner!
Wheel of Chance II – The Big Wheel Game Details
Software: WGS
Game Type: Video Slot – Classic Slot
Volatility: Medium
Rows: 3
Reels: 5
RTP: 96%
Pay lines: 20 fixed
Min bet: 0.20
Max bet: 200.00
Features: Free Spins, Stacked Wilds, Big Wheel Bonus Game
Stacked Wilds Symbol: Wheel of Chance logo with WILD across it
Wild Symbols substitute for ALL symbols except free pin scatter & bonus scatters
Scatter Symbol: Free Spins Icon
Scatter rules: 3 or more scatters trigger 10 free games, 4 pays 20 free games & 5 pay 40 free games
Free games: include multipliers, cascading sequences and extra free games
Buy Feature: Triggered by 100x the total current bet
Max Payout: $50,000
Available Platforms: Mobile, instant play, and download
All winning combinations are left to right on a pay line, except scatter combinations, which can occur in any position.
The game includes Auto-play option
The Nitty Gritty Of this Amazing Game
Wheel of Chance II – The Big Wheel slot's theme is based on the hit TV show Wheel of Fortune. The slot format has a background of Las Vegas, with fireworks lighting the night sky. Players can also see part of the big wheel behind the slot as floodlights circle the wheel.
The design is simple, classic, yet evocative of the famous show and does leave an impression, the sounds and music are a little anemic, but it doesn't get in the way of play. Overall, the game feels fun and has a slightly retro aesthetic, which is exactly what the game creators set out to do.
The slot features major and minor symbols. The major symbols are a Coconut, Stacks of Cash, a Red Car, and a Yacht. The highest-paying symbol is the coconut. Get all five on your reels to win 800.
The low-paying symbols are the vowels, A, E, I, O and U. Funnily enough, for low-playing icons they are large, clear and add a definite sense of excitement. The very fact that the game-play provides winning reels constantly is exactly what makes this slot so popular with every type of player.
Betting Options
The minimum coin range is 20 cents with a max bet of $200, or $10 per line.
Wheel of Chance II – The Big Wheel Special Features
The Free Spin feature provides up to 100X cash and awards up to 40 free games, which is pretty impressive!
The free spins logo icon gives you a chance of a scatter reward for three or more. You can also earn some free spins from these, receiving 10, 20, or 40 of them if you can search out three, four, or five of the scatters in the same go.
Stacked Wilds pay up to 5,000X the pay-line wager. The middle three reels are where the Wilds can land. You can't miss them either – they show the game title surrounding the famous wheel itself. The wilds also have WILD written across the middle in gold, so they certainly catch the eye! And we should mention they're powerful enough to appear in stacks if you're fortunate.
Big Wheel of Chance Bonus Play
The Big Wheel Bonus is a really great way to win. You get prizes that are guaranteed and they are multiplied by your bet on the scatter symbol. Once the Wheel Bonus is triggered the play is amazingly lucrative and really gets you some good money hits.
You'll need to find the Big Wheel scatter on reels two and four in one spin… and the same pay line must go through both symbols for it to count and reveal the bonus to you.
You can accept the prize the wheel has spun for you, but you also have the chance to spin the wheel again. Be careful though – if you land on the BUST segment of the wheel, you'll lose your prize. The game does give a consolation prize though.
Great Mobile Play for Wheel of Chance II – The Big Wheel
Wheel of Chance II – The Big Wheel Slots is compatible with Android and iOS devices and is also the first game from WGS to offer full-screen portrait support on mobile devices. This will make the player experience better for on-the-go gaming! What could be better than to take the Wheel of Chance II with you for some mobile winnings!
Slots Play Casinos Verdict
Wheel of Chance II – The Big Wheel slots machine is an unbelievably profitable, medium volatility game! We couldn't believe just how much we got back on our initial bankroll.
Almost a thrill with every single spin!
This is the sort of slot game that could be a real winner for a high roller, you can enjoy this game to the max and could really hit some nice winnings, especially on a high bet sequence.
For the more cautious and budgeted player this is still a super slot, with enough features, free games and prizes to be won.
We'd suggest taking a few spins in the free to play, or demo mode and then sinking some actual money into some bets and see for yourself how the slots roll for you.
We think that some time spent on this game is great entertainment. The gameplay could really make your bankroll last and get a nice cash boost too.
Play Wheel of Chance II – The Big Wheel Slots at our recommended WGS casinos – here are just a few of our partners who currently have top incentives – 50 FREE SPINS – to try out this new game: