The wildly colorful hogs in this happy slot are on vacation in Hawaii. They sip drinks in half coconut cups! Get lucky after every Wild Hog Luau win! The Lucky Streak Re-spin gives one re-spin after every win! Keep winning and get more re-spins! Think about luaus, grass skirts, majestic mountains, and… wild hogs? Go hog wild and have a great time!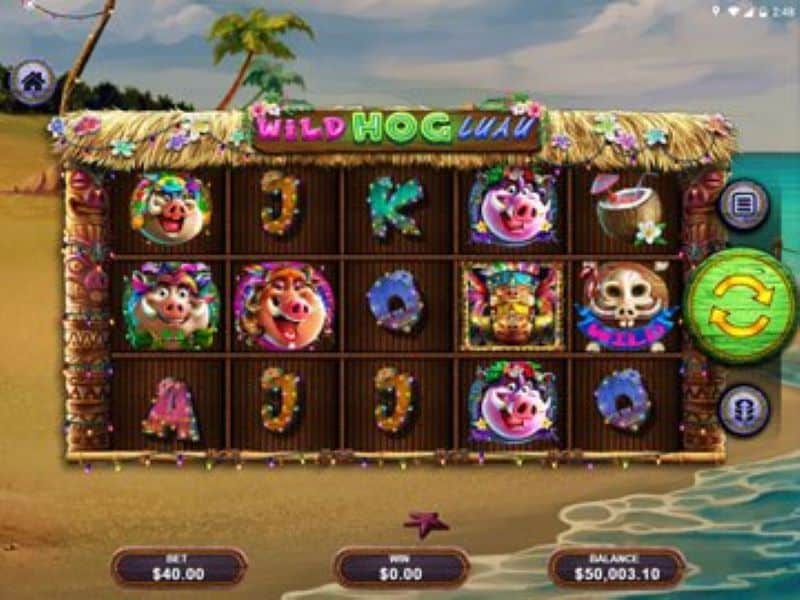 Game Info
Max Jackpot
6800 times bet
Wild Hog Luau Review
RealTime Gaming and its affiliated casinos invite you to a Hawaiian luau with four of the friendliest hogs you have every met! The pigs will do a little dance for you whenever you win! Slots Play Casinos invites everyone to come along and enjoy the luau!
Wild Hog Luau Information
Wild Hog Luau is a five reel slot that actually has 15 independent reels. That's because the squares on the reels that create a win stay in place while all the other spaces, or independent reels, spin again. This is called the Lucky Streak Re-spin Feature.
This feature happens after every win! All you have to do to qualify for the re-spins is take a spin and win! The re-spin feature will be activated even if you get another win with your re-spin! You can get as many re-spins as the wins piling up allow!
Wild Hog Luau is based in sunny and warm Hawaii. If this is your first trip to Hawaii, we should tell you that it never gets hot on the islands and it never gets cold, that is, unless you venture very high up in the mountains in the winter months. So the Hawaiian people love to have outdoor feasts and the most famous outdoor feast is the luau.
We suspect that Wild Hog Luau will inspire many gamers to take a Hawaiian vacation in the future, to visit a luau, and to see pigs in a somewhat different way going forward!
The symbols begin with beautiful royal symbols bedecked with tiny jewels all around their edges. The four hogs, who are the stars of the show, have colorful head coverings. Each has a slightly different facial expression but they can all be summed up with a single word: happy.
The hog smiles will captivate you! The pigs also do a kind of half squeal half dance for you whenever you win.  The music is strictly Hawaiian ukulele stringing. It is soft and well in the background. With all the squealing goin' on, you might not hear the strings a-pluckin' but listen closely; the ukulele is working overtime for you!
The biggest win in Wild Hog Luau is 6800x your bet. The game has 8 fixed paylines and the bet range is 0.01 per payline on up to 0.50 per payline.
Wild Hog Luau Features
The first feature that most slots players look for is the wild symbol. In this great slot, the wild symbol is a garish looking pig's head! It is as wild on the screen as the game developer made it in caricature! It appears on the first, third, and fifth reels and creates wins.
Now, combine the wild symbols with the automatic Lucky Streak Re-spin feature, and you have a perfect prescription for a lot of sizable wins! Think about re-spinning a win that already has a wild symbol! That wild might interact with other symbols to create a second, independent win. So, on the re-spin, you have several ways to generate another win and then the reels re-spin yet again!
You might ask if the re-spinning can go on and on. It can and often it does!
The second symbol slots players seem to universally want to know about is the scatter symbol. In Wild Hog Luau, the scatter symbol is a totem. You get a cash award for having three or four scatters and when you get five or more scatters the free spins start to come. Here is how the free spins are awarded:
When you spin 5-7 scatters you get 8 free spins.
When you spin 8 or 9 scatters you get 10 free spins.
When you cover the reels with exactly 10 scatters you get 25 free spins.
Finally, when you bingoize the reels with 11-15 scatters, you get 50 free spins.
Here is the super good news about all of these free spins: if you get five or more scatters during the spinning of the free spins, you will get more free spins. The new ones will immediately be added to the current supply of old ones and your new total of free spins will appear on the screen. Get lucky and get a large supply of free spins!
It isn't just that you can accumulate a lot of free spins. When you get even the minimum number of free spins, the game randomly chooses a multiplier for your free spins wins. The multiplier can be 2x the normal win amount on up to 10x the normal win amount.
Now imagine getting 50 free spins or more with a 10x multiplier and the wins keep coming and the money keeps accumulating in your account! And of course the happy pigs continue to squeal with delight since they like nothing more than to see gamers win a lot of money playing their game!
Conclusion
Wild Hog Luau is the latest great game developed by Real Time Gaming. Many of the casinos affiliated with RTG are offering bonuses in conjunction with the release of the new slot. Some of the bonus offers expire soon, while other offers last until the end of July – like Intertops Casino Red – when another new slot from RTG will make its appearance!
Wild Hog Luau combines the happy moments of a Hawaiian vacation, a luau on the beach in Honolulu or thereabouts, delightful ukulele music, a couple of features that increase your wins, a multiplier, and four of the most colorful, smiling, happy hogs you have ever encountered!
We wish everyone many hours of happy squealing!