The Witchy Wins slot brings magic, mystery and some witchy wealth to the gaming screen. You will set out on an adventure of spins, wins, bonus rounds, special features, wild symbols and much more when you sign into the casino on your PC or mobile advice for a fun-filled slots experience with 243 Ways to Win.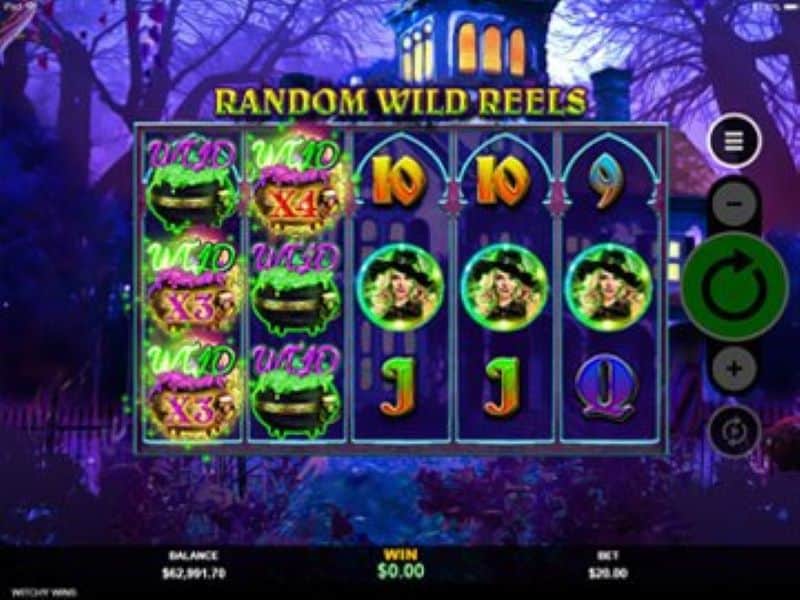 Game Info
Max Jackpot
10,000 times total bet
Witchy Wins Slot Review
You don't have to be under a spell to know that witches are an important part of today's culture. Witches appear in TV shows, on talk podcasts and radio shows, in movies and even in some of the most entertaining and lively online slots!
History wasn't kind to witches who were believed to do the "devil's work" and be agents of Satan. Today, witches are able to take advantage of mass media to pass along their messages of unity, peace and understanding.
The Witchy Wins slot review  gives you a peek into a wild broom  mm mmride where every spin has the potential for 243 Ways to Win while a bubbling cauldron morphs into a multiplier that creates payouts of up to 4x.
Witchy Wins Slot Information
Our
Slots Play Casinos
partner's Witchy Wins online slots is only one of the pop-culture attractions where fun-filled witches appear.
Over the years there have been numerous shows and films that showcase good-hearted witches who bring laughs and good cheer to home viewing screens everywhere.
One long-running drama, Charmed, follows "The Charmed Ones", a trio of good witch sisters who use their combined "Power of Three" to fight demons and warlocks in order to protect innocent mortals. The three Halliwell sisters, descendants of a line of female witches, each have  her own special ability (moving objects, seeing the future, stopping time) which they combine in their efforts to fight the forces of evil for good.
Sabrina, The Teenaged Witch took off where Sabrina's appearance in the Archie comics left off. Sabrina Spellman was raised in a family of witches but only discovers, at age 16, that she has magical powers. She is put under the tutelage of her aunts Zelda and Hilda who teach her proper witchy potions and spells while dispensing real-life advice while Sabrina struggles to hide her powers and live as a mortal girl in a regular public high school.
Probably the best known witches of all are those in the Harry Potter series, a franchise of 7 books that still hold the record as the best selling books in history other than the Bible. Harry Potter joins with other young witches and warlocks at the Hogwarts School of Witchcraft and Wizardry to learn the proper ways of magic while fighting the dark forces in their world. One of the most popular characters in the book, Hermione Granger, was a studious bookworm who saved her friends on numerous occasions through her studies as well as her ability to cast powerful spells.
One of the most beloved witchy stories on TV was the '60s / '70s Bewitched which followed the story of the loveable Samantha, a suburban housewife who happened to be a witch. Samantha and her zany extended family of witches and warlocks kept viewers amused for  8 years as she and her mortal husband struggled to keep the truth about her powers secret from prying neighbors and co-workers.
Debbie Reynolds had a long and illustrious career but Gen-Xers will best remember her for her role as a charming elderly witch in Halloweentown. Reynolds plays Aggie who comes to start educating her granddaughter Marnie in witchy ways. Marnie, age 12, hasn't known that she's a witch but now, not only does she learn with surprise that she's got special powers, but she finds out that it's her who can save the town of Halloweentown from dark and evil forces.
In addition to these and other tales of witchy whimsy you can now enjoy the Witchy Wins online slots for free or for real money prizes at the online casino.
Witchy Wins Slot Features
Three witches team up to create havoc and fun-filled mayhem in the Witchy Wins slot machine. The machine is a five-reel, 243 Ways machine with  numerous opportunities to form winning combinations on adjacent reels with the three lovelies themselves as well as traditional slots numbers and letter symbols.
As mentioned, this is a 243 Ways to Win game. That means that you don't enable each individual payline since there are no paylines – any combination of matching symbols, regardless of where they appear on the reels, will result in a win, so you make your bets on the spin, not the individual lines. Mathematically, that comes out to 243 opportunities for a win on each and every spin.
The game has two Wilds, a Wild Cauldron and a multiplying Wild Golden Cauldron. Each Wild substitutes for any other symbol to complete a combination and trigger a payout. The Wild cauldron randomly morphs into a multiplying wild with multiplies of two, three or four if it appears as part of a winning combination. More than one multiplying wild may emerge in a winning combination – if that happens, multiplying values are added to determine the end multiplying wild value.
The Random Wild Reels Feature can be triggered if three or more scatters appears during any regular game spin. Three scatters gets you 8 free spins, 4 scatters delivers 15 free spins and five scatters gifts you with 50 free spins. The free spins can be retriggered if three or more scatter symbols appear during a free spin.
During free spins, any of the five reels will be covered with Wild symbols to enable more winning combinations.
Conclusion
Witchy Wins is one of the new RTG games now available for PC or mobile gaming online. There's no reason to wait for Halloween to play Witchy Wins – the magic is waiting!