This great slot celebrates Wu Zetian, the only female Empress in Chinese history. The game uses symbols that show how Wu Zetian was "larger than life" during her reign from 655 to 705. Some symbols expand and can cover a 3 x 5 area! The wild also expands. The top prize can expand to $125,000 and the top jackpot covers a 5000x area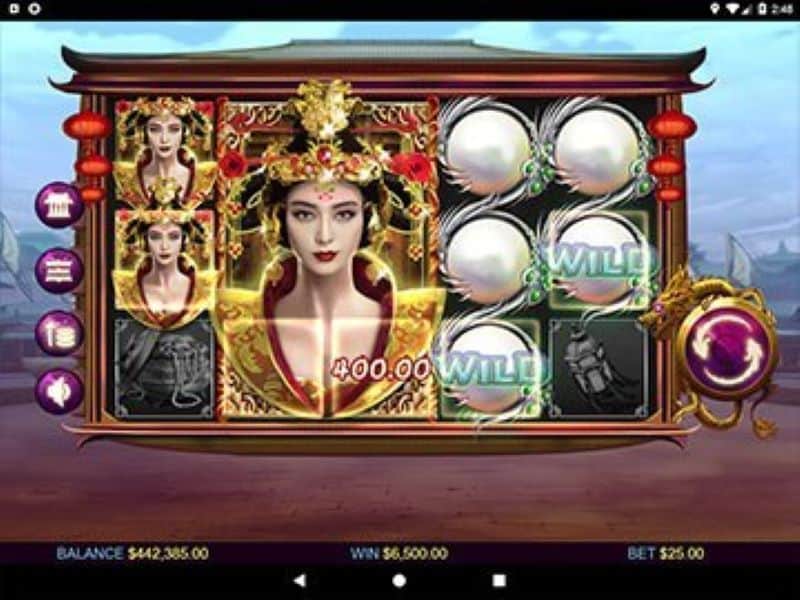 Game Info
Max Jackpot
50,000.00 bet per line
Wu Zetian Slot Review
Wu Zetian slot play is based on the real life Empress Wu Zetian who ruled China for exactly 50 years from 655 until 705. Wu Zetian was the only female Empress in the long history of royalty in China. She is said to have been as ruthless as she was beautiful and surely a 50 year reign indicates that she had much power and influence upon the course of Chinese history.
Wu Zetian, like all rulers, was larger than life. This slot game developed in her name captures that feeling in its ornate symbolisms and its extra-large figures. The two elements of her long rule as Empress that stand out over the course of time are that she was an expansionist Empress and that she fought against corruption.
Wu Zetian Slot Information
The Wu Zetian slot combines the elements of glamorous royalty with the brutal side of maintaining political and military control. So, the symbols include a subtle pink flower that delicately symbolizes the Empress, an ornate bejeweled hair comb since the Empress had to keep her coif in perfect condition, a large vat filled with jewels, jewelry, and gold exemplifying both the extreme wealth of the royal family and also the majesty of Wu Zetian's court, a magnificent jade statute that some say is a lion while other say that it represents a dragon, and a beautiful broach.
These are the symbols that represent primarily the glory and glamour of the royal court. In contrast, there is a symbol of two warrior soldiers who swore to give their lives to defend the Empress. Another symbol is of a single fighter. A Chinese lantern lights the way for the soldiers travelling by night. A wild horse has been tamed just enough to serve in a military capacity.
Finally, the Emperor and the Empress were developed by RealTime Gaming to express in the same image the power and sometime brutality of royal leaders and the soft side especially of the Empress in which she leads her people into a better future!
Wu Zetian Slot Features
Wu Zetian slot features symbols that can expand to as much as a 3×5 size. This adds to both the larger than life motif and also makes it a lot easier to score wins! On every spin either reels 2 and 3 or 4 and 5 will have an enlarged symbol.
The pearl is the wild symbol. Like the other expandable symbols, the wild can expand as well. It appears on reels 2 through 5 and can expand to as much as a 3×4 size.
The expanding nature of the symbols is just one of the many attractive features of Wu Zetian! In a clever and creative way, they also symbolize the expanding nature of the Chinese empire of that time.
The golden gong acts as the scatter symbol. As is normal with scatter symbols, you need at least three to get to the free spins bonus round. The scatter symbols will then stick to each other in the five free spins you get in the bonus round. If you have three scatters, they stick minimally. If you have four or five scatters, they stick together even more thus giving you much greater winning chances.
The largest payout in Wu Zetain slot is 5,000x or $125,000.
Conclusion
Wu Zetian is a unique slot in that although it has so many of the standard slot features such as wild and scatter symbols and free spins it also has a timely message for us all. Wu Zetian was a brutal yet ant-corruption ruler. Her court featured great wealth and the bravery of committed warriors.
Even today, most political leaders are men but there are a few women who rule nations and more local political entities.
The age of the female leader is just now beginning and in a real way, today's female leaders owe a great deal to the female leaders who came before them such as Wu Zetian.
Wu Zetian slot can win a lot of money for you with its embedded bonuses. The sheer elegance of many of the symbols will keep you riveted to the screen. At the same time, Wu Zetian slot gives us the chance to revel in the accomplishments of a real life ruler.
Try Wu Zetian today and see for yourself how a simple slot game can do two things at once: give gamers a great chance to win a big jackpot and bring us to focus on true historical characters!