If you like to spin with tradition, Big Cash Win is just what you're looking for. This 3-reel, 1 payline slot goes all the way with bars, cherries and 7s featured on the reels. When you need a break from all the lights and whistles, Big Cash Win is for you.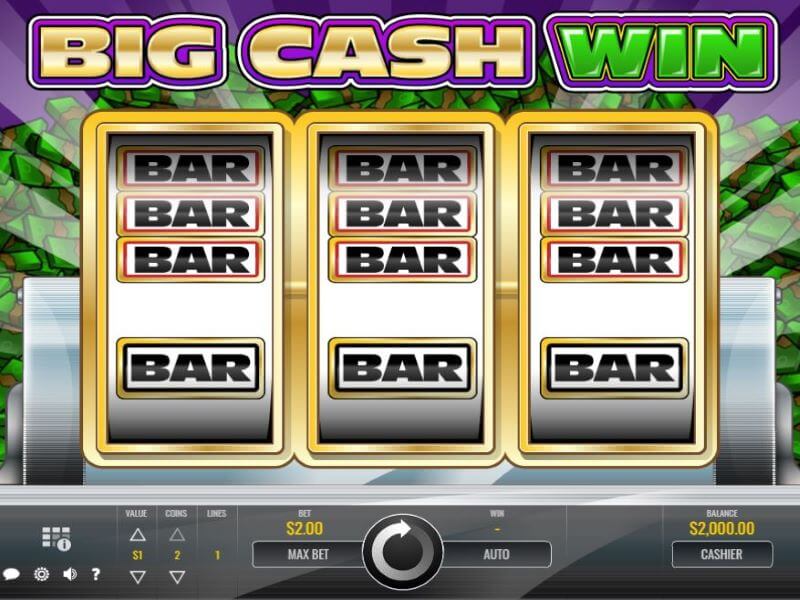 Big Cash Win Game Review
Yeah! Lovers of classic, Vegas-style fruity slots play are in for a treat. The Rival Gaming creative team have come up trumps with Big Cash Win, a new classic 3-reel slots game where all you need to do is line up three matching icons, or less, to win yourself some cash prizes.
Rival Gaming Have Bucked the Trend
Let the Classic fun begin with a brand-new slot that is steeped in Vegas slot memories and classic, simple slots play.
Rival Gaming has done a tremendous job in recreating the look and feel of the classic Vegas slot machine. Their creative team really has bucked the trend in online slots new titles and kept the bells and whistles to a minimum. Big Cash Win is deceivingly simple in appearance, but oh so clever in spin and win performance.
Rival haven't pushed out the big gimmick guns but have aimed for top entertainment that doesn't require a master to understand, rather fast, flowing entertainment that is nostalgic in its look and feel.
Our Slots Play Casinos team has been listening to the vibes and comments from many slots players lately and there has been a definite yearning for an engaging classic slot that reflects former great times. We think that Big Cash Win provides exactly what they are looking for, yet the package still delivers on modern animations, great audio and plays well on the full array of desktop and mobile platforms
Never to miss out on a golden opportunity to spin some slots our Slots Play Casinos game gurus took the time to check out Big Cash Win in depth.
Big Cash Win Overview
The name of the Big Cash Win game is that is it a 1-line, 3-reel slot that uses traditional fruity icons to create winning lines. Rival Gaming has created a classic 3-Reel slot that is straightforward and simple enough for anyone to pick up and play. Money is the name of the game in Big Cash Win, and you certainly have the chance to win big!
The game has a retro style 777 Theme with flashy lights, cherries, conventional sevens and variants of BAR symbols are trademarks of authentic Vegas-style gambling and Rival has transferred that vibe onto the screen in Big Cash Win thanks to its ability to rekindle old generation graphics and incite a continued, everlasting success of the genre. In addition to the classic icons the Big Cash Win Icon delivers the highest payout and big wins. You can check out on the icon screen which plays from left to the reels.
The Slots Play Casinos slots gurus particularly enjoyed the casino ambiance of the game. As soon as the game starts, players will hear a heavy, distinctive casino environment that heats up the atmosphere with crowd noises, distant ka-chings, betting chips, cards, game dealers and so forth.
When it comes to wagering, the Big Cash Win slot keeps it as positively simple as possible. This game has just one pay line, upon which you'll be able to place either one or two coins per round. That being said, these coins can be valued at anywhere between 0.1 and 50, allowing you to strategize your betting based upon the success of your previous rounds. Whether you are a beginner or a purist, Big Cash Win is a game for everyone.
Big Cash Win Special Features
Players can adjust both coin value and size, which gives them a lot of freedom and time to strategize. There is also the auto-play mode for those who like to let the game do its magic, including the max bet option which is convenient for high rollers and opportunists with a huge balance. This title comes with a theoretical return variability of 95.7% which is a fair value for a 3×3 slot and a Jackpot of 2000 coins. The slot offers a fairly low volatility, but it doesn't lose out on retro-style action of spin and win.
The game has 1 payline and to trigger a win, players must land a combo of identical three symbols or tie them with wilds for a safe winning spree.
Scatter Wins, these symbols will pay in any position regardless of the situation on the reels. They are not required to fall on a pay line to trigger a prize.
There are also the three different sized bar symbols, single, double and treble and these offer pays for landing three of the same bar symbols on the pay line, but also if you land a mix of the three on the pay line.
Alongside those symbols are just two more higher value symbols. The first is the lucky 7 symbol which offers high value payouts of 200 and 400 coins (if you play 1 or 2 coins per spin respectively) while the Big Cash Win icon is the highest value symbol offering wins of 750 for one coin and 2,000 coins for two coins wagered. The Big Cash Win icon also pays out double your stake if you land one anywhere on the single winning line.
The game doesn't offer Free Spins, Wilds or any other special bonus features – but you can win sizable amounts, especially if you 2 0r more coins – which gives you access to the 2000-coin jackpot, as opposed to the 750-coin jackpot available on one-coin wagers.
The game plays superbly on all mobile devices, including Tablets and feels great on download or Instant play on desktop.
Summary
The Slots Play Casinos team had lots of fun playing Big Cash Win. The online gameplay was kind of mesmerizing and the game gave out plenty of playing time with more than enough wins to keep our coffers full and ending the session on a high.
The game has a lot of well-designed symbols, it is simple, but does not lose its attractiveness. The opposite is true, it is the classic simplicity of this game, its speed and delivery that get a great big thumbs up from the Slots Play Casino reviewers.
Well done to Rival Gaming for bring back tradition, with a modern twist on spin and win play.
You can find this fun and immersive game on numerous Slots Play Casinos Partners such as Slots Capital Casino or Black Diamond Casino, Box 24 Casino, plus many others.