It doesn't take sorcery, magic or sleight of hand to win real money playing Book of Darkness slot. Simply choose the winning warrior and you could be well on your way to a net profit!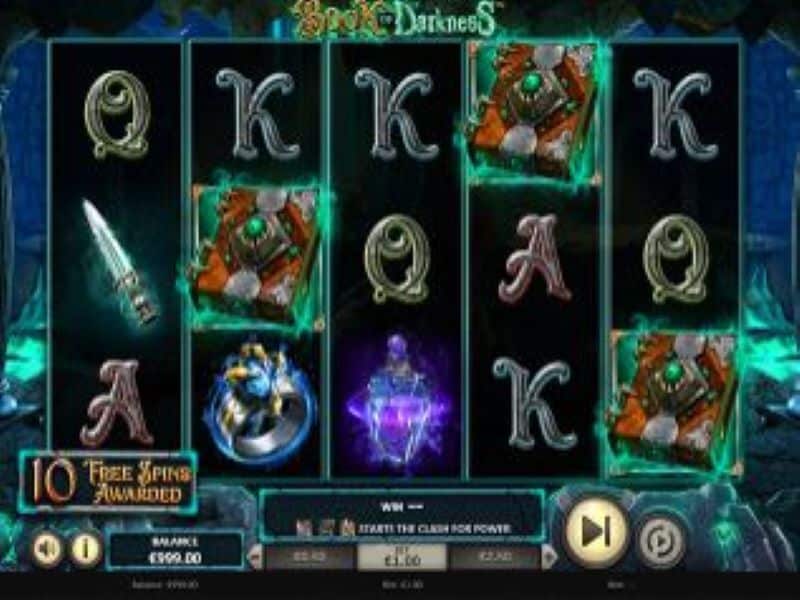 Game Info
Max Jackpot
€25600 (640 x Max Bet)
Our Recommendations
Play
Book of Darkness
Here:
Hottest New Games:
Book of Darkness Review
With luck, patience and a bit of sorcery of your own, you can leverage Book of Darkness for personal financial gain. The 3D online casino game has all the ingredients of a Betsoft blockbuster, so buckle up, weaponize the fingertips – and unlock the supernatural slot on your desktop or phone… you won't be disappointed!
You'll find Book of Darkness featured at these Slots Play Casinos partner casinos:
Book of Darkness Game Theme
Black magic, the dark arts or the counterweight of white magic is behind the power and prestidigitation of Book of Darkness slot. It is a fitting tribute to the wizards, witches and warlocks of popular culture, but with an epic battle conducted on the reels.
Haunting audio, a dark and gloomy gaming area and iconography associated with potions, spells and sleight of hand tips Book of Darkness online slot into a class of its own. Look carefully and you may just catch a glimpse of the Dark Wizard as he releases lethal lightning bolts from the base of his hands.
The dark arts may be an ancient form of ritualistic worship but in the 21st Century the genre has become a common thread in books, movies, video games and cinematic slots.  Even Little Mix got into the action with their chart topping single, Black Magic, not so long ago!
Now, dark wizards like Lord Voldemort are key characters in JK Rowling's fabulous Harry Potter books and movie franchise. The dark arts are even better represented by action video games like Spellbreak, Lawmage Academy and Alchemist Adventure; Charmed, a delightfully entertaining TV series, and the all-time classic horror movie, Rosemary's Baby!
How does Book of Darkness slot stack up in the entertainment stakes? Dare we say better than most? It may not be as immersive as Spellbreak or a cinematic epic like Harry Potter and the Prisoner of Azkaban. Where it is an uncontested frontrunner is in terms of cash. It is, after all, the only game with the potential to pay out in dollars and cents!
Book of Darkness Gameplay & Betting Information
Book of Darkness is a fixed payline slot with a standard 3 x 5 reel structure and 10 defined bet lines. As a fixed payline slot, it means that all paylines are permanently enabled and in play. On the other hand, the betting range offers a lot of flexibility with coin denominations ranging from $0.10 to $10 a spin.
Book of Darkness Payouts
Book of Darkness is a low variance slot. Accordingly, the value of the base game payouts are comparatively mediocre, headlined by 40 x the line bet for five simultaneous book of darkness scatters. Thereafter, the wizard and huntress pay up to 5 x, followed by the rose quartz and ring at 3 x and the potion bottle and dagger at 1.60 x apiece. The royal playing cards – from queen through ace – generate wins of 1 x the payline wager.
That essentially means you can win up to $40 in the base game with the book of darkness, which doubles as both a wild and a scatter, helping you along the way. Here's a heads up – in the context of potential winnings, you will be pleased to know things improve dramatically in the inimitable 'Clash for Power'!
Book of Darkness Game Features
Besides a conventional
free spins
round, Book of Darkness slot features a battle of supremacy between the huntress and dark wizard. Choose your warrior correctly and you could be in line for mega wins… but more about that a little later.
Right now, we are focusing on the free spins feature which awards 10, 15 or 20 free spins depending on the number of activating scatters. During the free game rounds, the warriors expand to generate prodigious payline wins. In fact, it is not unusual to fill a large portion of the gaming area with big paying matching icons!
Now to the Book of Darkness showpiece, the aptly named Clash for Power. In order to unleash the warriors on the reels you have to align the huntress, book of darkness and dark wizard on adjacent reels, in that order, or the other way round.
You are the presented with a choice of fighters – the flaxen-haired huntress with a fierce demeanor and samurai sword or the dark wizard with his proven penchant for sorcery. During this epic battle the warriors expand and replicate on the reels, filling the respective hero meters as they go.
If your chosen hero wins the battle and achieves ShadowForm, you are in for a treat. The huntress awards 10 free spins with 5 x prize multipliers. Had you chosen the dark magician instead, you would get 10 free spins with a further five expanding symbols in-play!
Why Play Book of Darkness?
10 fixed paylines
Flexible betting options
Low variance
Quick activating bonus features
Frequent payline wins
Unique Clash for Power bonus round with hero meters
Top prize of 640 x the payline bet
An average payout rate of 96.48%
Conclusion
Book of Darkness slot is a highly entertaining online casino game with plenty of nominal payouts. Bonus rounds are quick-activating and accessible within 30 to 50 spins. With expanding symbols and prize multipliers in the mix, there is a better than average chance of ending your gaming session with a small net profit!