Rolling the Dice for an Unforgettable Slot Adventure!
Are you ready to embark on a dice-licious adventure like no other? Look no further than Dice Bonanza, a slot game from BGaming that takes quirky fun to a whole new level! From the moment you step into this wild world of colorful cubes and funky features, you'll be mesmerized by the sheer excitement and hilarity that awaits. It's a must-try at SPC recommended casino – Ripper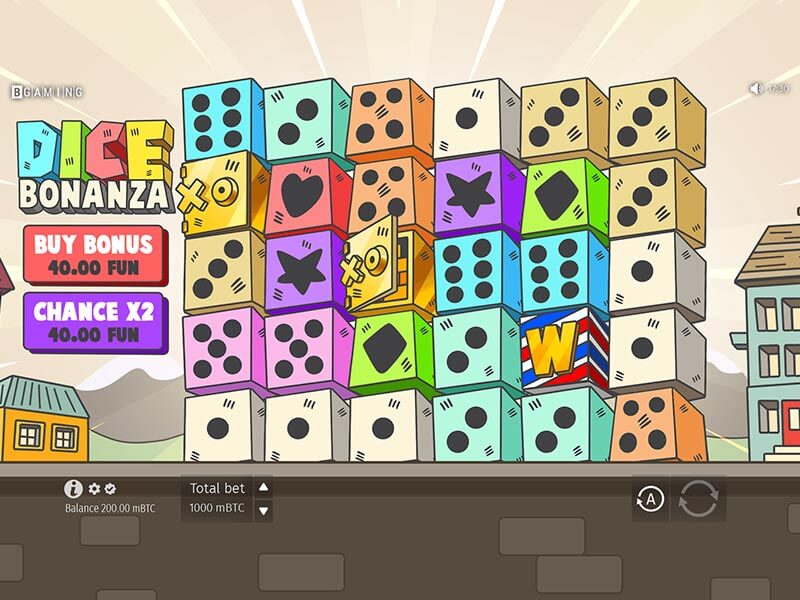 A Dice-licious Adventure – A Review of Dice Bonanza
Experience a thrilling rain of dice cubes in our uniquely captivating slot game – Dice Bonanza! Brace yourself for a gaming adventure like no other as the multi-coloured cubes you once knew from dice games now form the ever-refilling reels in this spectacular slot. Symbols on the screen pay from any position, so your win depends on the number of identical cubes at the end of each spin. Get ready for consecutive wins on every spin with the incredible Refilling feature. And that's not all! Free Spins await, featuring a Multiplier symbol that randomly grants multipliers from x2 to x100.
The Fun Never Stops -⭐⭐⭐⭐⭐
Dice Bonanza starts the party right from the beginning with its raining dice cubes, setting the stage for a wild and unpredictable gaming experience. The multicolored cubes that used to chill in dice games are now the life of the party, paying out wins from anywhere on the screen. Who needs traditional paylines when you've got cubes that don't play by the rules?
Refilling Feature: The Never-Ending Fiesta! – ⭐⭐⭐⭐⭐
What truly sets Dice Bonanza apart is the Refilling feature – it's like watching a never-ending cascade of dicey delight! Winning symbols vanish like magic, making room for new cubes to come dancing down from above. It's like a never-ending fiesta, and you're the guest of honor! Brace yourself for consecutive wins that'll keep you on the edge of your seat.
Free Spins Galore – ⭐⭐⭐⭐
We can't have a party without Free Spins, can we? And Dice Bonanza knows how to keep the good times rolling! Trigger Free Spins with those cheeky Scatter symbols, and you'll be treated to a Multiplier symbol that's feeling more unpredictable than ever. The multiplier values range from x2 to x100, adding a delightful twist to each spin. Though we wish the Free Spins came a bit more often, the excitement when they hit is well worth the wait!
Buy Bonus & Chance x2 – ⭐⭐⭐⭐⭐
Want a shortcut to the action? Say hello to the Buy Bonus feature! Skipping the line and diving straight into Free Spins feels like VIP treatment all the way. And let's not forget the Chance x2 feature, which is like juggling watermelons while on a trampoline – thrilling and exhilarating! These features add a layer of risk and reward that keeps players coming back for more dice-dropping fun.
Party Settings & Tunes – ⭐⭐⭐⭐
Dice Bonanza knows how to please its guests! With the quick spin option, the game takes on a whole new pace – like a high-speed roller coaster ride! The Spacebar to spin feature is pure genius, making it feel like we're starring in a slot-themed action movie. And the option to adjust volume and control the music and sound effects is a thoughtful touch that lets players tailor their own party experience.
Verdict: Dice Bonanza – A Dice-licious Adventure – 4.7/5 Stars ⭐⭐⭐⭐⭐
Dice Bonanza delivers on its promise of a dice-licious adventure filled with fun, laughter, and thrilling wins. The Refilling feature keeps the momentum going, while the Free Spins and Buy Bonus features add an extra dose of excitement. The quirky settings and customization options make this game a standout experience. If you're looking for a slot game that breaks the mold and brings laughter and joy to your gaming sessions, Dice Bonanza is the place to be! Don't miss out on this epic dice-throwing extravaganza – join the party today and let the good times roll! 🎲💃🎉